Did you know that companies with omnichannel customer engagement strategies retain on average 89% of their customers? This is compared to a 33% customer retention rates for companies with weak omnichannel strategies. (Invesp)
While the thought of omnichannel may have been a luxury in the past, the Covid Pandemic forced brands across industries to quickly accelerate their omnichannel strategies or risk getting left behind and shutting their doors altogether. Consumers headed online in droves and the brands that fared best met consumers online but continued to engage offline according to consumer preferences.
For example, U.S. retailer Target enjoyed its best-ever quarter in Q2 2020, with a sales increase of 24.3% and digital sales soaring 195%. It won market share from all of its physical competitors thanks to the integration of physical and digital – the omnichannel. Target discovered that multi-channel consumers spend four times as much as store-only consumers, and 10 times more than digital-only consumers. Through that period, more than three-quarters of their online sales were fulfilled by their stores. (source)
What Exactly Does it Mean to be Omnichannel?
Even before the pandemic, consumers shop across multiple channels and multiple devices. They may find something online and then head into the store to make the purchase. Or conversely, they may be at a brick-and-mortar location, see an article of clothing they like but not in the correct size, and then pull out a tablet to check inventory and make the purchase. Any number of scenarios like this exist but the most important aspect of omnichannel is that each of these channels are interconnected to provide a seamless experience and connected purchase journey.
In multichannel marketing, a company may use different channels to interact with the customer but each channel is managed separately with a different strategy. Omnichannel is centered around the customer and ensuring that customers can easily and seamlessly navigate between each company touchpoint to make a single purchase.

Source: https://www.sparkpay.com/blogimages/omnichannelins1.png
Check out these 25 amazing statistics on the benefits of being an omnichannel brand:
Marketers using three or more channels in any one campaign earned a 287% higher purchase rate than those using a single-channel campaign. (Omnisend, 2020)
Omnichannel campaigns that involved SMS at some point in the process were 47.7% more likely to end in conversion. (Omnisend, 2020)
Purchase frequency is 250% higher on omnichannel vs. single channel and the average order value is 13% more per order on omnichannel vs. single channel. (Omnisend, 2020)
Customer retention rates are 90% higher for omnichannel vs. single channel. (Omnisend, 2020)
98% of Americans switch between devices in the same day. (Google Research)
15 years ago the average consumer typically used two touch-points when buying an item and only 7% regularly used more than four. Today consumers use an average of almost six touch-points with nearly 50% regularly using more than four. (Marketing Week)
Over 35% of customers expect to be able to contact the same customer service representative on any channel. (Zendesk)
Companies with extremely strong omnichannel customer engagement retain on average 89% of their customers, compared to 33% for companies with weak omnichannel customer engagement. (Aberdeen Group)
77% of strong omnichannel companies store customer data across channels, compared to 48% for weak omnichannel companies. (Aberdeen Group)
61% of customers have not been able to easily switch from one channel to another when interacting with customer service. (Aspect)
The number of orders placed online and picked up at bricks-and-mortar stores by customers grew 208% during the pandemic. (Adobe Analytics, 2020)
Data collected by Think With Google indicated that omnichannel strategies help generate around 80 percent of the in-store visits by customers. Furthermore, as much as 74 percent of customers do online research before visiting a physical store. (Think With Google, 2021)
64% of marketers cite lack of resources and investment as their top barrier to omnichannel marketing. (The CMO Club)
90% of customers expect consistent interactions across channels. (SDL)
71% of shoppers who use smartphones for research in-store say that it's become an important part of the experience.(Google)
Omnichannel shoppers have a 30% higher lifetime value than those who shop using only one channel. (Google)
Companies with extremely strong omnichannel customer engagement see a 9.5% year-over-year increase in annual revenue, compared to 3.4% for weak omnichannel companies. Similarly, strong omnichannel companies see a 7.5% year-over-year decrease in cost per contact, compared to a 0.2% year-over-year decrease for weak companies. (Aberdeen Group)
Of those companies identified by Aberdeen Group as being top-performers in omni-channel strategy, 85% conduct regular training of customer care agents in the handling of omnichannel communications, and 77% store customer contact data across multiple channels. (Aberdeen Group)
45% of shoppers in-store expect sales associates to be knowledgeable about online-only products. (Forrester)
71% of shoppers agree that it is important or very important to be able to view inventory information for in-store products. (Forrester)
50% of shoppers expect that they will be able to make a purchase online and pick up in-store. (Forrester)
39% of consumers are unlikely or very unlikely to visit a retailer's store if the online store does not provide physical store inventory information. (Forrester)
56% of consumers have used their mobile device to research products at home with 38% having used their mobile device to check inventory availability while on their way to a store and 34% who have used their mobile device to research products while in a store. (Forrester)
69% of consumers who that store associates be armed with a mobile device — in order to perform simple and immediate tasks such as looking up product information and checking inventory.
27% of consumers would be very likely to leave and visit another retailer's store if a product is out of stock with 21% stating they would buy online from a different retailer and 21% who would simply hold off buying the product.
Omnichannel Marketing Strategy Guide
Set up your omnichannel campaigns for success by checking out our Omnichannel Marketing Strategy Guide. Gain access to some of our most informative resources on omnichannel marketing trends, strategies, and tactics. Get your free copy today!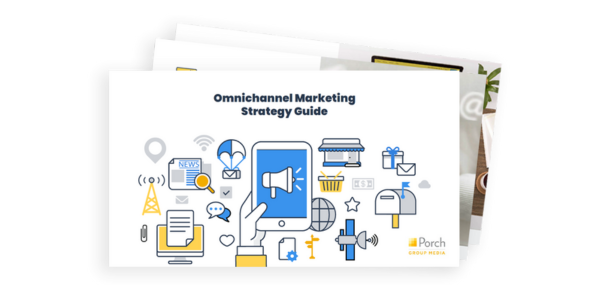 ---
Sign up for our marketing tips and resources:
---
Learn how Porch Group Media can help you get to know your customers better and reach them across channels to boost your marketing success. Contact us to get started!