We are clearly in the age of the mobile revolution and have been for some time now. Consumers are more connected than ever through their mobile devices, and the mobile and digital landscape is continuing to evolve.
Although mobile strategies are becoming more commonplace to keep up with consumer expectations, marketers must embrace a mobile-first mentality across channels. Mobile is still often seen as a separate channel where in fact, mobile touches each and every aspect of the marketing mix. In this article, we'll focus on a mobile-first approach to email and the importance of integrating email with other channels along the purchase journey.
Email Marketing Statistics
Although email has been around for 20+ years, it continues to be one of the most successful strategies for marketers. In fact, email marketing is the 2nd most effective e-commerce marketing channel, second only to search. With the advancement in technology and the proliferation of so much data, never before have retailers had such an opportunity to take the effectiveness of their email marketing strategies to new heights.
In a survey by StrongView and Selligent, the area in which marketers plan to increase spending is email. 6 in 10 respondents reported planning to increase their email marketing spending this year, the broadest consensus of all of the channels measured.
Check out these statistics on how prevalent mobile email has become.
Design For Mobile – Always
First and foremost, if you aren't designing your emails for mobile devices, chances are that your message is not getting the attention it deserves. Mobile-friendly design is the most crucial component for successful mobile email marketing. In fact, 80% of users will delete an email if it does not look good on their mobile devices, according to Blue Hornet. So for those who say that email marketing is dead, they are probably not using responsive design!
Mobile-friendly design is the most crucial component for successful mobile email marketing.
Pay attention to your copy. A great subject line can boost your email open rates but a good rule of thumb is to keep it below 50 characters. Your opening line must be relevant and compelling since this is what will appear in the preview window on mobile devices.  The body copy should also be easy to read on any size device. Use subheadings, short paragraphs, and plenty of line breaks. Also, avoid content that requires too much clicking or scrolling. There are plenty of email guides and best practices on how to incorporate a mobile-friendly design into your email so be sure to do your research and implement mobile-first design best practices.
Use Location-Based Emails
One of the great things about mobile is that these "always-on" devices can be used to target consumers by their location. In fact, 55% of consumers are open to receiving marketing emails on their mobile devices based on their location. Location-driven email can be done through in-store technologies, such as beacons and other technologies, or by receiving geo signals such as latitude and longitude parameters from a device.
More sophisticated technologies are also now available to give marketers near real-time insights into exactly which consumers are visiting a competitor or a brand's own brick-and-mortar locations. This is all done by advancements that can now connect a device to an individual's PII. Marketers can access actual, not modeled, persona profiles of real consumers including their cross-channel contact data, demographic characteristics, and other key insights to enable instant data mobility, understanding, and action.
Cross-Channel Mobile Integration
According to Salesforce's State of Marketing Survey, 73% of marketers agree that email marketing is core to their business with 41% planning to increase appending on automation and mobile integration into their email platforms. However, 40% of professionals state that the 'inability to integrate' is a key hindrance in the achievement of sales and revenue goals. Separate systems may handle email marketing, CRM, or automation. Integration of these systems increases conversions, customer experiences, and overall success rates.
Mobile users expect a great experience using the advantages of their mobile device capabilities. For example, this experience may include researching an item on a mobile device, ordering it online, and picking it up at a physical store location. Or using mobile to read an email, clicking on an offer, and then being able to immediately schedule delivery, an appointment or redeem a coupon. These seamless experiences are dependent on having each marketing channel integrated and the same consumer data available and transparent within each of these channels.
Remember the goal of email marketing is not to send as many emails to as many people as possible – but to send the right message, to the right person, and at the right time. The majority of consumers are now viewing emails on mobile devices and they not only expect your emails to be optimized, but they demand a quality experience. With a mobile-first mindset, you can ensure that your marketing messages are being read, whether a consumer is at home, at work, or on the go.
Learn more about how to set your email marketing up for success by downloading our free Email Marketing Success Kit.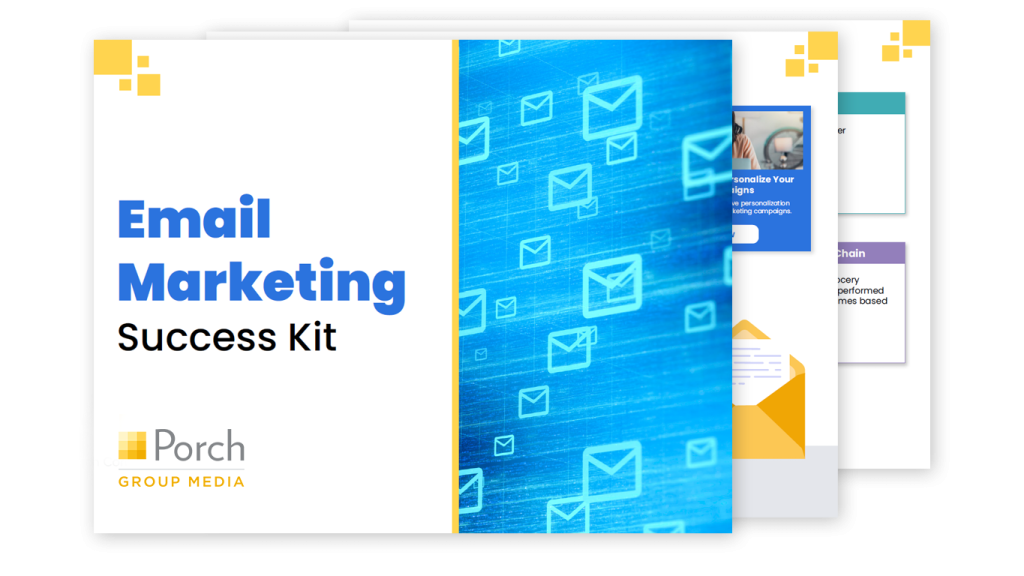 ---
Learn how Porch Group Media can help you get to know your customers better and reach them across channels to boost your marketing success. Contact us to get started!