Welcome to the Movers and Shakers podcast. Join us as industry leaders and experts discuss important marketing topics and share actionable insights and unique perspectives on the latest marketing, strategies, technology, and trends.
---
*This content has been adapted from our full-length Movers and Shakers podcast, The Growth of Retail Media Networks & CTV: Coffee Break with Porch Group Media & Strategus.
Luci:
Comscore did report and we discussed earlier how large brands have dominated Linear TV and now small and medium sized companies have options and they can be extremely efficient. We just talked about that but look at the growth that's expected. We talked about this last time. You know, in connected TV ad spending and in retail media networks spending. And again, I love the affordability that you all are bringing to, large brands and small and medium alike.
We touched on this briefly last time, but we wanted to do a deeper dive today, Michelle, on your porch mover and homeowner spine and how you really see the advantages of this Advanced Media Network working for your current customers or prospective customers out there.
Michelle:
Sure. Happy to. I think that you nailed it down when you said we can identify a mover who is much earlier in the funnel just because of some of our first party data, right? If you watch the news, there's a whole bunch of retail media networks that are coming to the market.
You know, Marriot, Kroger's are just a few, you know, much less, all of the retail media networks to Amazon, Walmart. I just heard a great presentation on I think it was Dollar General. I didn't even know they had a retail media network.
But, I think that what everybody is really kind of learning is that if you have the availability of first party data that is not out there in the ecosystem, so it's not publicly available data, Um, the ability to use that in combination with marketing execution just creates a really great experience for that brand and for that customer, right? Because it gives them access to something that they just can't find anywhere else.
I heard a great statement this last week, it was, "If you're doing advertising well, you're doing a service to the customer."
So, you're providing them something that they're actually looking for with accurate data that can actually take them through the entire journey. As being a Porch company, our mission is to help consumers as they're going through that move journey. Right, we have a mission. We have many companies that do that.
As part of the marketing group, our mission is to be able to utilize all of those services, and to be able to reach out to brands and really help that customer in another way with finding services earlier.
So for us, the retail media network is just a great way of providing access to our first party data, right? Because it's something that we would not sell and we would not release out into the ecosystem, but we would love to be able to use the information that we have to really create a great advertising story for those brands and those customers that want to access to it.
And to remember that it's not, we're not just about the We're about the mover and the homeowner. So, we can do all kinds of really cool things and insights with our home inspection data, right, and with some of our attributes. So, it's beyond demographics, when you have access to first party data, and I think that's the key for everybody that's starting to bring up these media networks.
Check out the Connected TV Success Kit, full of informative tips, content and videos discussing what exactly CTV is, how it works, the benefits of advertising on this channel, and how to set up your campaigns for success with the latest tips and strategies.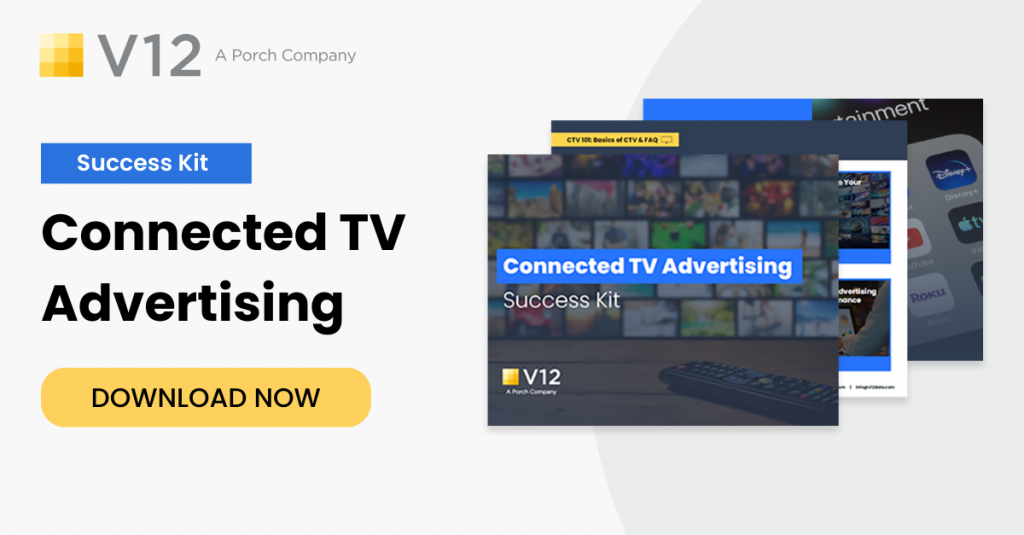 ---
Stay up to date with the latest news and resources: