How Do Consumers Really Feel About Your Marketing Emails?
Marketers love email – and for good reason.  Report after report continues to indicate that email marketing is one of the best channels for producing ROI.  And email is showing no signs of slowing down. Marketers rank email as the most effective channel for acquisition and retention, according to a survey from WBR Digital reported by eMarketer. According to the report, "81% and 80% of respondents, respectively, said email marketing drives customer acquisition and retention. Email's usefulness was followed by that of other digital tactics like organic search at 62% for acquisition and social media at 44% for retention—both rated effective by far fewer respondents than chose email."
The "Email Marketing Industry Census 2016," published by Econsultancy and Adestra also reports that email is the fastest-growing channel for marketing ROI.  73 percent of company respondents rated email marketing as "excellent" or "good" in terms of ROI, which is up from 66 percent in 2015. The research also revealed that companies that invest at least one-fifth of their marketing budgets on email are eight times more likely to see 50 percent more sales attributable to it.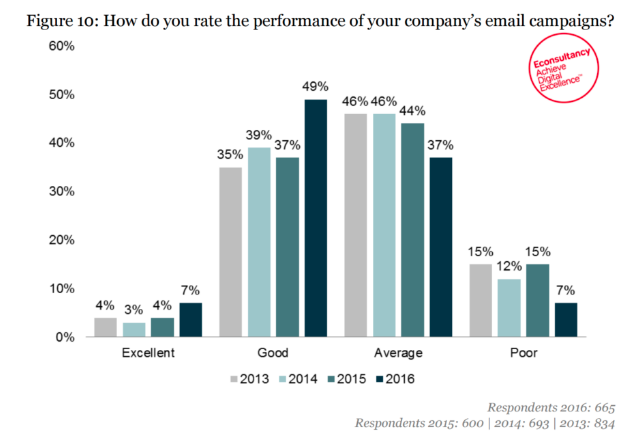 Research continues to validate the importance of email as a strong channel for reaching consumers.  Email certainly isn't going anywhere anytime soon.  But what do consumers think of brand emails?  What types of emails are they most receptive to?  And what will encourage them to open, click, and engage with your email marketing messages?
Mapp Digital recently put out the "2016 Consumers View of Email Marketing" report that discusses what consumers are looking for in brand emails.  Below are key highlights from the report.
How often do consumers prefer to hear from companies that send marketing or advertising emails?
Most consumers prefer to receive weekly communications from brands.  However, be sure to segment your list to determine frequency for your individual customers.  There is no magical answer on how often you should send emails. Segment by purchase frequency, channel engagement, click-through activity, and other performance indicators.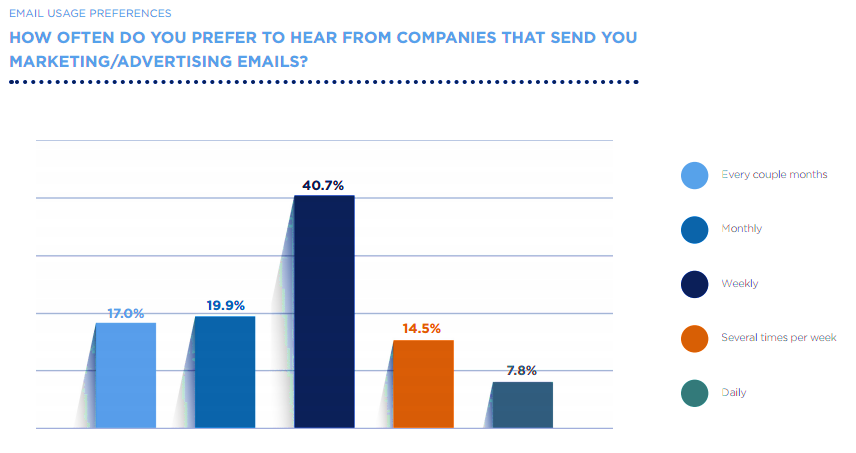 If a consumer decides to unsubscribe from a company's emails, what can a brand do to keep them on the list?
Consumers unsubscribe from a company's list for any number of reasons.  While 35% of these consumers said that there is nothing a brand can do to change their mind, 40% said they would consider receiving a lower frequency of email instead.  Personalization is also a major factor for consumes when deciding to stay subscribed to a brand's list. Before your subscribers even have a chance to consider hitting the unsubscribe button, be sure your email communications are highly personalized based on interests, preferences, and past purchases.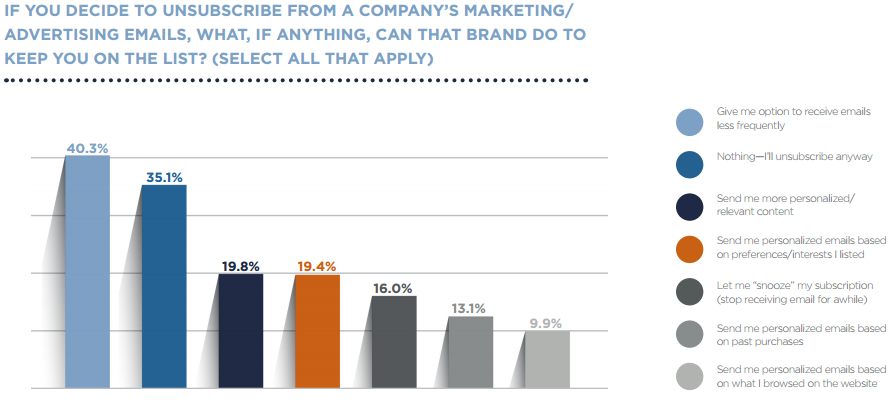 What type of offer are consumers looking for in emails?
Many consumers report that email drives them to purchase, with most buying once a month or more because of these emails.  However, the types of offers consumers are looking for in brand promotions vary from consumer to consumer.  Again, it is important to apply segmentation and testing techniques to demine which offers are most impactful among different consumer groups.
As a general rule of thumb, the research by Mapp Digital broke out offer preferences by generations.  According to the survey, "18-34 year olds preferred percentage off offers (especially the 18-24 year olds), while 35-54 year olds slightly preferred dollars off deals. Only the 55-64 year olds preferred free shipping. As free shipping becomes more of an expected part of the online purchasing experience, especially among Millennials, perhaps we'll see a bigger shift towards consumers preferring savings on their actual purchases."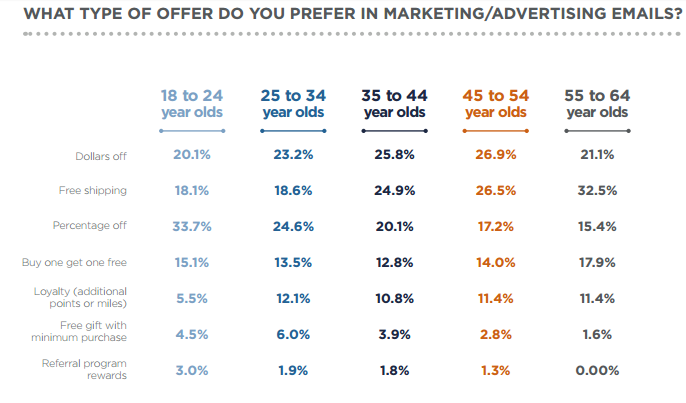 Besides discounts and free shipping, why else do consumers sign up for emails?
Saving money is undoubtedly the main reason why consumers sign up for a brand's email.  However, there are other reasons as well.  For example, 65.9% of consumers have signed up for email in order to join a loyalty or rewards program.  When building your subscriber list, keep in mind the various reasons why someone may be interested in hearing from you and leverage various offers and content is to keep subscribers engaged.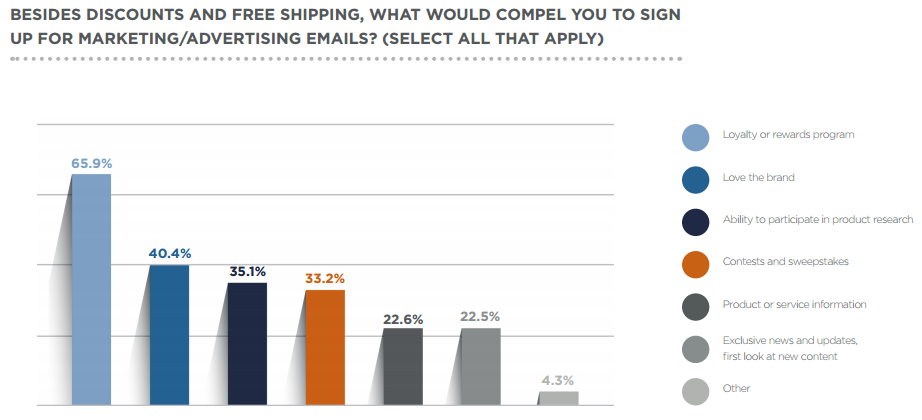 How likely are consumers to complete a purchase on a mobile phone or tablet?
At this point, most brands have optimized their email campaigns for mobile.  For those who haven't, your emails are most likely getting deleted.  Half of consumers stated that they deleted emails that display incorrectly on their mobile device.
Many email subscribers stated that they are likely to complete their purchase on mobile (41% for mobile phone, 38% for tablet). However, desktop still plays a role. Many consumers also stated that they are UNLIKELY to purchase using these devices (47% for mobile phone, 46% for tablet). So what prevents a consumer from completing a purchase on mobile? The primary reason was that most consumers continue to feel most comfortable making a purchase on desktop or laptop. These numbers are decreasing – the number was 50% last year compared to the 44-45% in the most recent survey.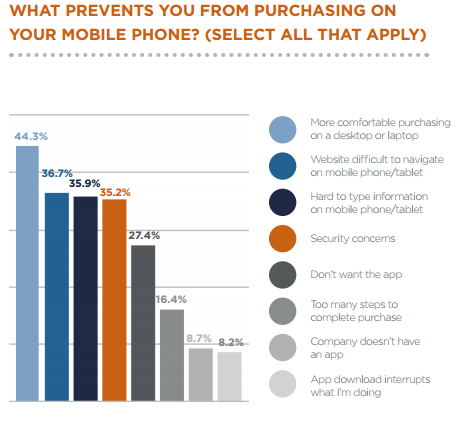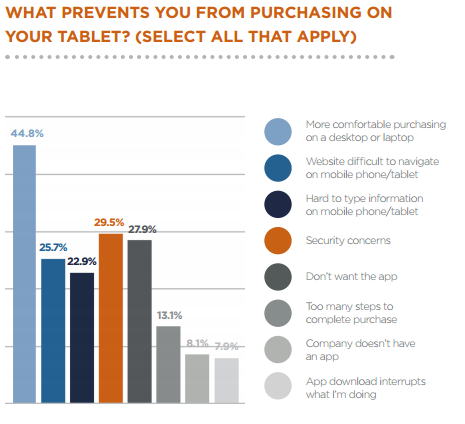 Email should continue to be one of the primary channels for communicating with your customers.  The key takeaway here is to listen to your customers.  Don't send more email – send better email based on your subscriber's unique preferences.
Download our Email Marketing Success Kit for more great tips, strategies and email marketing best-practices.