"Your current marketing strategy may not be relevant tomorrow."  Marketing trends change, new ones are developed, and marketing technology comes and goes.  However, one channel has withstood the test of time and that is email.
Did you know that the first email was sent in 1971? The first network email was sent by computer engineer Ray Tomlinson in 1971. The email to himself said "something like QWERTYUIOP".
Today, email is more vibrant than ever. But don't take our word for it.  Take a look at some of these top email marketing statistics:
More than 8 out of 10 people will open a welcome email, generating 4x as many opens and 10x as many clicks as other email types. (GetResponse, 2020)

59% of respondents say that marketing emails have influenced their purchases. (Salecycle, 2022)
Email marketing is a highly cost-effective way of customer communication and retention. There is no doubt that email marketing works, especially when you have a dynamic strategy that can be easily adjusted with new trends.
Knowing the latest trends and predictions about the market and customer preferences gives companies an upper hand over their competitors. Check out these email marketing trends that are expected to shape your strategies in 2023.
1. Focus on User-Generated Content (UGC)
Try adding user-generated content (UGC) to your emails. Your customers are the experts and including information generated from real users goes a long way in building brand trust and credibility. According to statistics, 90% of consumers say authenticity is important when deciding which brands they like and support and 84% of consumers say they trust peer recommendations above all other sources of advertising.
Types of UGC content may include:
Product reviews or customer testimonials
User photos – for example, maybe you are a local restaurant and you include pictures customers have posted of their favorite dishes.
Customer social media posts or videos showing someone using your product
Remember to have fun and be authentic to build trust with new prospects and current customers.
2. Personalization That Goes Beyond the Recipient's Name
Gone are the days when brands could attract a consumer by just mentioning their first name. Nowadays, almost every email starts this way and the concept of email personalization has gone beyond this.
Personalization should be based on using data-driven insights that show you understand your customers and their purchase behavior. According to research by SurveyMonkey, almost 6 in 10 consumers would make a purchase based on a suggestion from their past purchase history. Using and analyzing these data points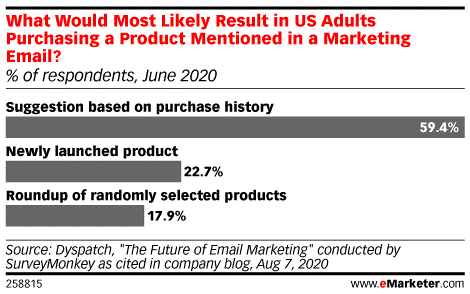 Stats show that 66% of customers want brands to understand what they want and need. Additionally:
91% of consumers say that they are more willing to do business with a company that provides offers directly relevant to them
36% of people want companies to provide more personalized experiences
72% say they only respond to messages aimed directly at them
(source)
So try adopting "hyper-personalization," research the customers thoroughly, and make your emails relevant in 2023.
3. No Room for Boring Emails
Consumers are familiar with simple, boring emails with almost the same type of "Hello!" greeting and "Visit Now" CTA button. With evolving email marketing trends, companies must level up their email game and bring something new.
Kapost researched the effectiveness of passive and interactive emails and found that the latter can boost the conversion rate by 2 times. Interactive emails combine UGC with various clickable content to enhance customer engagement.
Consider these email suggestions – or "email gamification," which includes competitions and rewards. You can create interactive emails in 2023 by including:
Quizzes, polls, and surveys related to any hot topic to collect user insights
Product slideshows and carousels
Rollover images to offer an immersive shopping experience within the email
UGC to build trust
Add colorful and attractive CTAs to motivate people to click
However, don't completely ignore simplicity and minimalism in your emails. Some people still prefer cleaner, shorter, and easy-to-read emails with lots of white space and a neutral color palette.
Simply put, maintaining a balance between simple and interactive emails is the key to making the most out of email marketing in 2023.
4. Automation and Artificial Intelligence (AI) Won't Be Buzzwords Anymore
Artificial Intelligence (AI) isn't a new term in customer analysis and marketing. Data itself isn't valuable if you don't have the resources to turn it into actionable insights. That's where AI comes into the scene.
Combined with machine learning, AI offers:
Customer Insights. AI tools provide brands with customer insights, helping them craft emails relevant to a specific group of people. Businesses can easily process a large data pool, develop simple analytics, track customer trends, and predict the future.
Segmentation. Another aspect where automation and AI can help marketers is with email segmentation. Marketers can make hyper-targeted recipient groups with similar preferences for more effective email targeting.
Email Chatbots. If not today, then in the future, businesses are expected to use AI and machine learning to develop email chatbots. These bots will send automated emails to a target audience and interact with them like humans. Chatbots greatly enhance responsiveness.
Attractive Subject Lines. Short on time and can't think of an eye-catching subject line? AI can cover you here too!
Considering these endless possibilities of AI and automation, there is no doubt that email marketers will use AI even more in 2023.
5. More Focus on Mobile-Friendly Emails
The fact that more people are opening up their emails on mobile devices is nothing new. People prefer compact, handy mobile devices that show notifications on the go. Statista observed the global internet traffic for the last 7 years and found that about 55% originates from smartphones.
Today, approximately 70% of consumers prefer to do product research on mobile devices rather than communicate with associates. Mobile-responsive emails that don't require consumers to open the browser are more important than ever.
As a business, you must not forget to make the email's design compatible with mobile devices. 73 percent of companies today prioritize mobile device optimization when creating email marketing campaigns.
6. Data Privacy and Consent as Priorities
With the implementation of the General Data Protection Regulation (GDPR), email marketing trends significantly changed concerning data privacy and consent. Since almost all businesses follow these rules, you need to do something extra to yield customers' trust.
According to Data from Entrust, only 21% of consumers find global companies reliable in having their data. To convince the rest, you must guide them through your email data collection process.
Try offering opt-out and double opt-in options to the customers to not look "too intruding." In fact, Apple also revised its policy in 2022, calling email open rates a useless metric to evaluate a marketing strategy's effectiveness.
Therefore, email marketers must use organic methods like consent and time-based metrics to assess the right time to send emails to audiences.
Final Thoughts
Summing up, email marketing is a dynamic channel, constantly shifting and evolving and 2023 will see many new trends including a few prominent ideas as outlined here: hyper-personalization, a balance between interactive and simple emails, AI and automation, UGC and mobile accessibility. Data privacy and consent have also become major concerns among consumers.
Let us help rock your email campaigns in 2023. Download the Email Marketing Best Practices Guidebook, full of tips and best practices to help you get through to the inbox and in front of consumers waiting to hear from you.