Email marketing isn't just about sending messages to inboxes anymore; it's a dynamic ecosystem where innovation, personalization, and data-driven decision-making converge to create powerful results.
Whether you're a seasoned email marketer or just getting started, these 100+ stats will provide valuable insights, trends, and benchmarks that can guide your campaigns to success in the ever-evolving digital landscape.
So let's supercharge your email marketing game in 2024 dive into the numbers and discover how this tried-and-true channel is transforming into an even more potent tool for businesses and marketers alike.
Table of Contents
Top 10 Editor Picks
1. There are over 4.3 billion email users worldwide in 2023—more than half the world's total population. The number of email users is expected to increase to 4.6 billion by 2025.
Have you heard that email marketing is dead? Well, clearly it is not and provides an excellent and low-cost channel to keep as part of the marketing mix.
Personalization provides better customer experiences and consumers will reared you in higher engagement and loyalty to brands. However, read on – the repercussions of NOT personalizing can be just as detrimental.
3. 52% of consumers say they'll go somewhere else to find what they're looking for if an email is not personalized.
This showcases that personalization is no longer an option, but a must-have strategy to stay competitive and engage today's consumers.
4. According to consumers, the most frustrating things about personalization are: recommending items that don't match their interests (34%), expired offers (24%), name misspelling (15%), inappropriate season or location offers (14%), already purchased promotions (13%).
Consumers are paying attention and have high expectations when it comes to personalization, being put off by anything from a misspelled name to items that don't match their interests and more. Spend extra time to ensure your personalization techniques are up to par – and then check again to be sure.
5. Adding videos to your emails can increase open rates by 300%.
Videos continue to gain momentum and can highly impact the success of your email strategies. Videos are also an excellent medium to capture the attention span of younger audiences and shorter attention spans.
Don't neglect the power of welcome emails to boost engagement and improve the customer experience.
7. 60% of consumers have completed a purchase after receiving a marketing message by email.
Consumers not only will open and read emails, but 6 out of 10 have also completed a purchase from receiving an email communication. If you are still on the fence about the power of email, this stat should speak for itself.
A massive number of marketers have already adopted and integrated AI into their email martech stack and seeing impressive results, as showcased in our next top stat.
9. Revenue increased by 41%, and CTR increased by 13.44% for marketers who utilize AI for email personalization.
Test out AI in your email marketing to see what resonates and where you may be seeing higher engagement. AI tools are being adopted at rapid speeds so test now before you get left behind.
10. 82% of marketers use automation to create triggered emails which result in 8 times more opens and greater earnings than typical bulk emails.
Marketers clearly believe in the power of automation, with over 8 in 10 using automation. However, even more impressive is the automated email generated eight times more opens than a bulk email campaign.
General Email Overview
The first email was sent by Ray Tomlinson, a computer engineer, in 1971. Ray Tomlinson was working on ARPANET, the precursor to the modern internet when he sent the first email between two machines located side by side. Email has since become one of the most widely used communication methods on the internet.
Email Strategy Statistics
Types of emails marketers send include: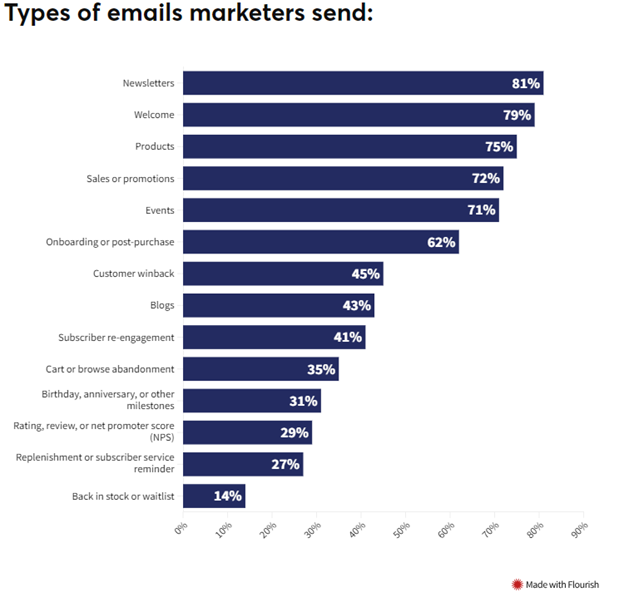 Email ROI Statistics
Email Personalization Statistics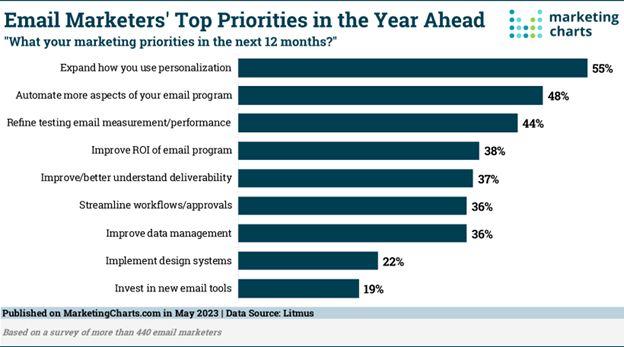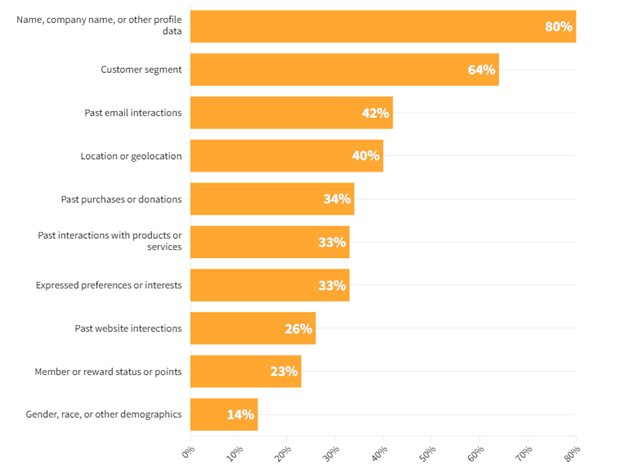 60% of retail, e-commerce, and consumer goods and services companies are personalizing emails based on past purchases, versus 38% in 2019.
Email Automation Statistics
The single message autoresponder email had an astonishing 98% open rate and a 37% click-through rate.

Automation tools are used for sending all types of emails:
– welcome emails (47%)
– promotional sales emails (46%)
– transactional emails (28%)
– invitations and reminders (27%)
– blog updates (26%)
– upselling emails (23%)
– event-triggered emails based on customer lifecycle (15%), etc.
AI in Email Statistics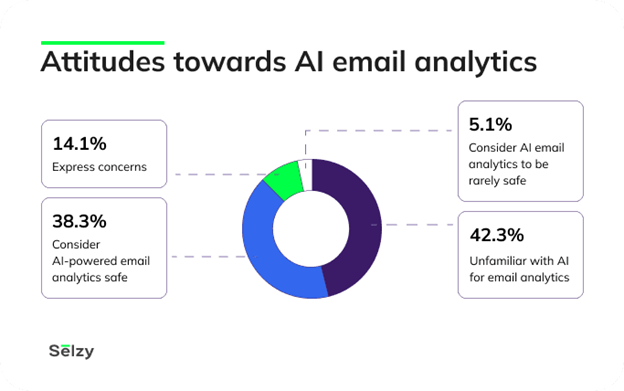 Mobile Email Statistics
B2B Email Statistics
Fun Email Facts
Interested in more resources on email marketing? Our Email Marketing Best Practices Guide outlines standard best practices that enhance email communications, including recommendations to ensure your emails stand out in crowded inboxes and generate ROI.