Email continues to reign as the top-performing marketing channel in terms of ROI, lead generation, content distribution and other key metrics.
In research by The Manifest,  almost 70% of businesses use email marketing as part of their campaign strategy. Other key findings:
Among businesses that participate in email marketing, most send marketing emails either daily (32%) or weekly (41%).
Businesses send a variety of emails, but product/company updates (69%), promotional emails (69%), newsletters, (68%), and event invitations (65%) are the most popular.
When asked about their main goal for email marketing, most businesses want to grow and retain their customer base (29%) or increase engagement (22%).
Personalization and Segmentation
Email marketing has been around for some time and by now, it's common knowledge that mass spray and pray email blasts do not generally work. However, segmenting your lists and using personalization are much more effective than you may realize. For example, something as simple as a personalized greeting can offer a six-fold increase in transaction rate, but 70% of brands still fail to personalize their emails.
Take a look at some of these other compelling statistics:
74% of marketers say targeted personalization increases customer engagement. – eConsultancy
Only 39% of online retailers send personalized product recommendations via email. – Certona
Emails with personalized subject lines are 26% more likely to be opened. – Campaign Monitor
53% of marketers say ongoing, personalized communication with existing customers results in moderate to significant revenue impact. – DemandGen
Marketers have noted a 760% increase in revenue from segmented campaigns. – Campaign Monitor
To personalize your email campaigns, you need data in order to understand your customers. However, according to research by Janrain and Blue Research, 96% of consumers say they receive mistargeted information or promotions. The repercussions can be costly, resulting in lost customers and a big hit to the bottom line.
According to the research, consumers stated that types of mistargeting include:
71% have received, "An offer that clearly shows they do not know who I am."
51% have received, "Mixed info across different methods of communication."
41% have seen, "'Mistakes made about basic information about me."
Consumers expect brands to know them and are quick to act when they receive mistargeted and inconsistent communications. 94% of consumers have taken one or more of these actions:
68%: Automatically delete emails
54%: Unsubscribe from emails
45%: Categorize emails as 'junk' or 'spam'
29%: Are less likely to buy products
13%: Visit website less frequently
10%: Never visit website again
Brands must collect data at every touchpoint such as loyalty clubs, transaction history, web forms, social channels, etc. Most brands have data such as full name, phone number, address and purchase history on file.
These first party data sets should be cleaned to correct data errors and also enhanced with third-party data sets to fill in missing information and append rich insights such as lifestyle, interests, shopping preferences, and more. Consider adopting a customer data platform to integrate these data sets, keep data fresh and develop a consistent customer view.
Automated Email Journeys
Triggered emails are a key component in communicating relevant messages at the right time with your customer-base. Sending triggered emails based on a consumer's behavior is effective for both acquisition and transforming customers into loyal brand advocates.
Check out these stats on the effectiveness of email marketing automation:
Automated emails get 119% higher click rates than broadcast emails. (Epsilon)
B2C marketers who connect with customers through automated emails see conversion rates as high as 50%. (eMarketer)
Relevant emails drive 18x more revenue than broadcast emails. (Jupiter Research)
Retailers who send a series of welcome emails see 13% more revenue than those who send just one. (Internet Retailer 500)
Birthday emails can lift conversion rates by 60% over non-birthday emails with the same offer. (ClickZ)
While many brands are very familiar with welcome emails or order confirmations, email automation must be holistically integrated throughout the journey to increase conversions and boost retention.
Consider these examples of customer journeys to engage with consumers at different points across the customer journey:
Engagement/Brand Awareness
Welcome
Birthday
Re-Engagement
Engaged Non-Buyers
Profile Updates
Cross-sell/Upsell
Abandoned Cart
Abandoned Browser
Next Best Offer
First Order
Acquisition
Purchase Intenders
Competition Conquests
Top Tier Look-alikes
Life Event ACQ
Nurture/Purchase Oriented
Nurture
Renewal Reminder
Loyalty
VIP
Thanks for Purchase
More than half (52.7%) of consumers surveyed in research by Campaign Monitor check their personal email account more than 10 times a day, and it is by far their favorite way to receive communication from brands.
Email is a highly effective tool and the foundation of today's omnichannel marketing strategies. While this makes email more challenging to stand out in a crowded marketplace, using tried and true techniques to make your emails stand out will go a long way in driving conversions, loyalty, and strong revenue.
Download our Email Marketing Success Kit gives you access to some of our most informative resources on email marketing trends, strategies, and tactics. The most convenient way to research, this success kit contains topic-focused blogs, podcasts, case studies, and more – all with one download.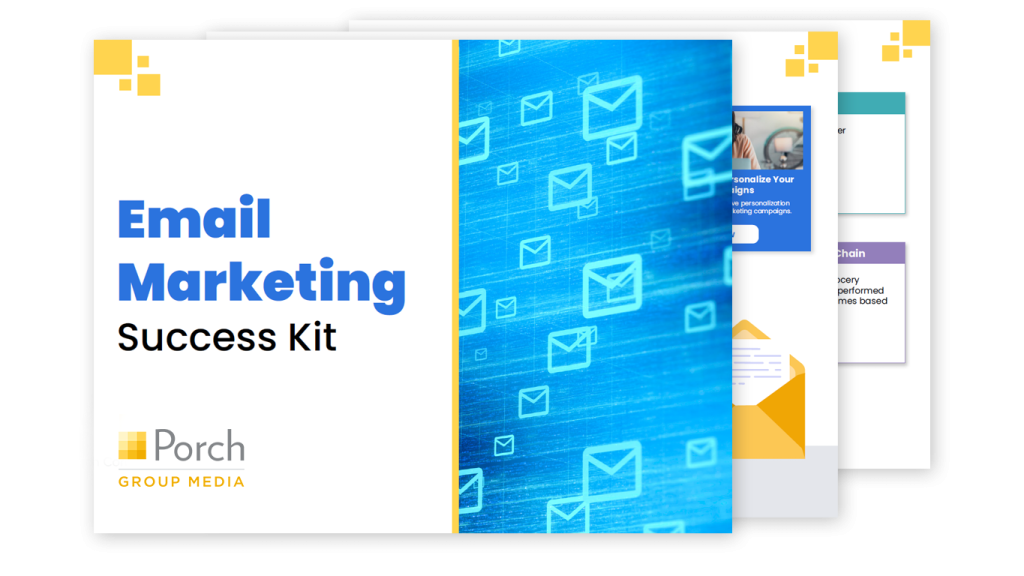 Learn how Porch Group Media can help you get to know your customers better and reach them across channels to boost your marketing success. Contact us to get started!