The pandemic changed a lot for Americans – the way we work, socialize, shop – and move. As many as 9 million people in the U.S. have moved since the covid-19 pandemic began. Examining these moving trends show that this mass migration was different from previous years – largely in part due to the widespread effect of the virus.
For marketers to best engage with the mover audience, understanding these pandemic moving trends can help paint a complete picture of covid-19 movers and what factors motivated them to relocate.
Trend #1. Leaving Densely Populated Areas
The coronavirus is airborne and spreads through close contact, causing many people in crowded cities and states to be more susceptible to contracting the virus. Because of the higher risk to covid-19 and the strict mandates, many were motivated to move out of densely populated areas. Check out the following statistics:
68% more people left New York City than moved into it. (HireAHelper)
38% of survey respondents said they moved because of health concerns in their area. (Move.org)
MYMOVE registration data shows that some residents moved from densely populated cities to smaller nearby cities and suburbs. (MYMOVE)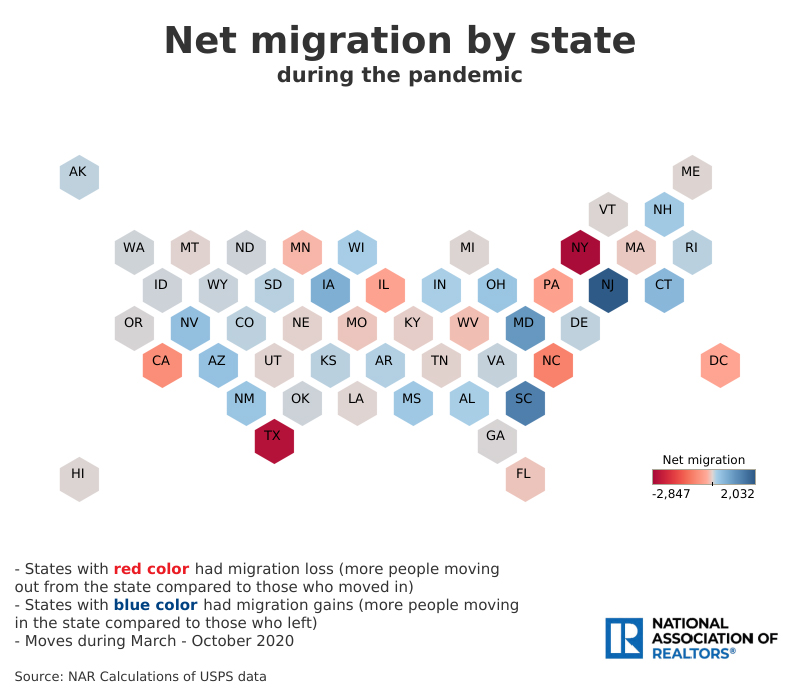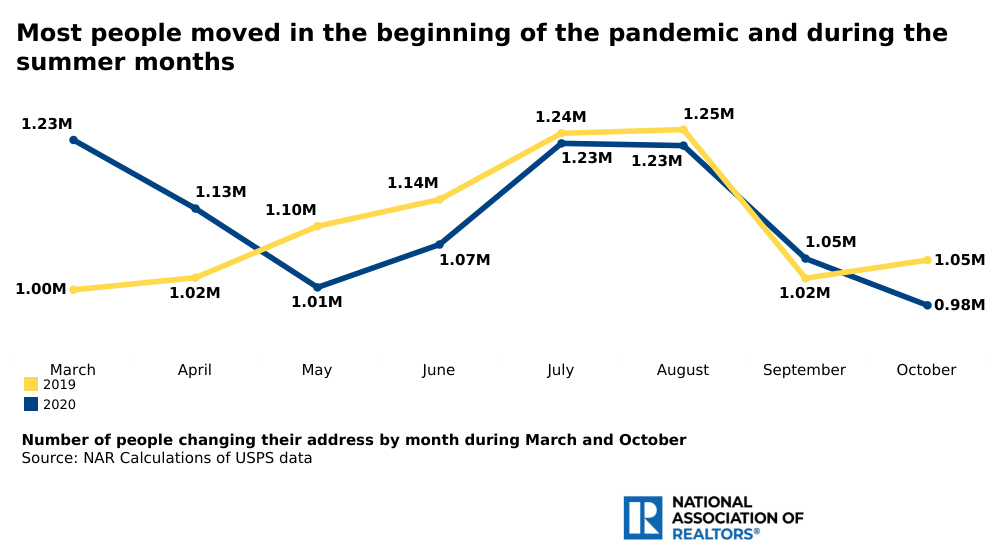 Trend #2. Moving to Locations with More Affordable Cost of Living
Costof living became another decision-making factor that motivated people to move during the pandemic. To minimize the spread of the virus in the workplace, most companies transitioned to a remote workforce. With the rise of remote jobs and the fall of the workday commute, workers gained the freedom to seek more cost friendly living situations in other cities and states.
42% of people said affordable housing was a deciding factor in their decision to move. (Move.org)
28% of people moved because they started working from home and no longer had to live close to work. (HireAHelper)
Pew Research reported that "Adults in lower-income households (9%) were more likely to say they moved due to the virus than those with middle (3%) or upper incomes (4%).
Trend #3. Desire to Live Somewhere with Less Mandates
The larger cities experienced a higher number of coronavirus cases, leading them to impose strict mandates and lengthy lockdowns. Meanwhile, smaller, less populated areas were able to open much sooner with less restrictions in place. For many, this was enough motivation to move out of the city. According to HireAHelper, "as many as 10% of people deliberately moved somewhere where lockdowns weren't as tight and the schools were open."
Trend #4. Seeking Home Ownership
With mortgage rates reaching a record low of 2.65 percent, the possibility of home ownership opened up for many people. And, with the falling mortgage rates and the reduced need to get a loan to buy a house, the demand for housing skyrocketed.
Clearly, the pandemic has impacted every facet of our lives – where we work, how we shop, when we engage with others, and even where we live. Moving is a time when consumers are most open to switching and trying new brands. Marketers must ensure their campaigns are precisely targeted to retain and acquire moving customers during these times of rapid change.
Contact us to learn more about how to turn new movers into customers. Call (833) 812-4768 or download the free brochure to get started.