More than 7 in 10 US consumers would prefer to receive email communications from businesses over direct mail, SMS, and push messages, and the preference for email extends across age groups and genders, per a study by Adestra.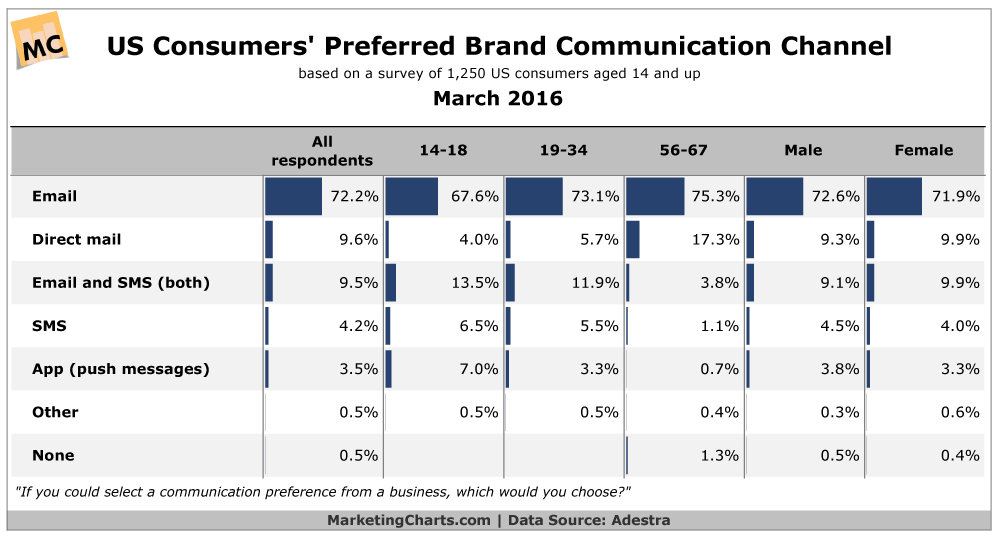 Additional study insights include:
Half of respondents sign up for text messages from businesses, with this figure highest among Millennials (60%)
National and local retailers are the businesses that consumers are most likely to sign up for text messages from
6 in 10 respondents feel that they are receiving too much promotional email, with teens the least likely to feel this way
Emails containing discounts have a greater perceived influence on purchasing decisions than review websites and online ads, among others, also generally in keeping with MarketingCharts' research
Two-thirds of respondents unsubscribe from emails that they're no longer interested in as opposed to other actions such as deleting the email each time or ignoring them
The top response to a mobile email that doesn't look good is to delete it, though many teens also unsubscribe as a result of an email that isn't optimized
Only 43% of respondents give a real email address when they come to a website that asks for an email address before they can access the site, with 39% leaving the site, 12% giving an old email address, and 5% giving an incorrect email address
Another study, "Adobe Email Survey 2016," reported similar findings. According to Adobe's research, the biggest driver for the continuing rise in email usage is the shift to mobile. Millennials spend the most time with email compared to other age groups, with 90% percent of them primarily using their smartphones to access email. Additionally, compared to last year, 21% more respondents said that they primarily use their mobile device to check work email.
As of Q2 2016, more clicks, revenues, and order occurred from mobile devices compared to the previous year (eMarketer).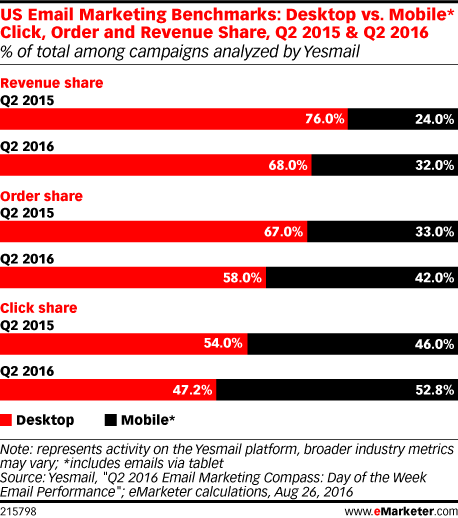 Consumers prefer to receive marketing offers by email (49%) compared to direct mail (22%). However survey respondents stated that less than 25% of the email offers they receive are interesting enough to open. When it comes to email frequency, 47% said that too many emails from a brand are annoying.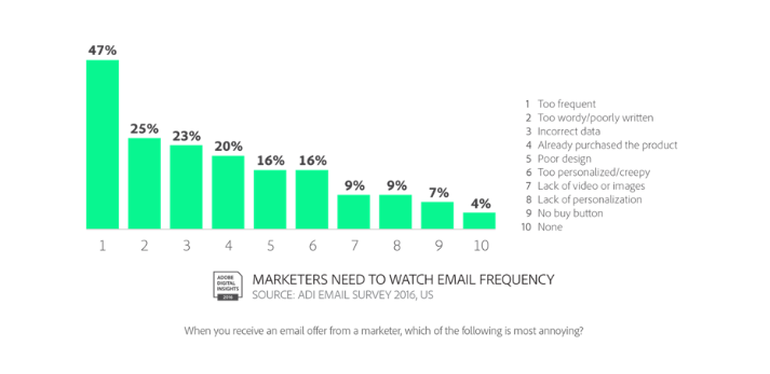 So why do consumers open brand emails? As email technology gets more sophisticated and data gets more pervasive, savvy marketers are taking email personalization to new levels to increase open rates and engagement. According to 2016 Salesforce research, top teams are 4.2x more likely than underperformers to leverage predictive intelligence or data science to create personalized emails. Emails with personalized subject lines are 26% more likely to be opened and marketers have found a 760% increase in email revenue from segmented campaigns.
Segment Your Email List
List segmentation is all about creating personalized emails. The segments can be as large or as small as you want, but the more targeted the segment the more it will resonate with your customers. Email segmentation doesn't need to be a daunting task either – simply starting with when a purchase was last made is a start. But the larger your database and the more varied your product portfolio, the more sophisticated your techniques should become.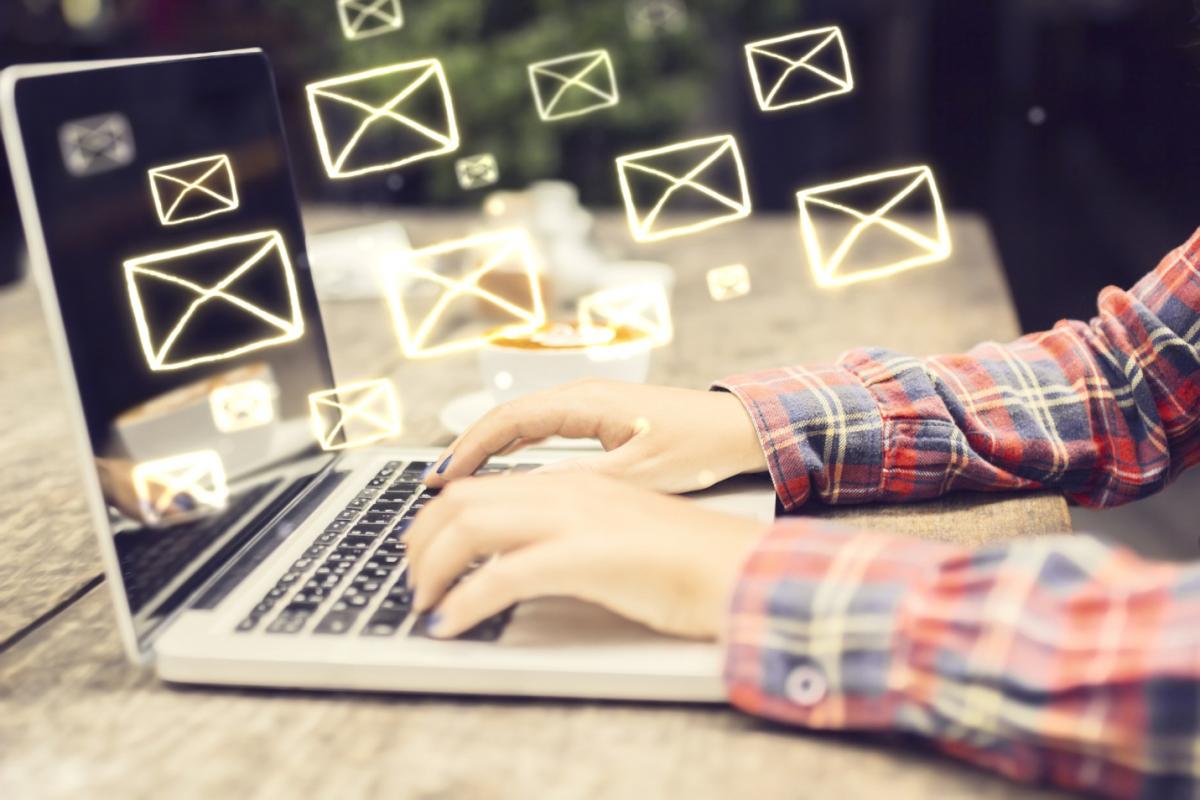 The most successful email marketers understand the importance of using data to drive focused campaigns. Data about each of your customer interactions must be combined into one consolidated customer view. Any number of segmentation strategies can then be applied to create hyper-targeted lists.
For example, a clothing retailer may consider creating segments for females between the ages of 28-34 with a combined household income of $150,000 and who have indicated interests in fashion. These consumers have made new item purchases within the last 4 weeks totaling over $150 and are ideal candidates for accessory purchases. Armed with these insights into demographics and purchase history, a marketer can deploy emails with personalized offers such as "Hello Mary. Thank you for your recent purchase from our summer dress line. We thought these accessories would go great with your new dress." Your customer will appreciate the personalized recommendation as you happily cross-sell her additional products.
Use Data to Predict
With the explosion of so much data, predictive analytics have grown to the point where a consumer's behavior can be tracked to determine purchase intent. A marketer can see what keywords are being searched, which pages were viewed and how often a consumer keeps coming back. While much of this is just noise, meaningful data can be extracted from these big data sets to determine the prospect's intent.
Some examples of how companies utilize predictive personalization include:
Personalized product ads based on past viewing history
Reminders based on past browsing history
Suggestions for products related to previously purchased products
Special coupons or discounts for purchases or site activity
Identify best customers and model for look-alikes
Reduce customer churn by modeling previous unsubscribers and targeting at-risk opt-outs with special incentives
Set up Behavioral Trigger Emails
Behavioral trigger-based emails are real-time interactions with your customers based on some action they perform. Trigger emails have a 152% higher open rate compared to traditional emails. While they are sent automatically, they can be highly personalized based on what your customer is doing.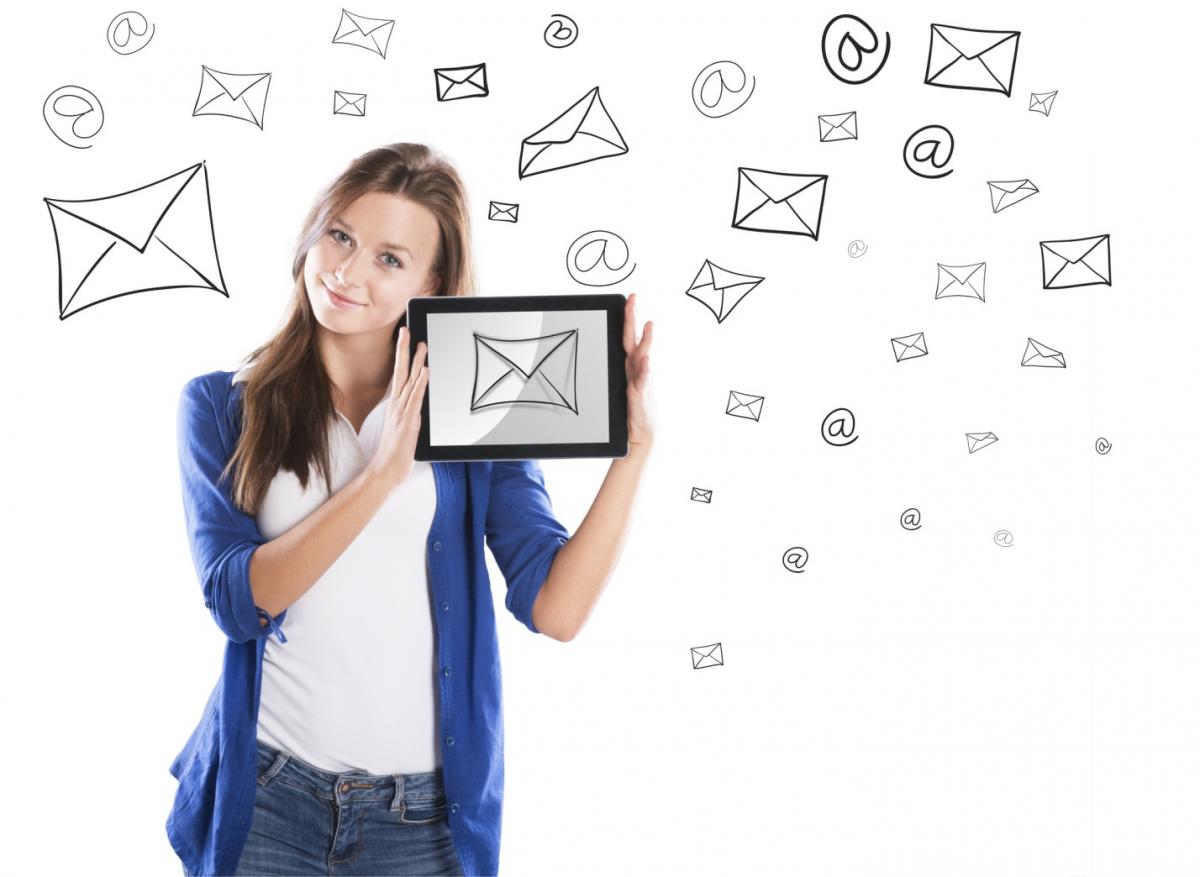 One of the best examples of trigger emails are abandoned cart emails. For retailers, 54% of consumers who did not purchase an item in their shopping cart will do so within 24 hours, and 10% within 48 hours. (eMarketer). Sending an instant email rather than waiting 24 hours ensures you are targeting these consumers within the window of opportunity. When these emails are further personalized with insights pulled from your customer database, click-through and conversion rates are even higher.
For email marketers, getting through to your customer's email's inbox is only half the battle. Capturing your customer's attention is the true testament to a well-crafted email based on targeted communications and an integrated database.
Download our Email Marketing Success Kit, packed with our most informative resources on email marketing trends, strategies, and tactics.