Business executives recognize the value that data brings to the table, with 67% acknowledging the potential of data in helping them grow their businesses. This is according to new research by Dun & Bradstreet. Of the more than 500 business decision-makers show participated in the study, 50% stated that their company would not be able to survive without quality data.
According to the research results, advantages that businesses have realized from data include:
63% – Data has helped us to identify new opportunities for revenue growth
63% – Data has helped us to identify and mitigate business risks
63% – Data has enabled us t improve the service we provide to our customers
61% – Date has enabled a more holistic view of our business relationships
When considering who actually owns the data, businesses are split on whether this is an IT function or business/C-suite function. Traditionally, this has been seen as primarily a Chief Information Officer or Chief Technology Officer role, however this has been evolving and is seen now as more of a Chief Executive responsibility. This ownership will continue to evolve as business leaders seek to define where data strategies fit among their organization.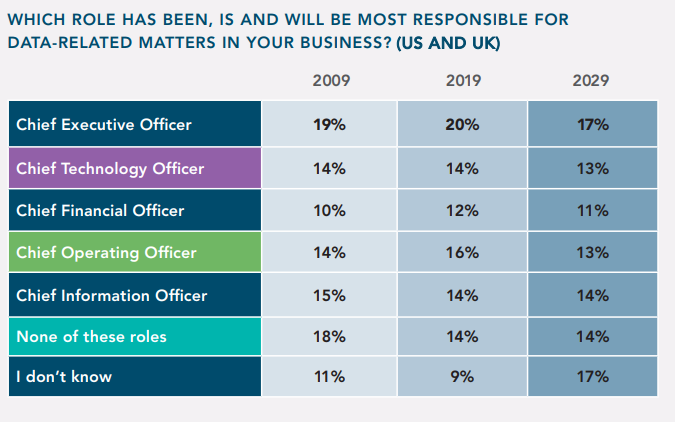 However, data management techniques have been a hurdle for many organizations over the past decade and continuing into the present. According to eresearch:
46% – We haven't had the technology in place to take advantage of our data
43% – Some of our data-led projects have failed
42% – We have struggled with inaccurate data
The repercussions of inaccurate or missing data have been costly, including lost customers, inaccurate forecasting, or damaged reputations.
19% – We lost a customer by using inaccurate or incomplete information about them
19% – Our financial forecast was inaccurate due to incorrect information about a customer
18% – We offered too much credit to a customer due to a lack of information about them and lost money as a result
17% – Our reputation was damaged due to our relationship with a supplier or customer (for example, due to malpractice)
16% – We ran into regulatory issues due to a lack of information about a supplier or customer
15% – We failed to sign a new contract with a customer due to inaccurate or incomplete information
12% – We have been fined or disciplined for data issues
Only 12% of businesses stated that lack of data or inaccurate data has never created any issues.
As to what data collection technologies business leaders are using or planning to use, 43% currently use data management software, and another 25% plan to invest in data management over the next 12 months.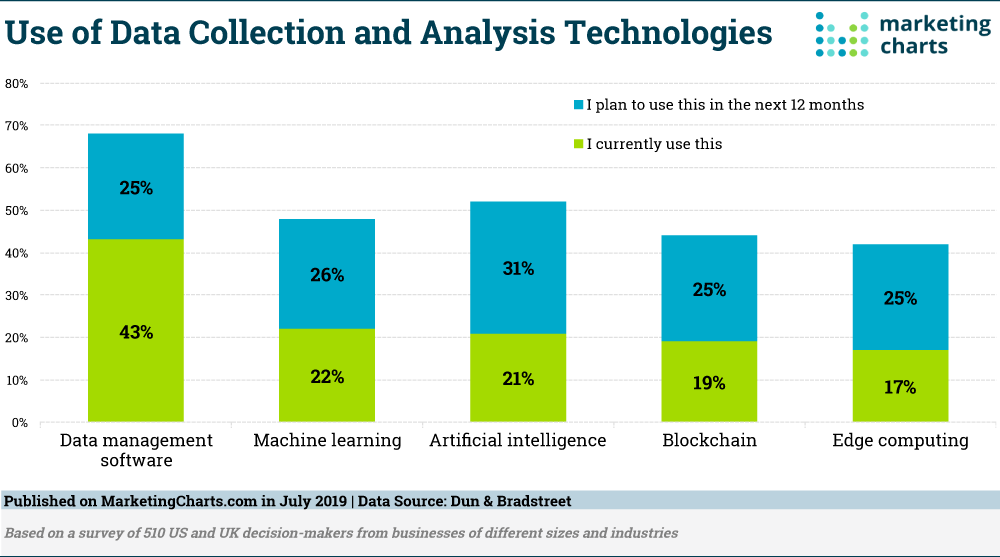 But even with some type of master data management in place, problems continue to persist. Business leaders point to issues with:
Data accuracy – One quarter (25%) say that accessing accurate data is a problem.
Processing power – 23% say that analyzing and processing data is their biggest challenge.
Data siloes – Access to data (20%), sharing data between different teams and functions (18%) and linking the data in the organization (17%) are common concerns.
Timelines – Gaining insights that can be accessed in a useful timeframe (18%) and whether the data is real-time (17%) are worries for business leaders.
The Future of Data
Business leaders do understand that investments in data-led strategies would bring advantages.  The top benefits include competitive advantage (75%), new revenue generation (69%), and helping the sales team to convert more opportunities (68%) as the benefits of more accurate, effectively managed data.
The Role of Third-Party Data
In addition to getting first-party data under control, survey respondents also cite the value of third-party data. Over half (54%) say that third-party data is valuable for enhancing the data that they hold in their organization and 56% stated they would benefit from even more of it.
The Role of People
People who are responsible for data management functions will be critical to data-driven success. According to Dunn & Bradstreet's research, 29% of business leaders agree that people are key to maximizing the value of data. However, only 25% of organizations have people dedicated to the management of data.
Based on 2020 research by O'Reilly, similar findings show that few organizations have created dedicated data quality teams. Most (70%) answered "No" to the question "Does your organization have a dedicated data quality team?"
And nearly two-thirds (62%) answered "No" to the follow-up question "Do you work on the dedicated data quality team?". All told, 12% of all survey respondents work on a dedicated data quality team.
Data is and will continue to be vital to business success now and in the future. Business leaders understand the enormous benefits of data-driven strategies and despite challenges, are continuing to forge ahead in making data-driven success a reality.
Learn how Porch Group Media can help you get to know your customers better and reach them across channels to boost your marketing success. Contact us to get started!
Related Article: A Look at Data Strategies and Best Practices to Fuel Marketing Success