Today's consumers have more options than ever when it comes to choosing among a huge mix of hundreds of brands and thousands of products and services. In such a fiercely competitive environment, brand trust has become an important competitive differentiator.
What makes a brand trust-worthy to consumers? In research by Edelman, the top reasons included:
Brand delivers quality products or services
It receives good ratings and reviews
Brand charges a fair price for its products and services
It has always treated me and others well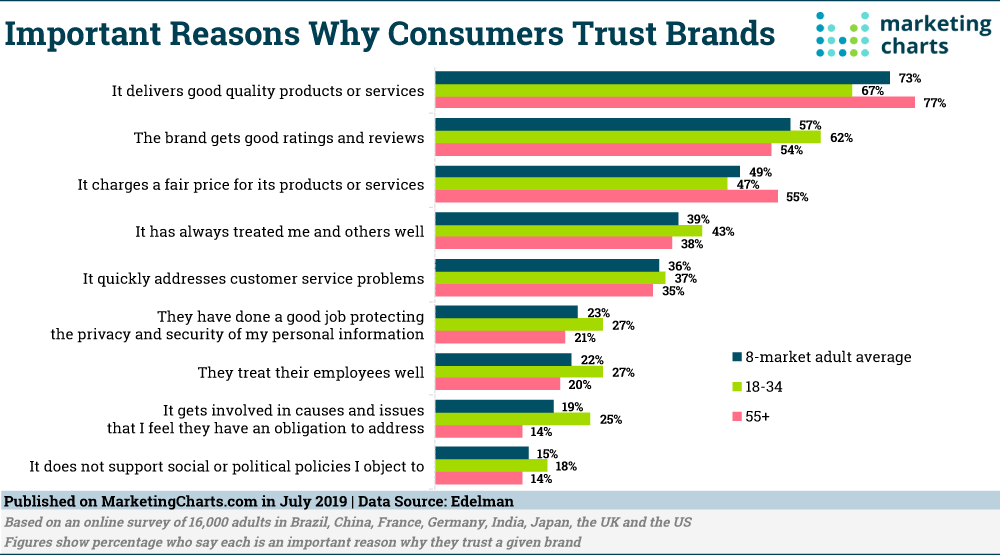 Brands need to do a better job at winning a consumer's trust, with only 34% of consumers stating they trust most of the brands they use. These numbers were fairly consistent across both global respondents and demographics such as age, gender and income.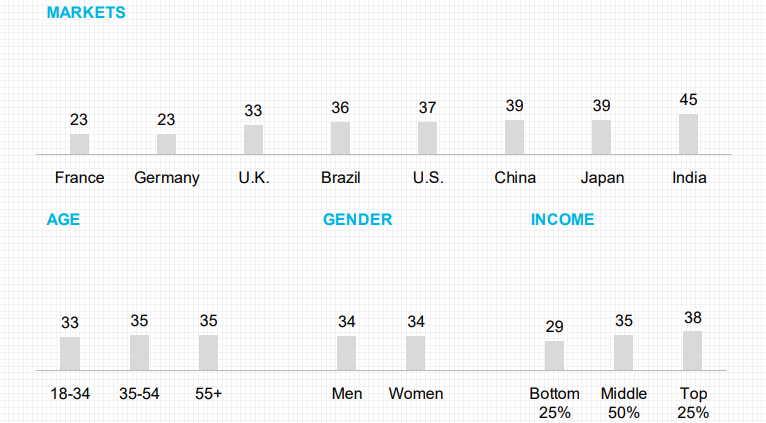 The good news is that when brands are able to gain a customer's trust, the benefits are huge. Consumers will turn to the brand first when making a purchase decision, are more loyal to the brand, will advocate and also defend the brand's reputation when necessary.

While important to many facets of good business outcomes, trust has very clear ties to loyalty, with 62% of consumers stating they are loyal to brands they can trust. According to a report by Brand Keys, a loyalty increase of 7% can boost lifetime profits per customer by as much as 85%, and a loyalty increase of 3% can correlate to a 10% cost reduction, depending on the sector.
Corporate Responsibility
Corporate responsibility, in both this study and other research, can be a deciding factor or a deal breaker as far as brand trust is concerned. Consumers evaluated items including the brand's fair and responsible behavior when buying materials, products or services (79% global, 78% US), that it puts customer interests ahead of its own profits (78% global, 77% US) and that it is working to reduce its environmental impact (71% global, 69% US).
53% of consumers believe that every brand has a responsibility to get involved in at least one social issue that does not directly impact the business
Only 21% of consumers stated that they know from personal experience that the brands they use keep the best interests of society in mind.
In research by RetailMeNot, 66% of consumers 18+ believe that brands should take a pubic stand on important social values and 61% would recommend a brand to their friends that aligns with their social values.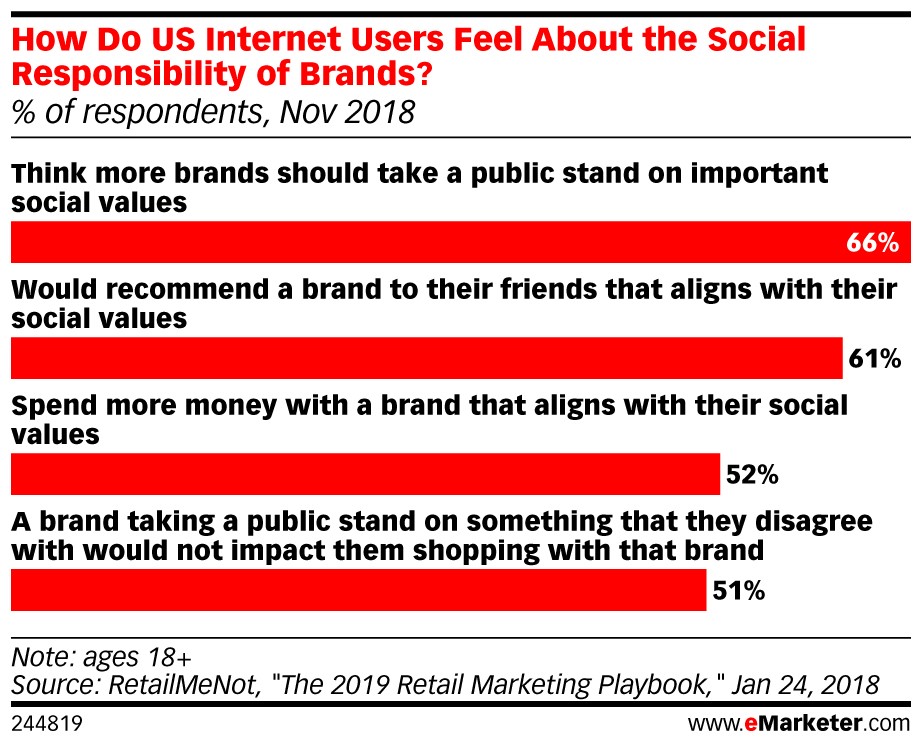 Corporate responsibility is especially important among younger generations. A recent Nielsen study reports that 85% of Millennials say it is extremely or very important that companies implement programs to improve the environment, and 75% say they definitely or probably would change their purchase habits to reduce their impact on the environment.
The RetailMeNot study echoed these findings. Social sentiment is even more true for millennials—74% of respondents ages 22 to 37 said more brands should take public stands on important social values.
Customer Experience
The top reason consumers stated for trusting a brand is good quality products and services. However, good rating and reviews, being treated fairly, and quickly addressing customer service concerns ranked highly. These can all be attributed to delivering a good customer experience.
We all know the importance of delivery positive experiences. For example:
A good customer experience means your customers spend more (Temkin Group):

86% of buyers are willing to pay more for a great customer experience
73% of buyers point to customer experience as an important factor in purchasing decisions
65% of buyers find a positive experience with a brand to be more influential than great advertising

Companies that are experience-led have 1.6x higher brand awareness, 1.5x higher employee satisfaction, and 1.9x higher average order value. Experience-led businesses also have 1.7x higher customer retention, 1.9x return on spend, and 1.6x higher customer satisfaction rates. (Forrester)
Organizations classifying themselves as "very advanced" at customer experience are almost three times more likely than their peers to have exceeded their top 2018 business goals by a significant margin. (Adobe Digital Trends Report)
Customer experience leaders are four-and-a-half times more likely than other companies to have a highly integrated, cloud-based technology stack (32% vs. 7%) to fuel their customer experience management strategies. And companies with a unified tech stack are 131% more likely to have significantly outperformed their top 2018 business goals (30% vs. 13%). (Adobe Digital Trends Report)
In a study by Eptica Digital Trust, 9 out of 10 consumers will change supplier if they lose trust in a company – nearly half of them immediately. The study found that the key to creating trust is to simply to do what customers expect of you. Make their experience of interacting with your business easy and seamless, respond to queries swiftly with accurate information, and do what you say you're going to do.
According to the study findings:
59% of the consumers that were surveyed said satisfactory, consistent and fast answers are key to trust. However, brands still had a way to go – just a third of queries on email received a satisfactory response and under half (45%) of tweets were answered accurately.
The overwhelming majority (92%) of consumers say brands aren't listening all the time, with three-quarters (74%) saying they listen half the time or less. Nearly one in five (18%) think they don't listen at all.
Brands are still struggling with delivering a multichannel experience. Silos persist, with knowledge not effectively shared between channels, undermining the experience and damaging trust.
Brands must do better at treating customers as individuals – real people with names, families, interests and so on. We hear about the importance of delivering better customer experiences, getting to know your customers' wants, needs and demographic information and delivering better personalization.
These are all major factors in building consumer trust. But true connections are created when customers are humanized, and brands can then deliver other highly relevant experiences that touch on the human factor. This may be developing social and community programs for the greater good or simply taking the extra time to go above and beyond and thoroughly solve a customer service inquiry.
Learn how Porch Group Media can help you get to know your customers better and reach them across channels to boost your marketing success. Contact us to get started!