Customer acquisition is a top priority for many industries, and this is certainly no exception for ecommerce retail brands. Retailers are investing highly in acquisition marketing. According to research by Oracle, 81% of ecommerce retailers stated that customer acquisition was their biggest marketing investment priority. This was followed by only 43% who stated that retention and loyalty marketing were the biggest investment.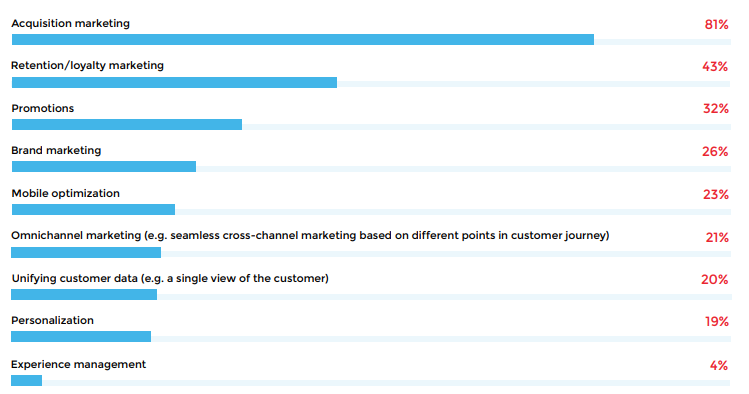 Ecommerce Customer Acquisition Strategies
So what are some of the top customer acquisition strategies paying off for ecommerce retailers this year?
1) Social Media Shopping
More than half of consumers (54 percent) report using social media as part of their path to purchase in some capacity, whether it's to browse, research, gain inspiration or purchase. According to recent data by Avionos,40 percent of consumers have made a purchase via Facebook, 13 percent have made a purchase through Instagram and 12 percent have made Pinterest purchases.
In another survey from Curalate, 52 percent of respondents discovered a new retail product on Facebook that they were interested in buying. Among 18- to 34-year-olds, that number rises to 78 percent.
Research from Mintel found that in the US, for instance, social media ranks as the number one influencer of fashion shopping amongst women 18-24, and nearly 32% of women aged 18-34 are open to buying clothing directly from a social media platform.
2) Lookalike Audiences
Targeting audiences based on your best customer profile is a basic premise of acquisition marketing. Porch Group Media creates look-alike audiences for our clients using AI and machine learning algorithms combined with our broad catalog of third-party data assets. We combine over 1,000+ attributes to create highly customized audience for deployment across channels.
3) Purchase Intent Marketing
Attracting new customers can be costly and brands must invest wisely in acquiring those consumers most likely to convert. Rather than spreading a wide net, brands are using newer forms of intent data to target consumers based on in-market shopping activity.
For e-commerce brands, one of the best types of purchase intent is online browsing behavior. Imagine if you could see what everyone on the internet was interested in and then reach those people based on the content they are consuming. Targeting anonymous browsers with digital ads is one option, but advancements in technology have made it possible to surgically handcraft your ideal audience based on online consumption by supplying the name, postal, and email of the consumer.
Our solution, Porch Group Media Signals Online, is actual online behavior data collected in real time; leveraging a broad network and innovative techniques to discover behavioral keywords, phrases, and terms. Using this intelligence, we are able to create complex and effective formulas, which classify user intent. The result is an in-depth insight into browsing habits, which enables us to identify leads and execute a marketing strategy focused on relevant and highly precise outreach.
The solution evaluates online consumption behavior on 91% of accessible devices in the US every month; utilizing millions of sites across billions of devices.
Performance of eCommerce Marketing Initiatives
Customer acquisition investments are paying off for e-commerce brands. Of those surveyed in Oracle's research, 77% stated that their acquisition marketing efforts met or exceeded expectations. On the flip side, the area where e-commerce retailers struggled the most was with unifying customer data (52%) and personalization tactics (51%).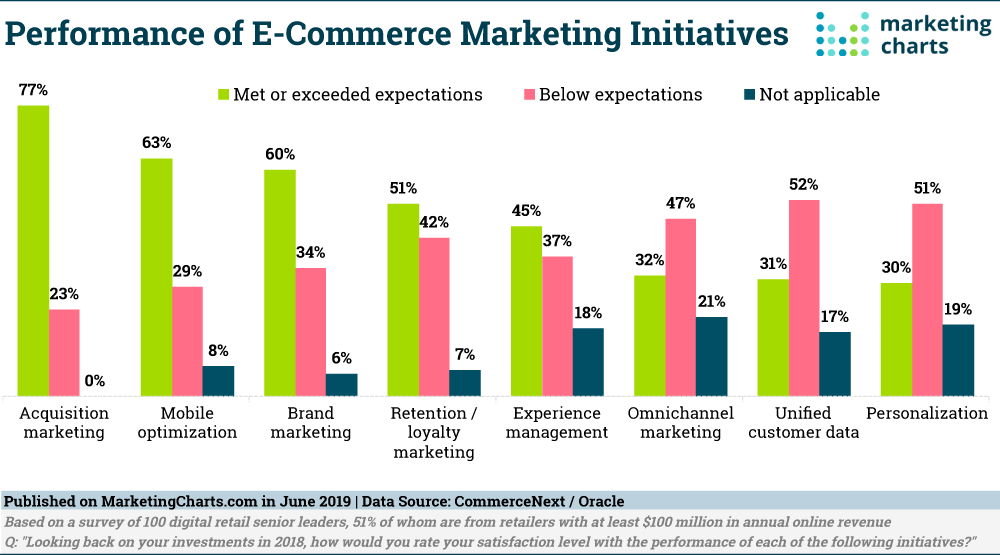 With so many retailers struggling to unify customer data, 65% have increased their budget this year to invest in a customer data platform (CDP). Unlike traditional marketing databases, CDPs are owned by marketers and are much more agile in nature. The time to get one up and running is usually minimal compared to other database solutions and once in place, offline and online data can quickly be integrated and cleansed to create a consistent, 360-degree customer view.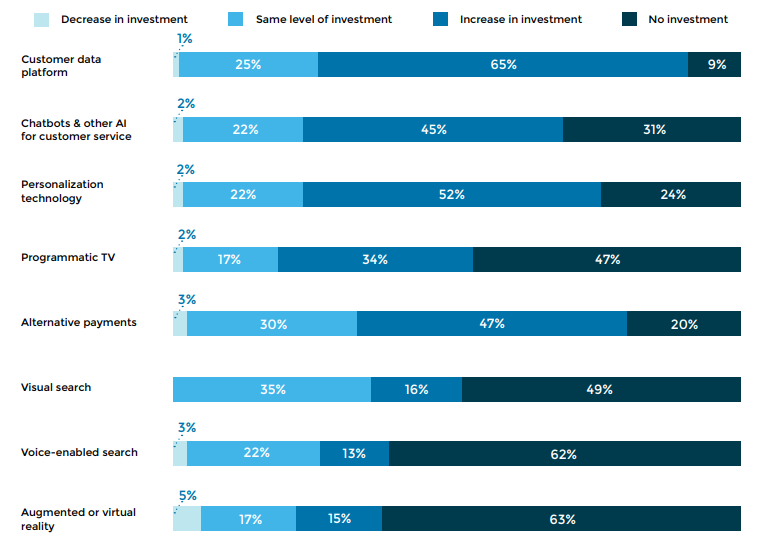 Personalization is another area where online retailers struggle. Gartner predicts a 15% boost in profits by 2020 for brands that successfully handle e-commerce personalization tactics. Retail giants such as Amazon have set the bar in personalization but any brand that connects with their shoppers with personalized offers and content can see success.
To do so takes data to really know who your customers are – demographics, lifestyle, in-market intent, past purchase data, and browsing behavior are just some of the types of data that can be collected and integrated to create exceptional, hyper-personalized experiences.
In research by Accenture, 75% of consumers are more likely to buy from a retailer who recognizes them by name, recommends items based on past purchases, or knows their purchase history. Additionally:
44% become repeat buyers after a personalized experience
49% purchased a product they didn't initially intend to buy after receiving a personalized recommendation
40% purchased something more expensive than originally planned because of a personalized experience
To meet the demands of online consumers in an evolving landscape and with new technologies coming to market to assist with these initiatives, budgets are on the rise to drive new customers to online stores. 65% of respondents said their 2019 budget increased over the previous year. Conversely, only 10% of marketers indicated that they are reducing budget.

The e-commerce world and retail, in general, is constantly evolving. Brands must stay ahead of the trends and adapt the store experience to meet the demands of consumers and the intersection of both online and offline retail.
Interested in learning more about our retail marketing solutions? Check out our free eBook: Strategies to Target Today's Omnichannel Consumers.
---
Learn how Porch Group Media can help you get to know your customers better and reach them across channels to boost your marketing success. Contact us to get started!