Consumers want personalized experiences, but they also demand privacy. They want brands to know when they are shopping in their stores but they find too much knowledge creepy. Brands continue to strive for personalization, but it can be confusing when consumers seem to have conflicting demands.
Consumers need to be treated to personalized experiences, but what do they consider to be a successful experience? According to research by RedPoint:
52% want brands to send special offers available only to them
43% want brands to know they are the same customer across all touchpoints (email social, mobile, etc.)
42% want brands to send recommendations based on products they recently purchased or viewed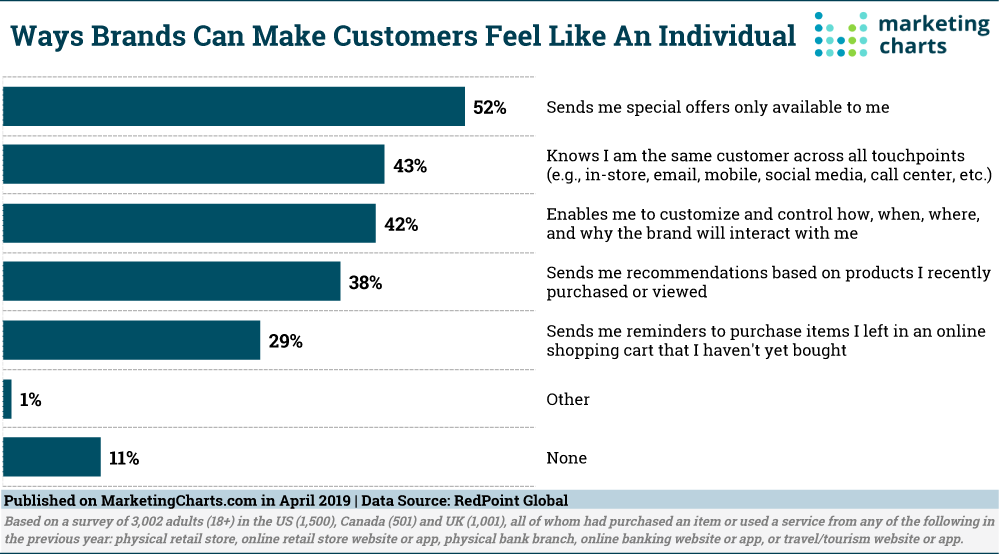 Marketers believe they are doing fairly well in delivering good customer experiences, with 34% stating they deliver excellent experiences.  However, consumers aren't as convinced, with only 18% stating that brands are delivering excellent experiences. Among consumers, Gen Z (27%) and Millennials (27%) are more likely than Gen X (17%), Boomers (12%), and Seniors (10%) to say "excellent".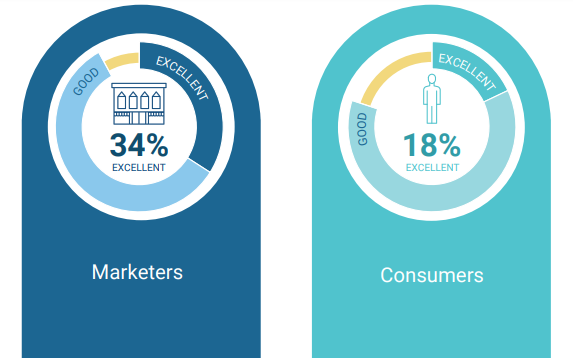 Consumers are more empowered today, shopping across channels of their choosing, researching before purchasing, shopping at any time of the day or night, price comparing, reading reviews and so forth.
They also understand that as they do this, they are leaving a digital footprint, information about their behaviors that they expect brands to collect.  They believe this so much so that 63% of consumers agree that personalization is part of the standard service they receive and 61% assume relevant data about them will be at companies' fingertips. Over half (53%) expect a brand to know their buying habits and preferences and be able to anticipate their needs.
When brands deliver, consumers are more loyal and will purchase more. The Temkin Group found that companies that earn $1 billion annually can expect to earn, on average, an additional $700 million within 3 years of investing in customer experience.
Additionally:
86% of buyers are willing to pay more for a great customer experience
73% of buyers point to customer experience as an important factor in purchasing decisions
65% of buyers find a positive experience with a brand to be more influential than great advertising (source)
Of course, when brands fail to deliver, the opposite is true. According to RedPoint's research, consumers report it is very frustrating when a brand sends them an offer for something they just bought (34%), sends them offers that aren't relevant (33%), or does not recognize them as an existing customer (31%). And, more than 1 in 3 (37%) will go even further to stop doing business with a company that doesn't offer a personalized experience.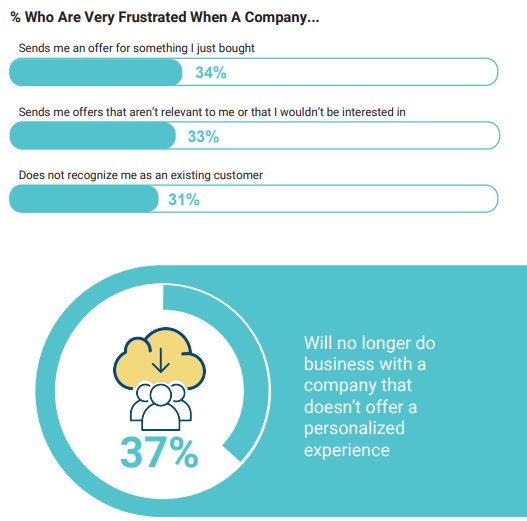 To personalize experiences, brands need to collect data from each and every consumer interaction. Those with a CX strategy in place are already doing this, but there is now a caveat in today's heightened environment of data privacy. Consumers demand transparency and want to control or at least understand, the data brands are using.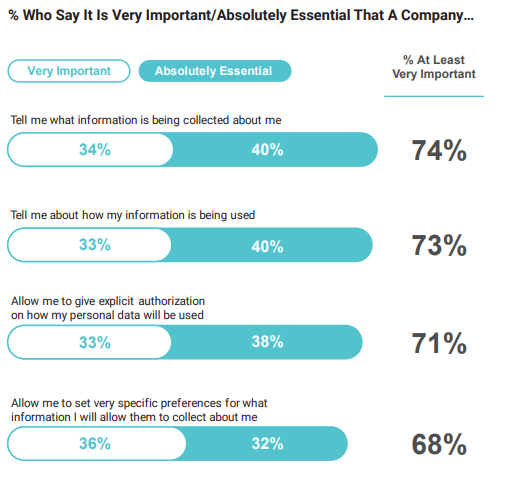 More than half of consumers (54%) say they are willing to share personal data with companies to achieve a more personalized experience, with younger consumers more likely than their older counterparts to say they are "very willing" to share their personal information for that purpose (72% Gen Z, 70% Millennials, 59% Gen X vs. 39% Boomers, 34% Seniors).
However, consumers are not very forgiving when it comes to their privacy so brands must be extra diligent to put privacy and transparency practices into place. The majority of consumers (63%) say it is very frustrating when a brand sends their personal information to other companies and will be less likely to shop with them or use their services in the future (57%).
Marketers are feeling challenged to deliver on consumers' expectations. 63% stated their company isn't able to execute their customer experience very well and 57% say their company has the right customer experience strategy in place but isn't able to execute it effectively.
The biggest roadblocks marketers are facing is real-time engagement (50%), customer understanding (48%) and personalization 44%.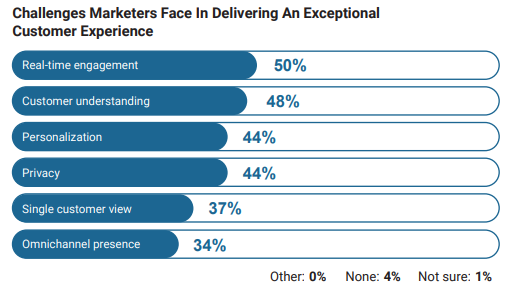 Technology is a barrier to delivering personalization. Brands may have multiple systems handling customer touchpoints and face issues with integrating this data. Although one option to is implement a system to gather data and develop a cohesive customer view.
Neither brands nor consumers are very satisfied with the ability to leverage technology to deliver on customer experience strategies.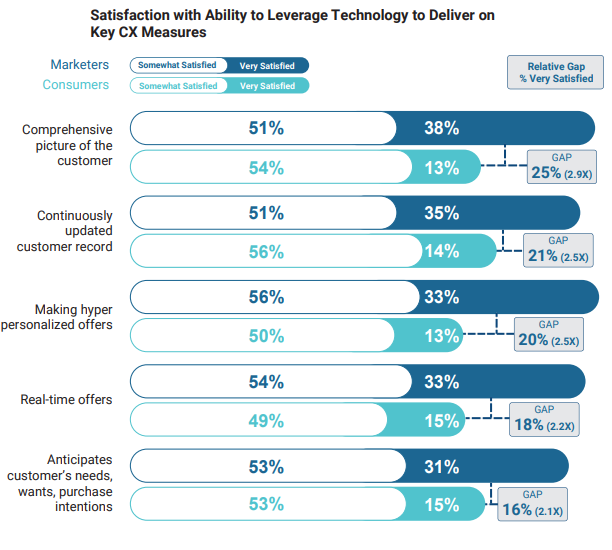 Brands must continually press forward to deliver the personalization consumers crave.  This demands that marketers have a solid grasp on customer data – both internal first-party data and additional insights from third-party demographics and behavioral intent.  Wading through the martech landscape can be daunting but is also imperative for brands to make sense of this data and have processes in place to continually integrate data just as quickly as it's produced.
Keeping pace with consumers at every touchpoint certainly is challenging but the rewards are well worth the effort.
Interested in learning more about additional marketing strategies and tactics to target today's consumers? Download our Omnichannel Marketing eBook.
---
Learn how Porch Group Media can help you get to know your customers better and reach them across channels to boost your marketing success. Contact us to get started!