Although email has been around for 20+ years, it continues to be one of the most successful strategies for retail marketers. In fact, email marketing is the 2nd most effective e-commerce marketing channel, second only to search. With the advancement in technology and the proliferation of so much data, never before have retailers had such an opportunity to take the effectiveness of their email marketing strategies to new heights.
In fact, in a survey by StrongView and Selligent, the area in which marketers plan to increase spending is email. 6 in 10 respondents reported planning to increase their email marketing spending this year, the broadest consensus of all of the channels measured.
How Retailers are Using Email Marketing Today
According to a recent report by Yesmail, 60% of retail marketers are using purchase behavior data to send more relevant emails, and 50% of those surveyed use demographics data such as age, gender, and location.
The most popular types of data used to increase email campaign effectiveness include:
69% – Email activity such as opens and clicks
60% – Purchase behavior
50% – demographic data
41% – browsing behavior from the retailer's website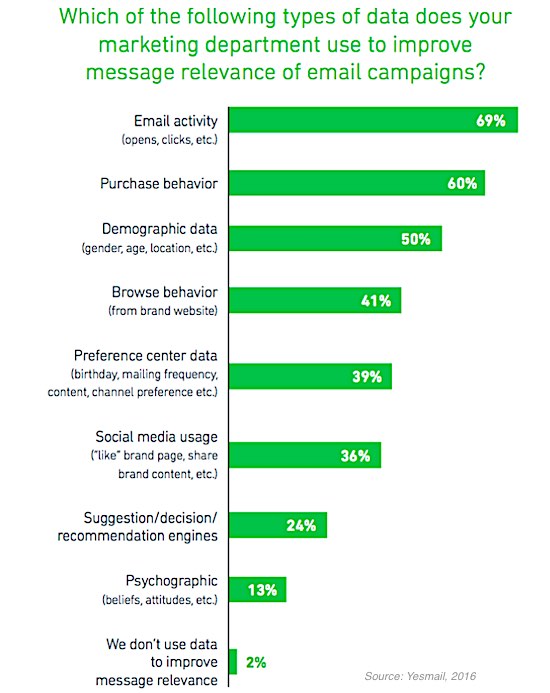 The tactics that are most frequently used include:
56% – Customer behavior triggers (such as purchase, web browsing, email activity)
44% – Responsive design
38% – Life event triggers (such as birthdays and anniversaries)
34% – Dynamic content (based on gender, location, age preference)
The survey also revealed that 61% of retail marketers personalize email subject lines based on a customer's data while only 36% personalize the body copy of emails.
StrongView also recently surveyed email marketers about their email marketing plans for 2016. "More than a third cited 'increasing subscriber engagement' as their primary goal for 2016 and plan to use such tactics as mobile app push marketing and location-based mobile messaging to do so," StrongView says. "In fact, nearly a quarter of marketers (24%) already use location data in their email programs."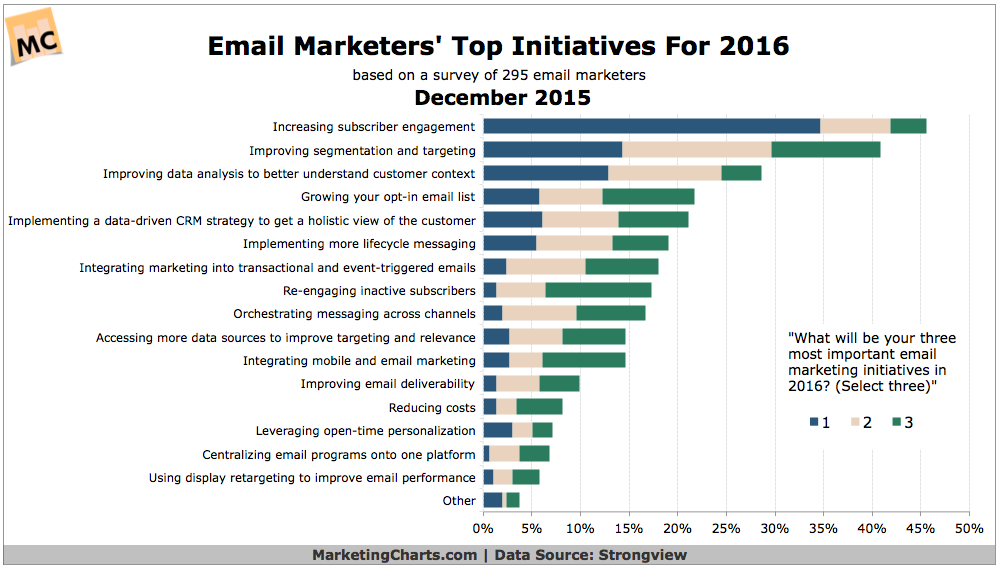 Click here to view a larger version of the above image.
Retail Email By the Numbers
There is no doubt, email marketing works in retail. Here are some great email statistics to check out:
According to a study by the National Retail Federation, email is the most effective digital marketing channel for customer retention, with a retention rate of 81%.
According to a survey by Campaign Monitor, 59% of consumers say that marketing emails influence their purchase decisions.
Another study by the Direct Marketing Association found that email marketing has an average ROI of $42 for every $1 spent.
A study by Klaviyo found that email campaigns that include personalized product recommendations see an average increase of 330% in revenue per recipient.
According to a survey by Epsilon, 80% of retail professionals say that email is their most important marketing tool for driving customer retention and acquisition.
According to a study by Omnisend, emails that include emojis in their subject lines have a 56% higher open rate and a 26% higher click-through rate compared to those without emojis.
A study by SaleCycle found that abandoned cart emails have an average open rate of 45%, with a 21% click-through rate and a 10% conversion rate.
According to a survey by Adobe, nearly 50% of consumers prefer to receive promotional emails from retailers on a weekly basis.
Email marketing has the potential to deliver results, but be sure to follow these best practices to increase conversions and engagement:
Increase Open Rates with Targeting and Personalization
Consumers want and expect brands to deliver content that's tailored to their individual interests. In research by Silverpop, more than 50% of people unsubscribe from email lists because they find the content irrelevant or emails too frequent.
If you are using email, you are probably using segmentation and personalization in some way. This may be sending messages to audiences based on demographics, location, age, or purchasing behaviors. However, consumers today want more than emails based on name, location, or preferences. They are looking for hyper-targeted messages that show that a brand is listening and taking the time to cultivate a 1:1 relationship.
There is a wealth of data available to achieve this level of sophisticated personalization including demographics, behavioral data, life triggers, purchase behaviors and more. The types of data that are available today are larger and more diverse than ever so get creative and enhance your records with insights that will add value to your personalization strategies.
Beyond third-party data, be sure you are utilizing your internal first-party behavioral data generated every time someone interacts with one of your campaigns, engages you through your website, or posts to your social media pages. For example, behavioral data may include the products or services customers purchase, what products they view, the contents of abandoned carts, what time they opened your email, and did they click through. Also, collect data on how consumers interact with your brand. What pages are prospects viewing on your website and do they follow you on social media?
Using rich data variables to continually enhance your consumer profiles,  you can ensure that you are engaging consumers with the most targeted and relevant messaging. According to a recent survey by VentureBeat, 95% of email marketers see an open-rate increase with personalization.
The survey also revealed that many retailers could do better when it comes to segmentation. According to the research, "Over a quarter (28 percent) are only targeting between 2-5 segments, but many are segmenting to a much greater degree, with 7 percent personalizing to the individual level."
How many segments do you personalize email for, on average?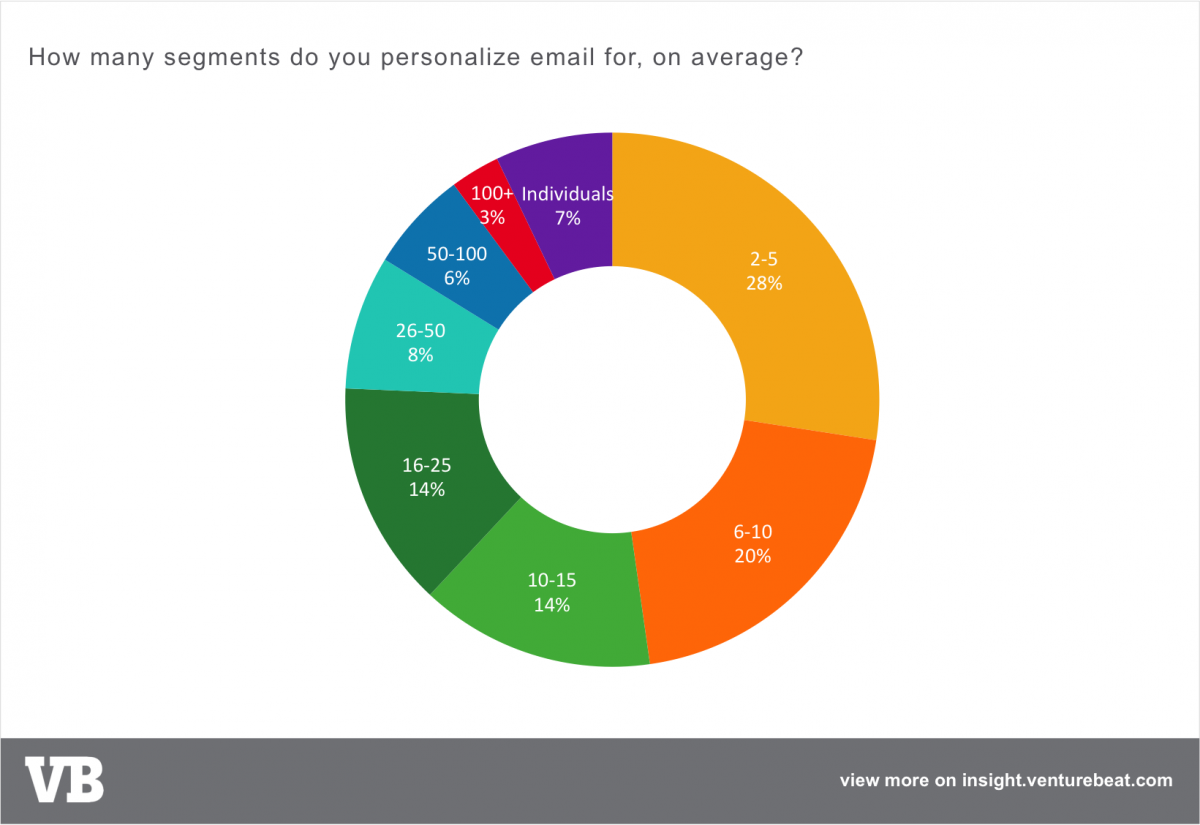 Use Triggered Email and Marketing Automation to Boost Results
Using email campaign automation will streamline the process of engaging and converting customers. Emails triggered by customer behavior can increase retention, revenue per email, customer lifetime value, and program ROI.
Using dynamic content (content that automatically adapts to the interests of the subscriber), emails can be developed to feature specific products and customer information, such as names and birth dates, that allow retailers to connect with their customers on a personal level.
According to Cynthia Price, the Director of Marketing for email service provider Emma, "triggered email messages average 70.5 percent higher open rates and 152 percent higher click-through rates than traditional bulk messages."
However, many brands are not implementing triggered email programs. Research by The Relevancy Group discovered that only about 50 percent of companies send a welcome message to new customers, 30% of enterprise brands and 16% of mid-market companies send a post-purchase offer, and less than one-quarter of all companies make any attempt to re-engage inactive subscribers.
Most retailers send newsletter types of updates, tactical promotions, and product-based emails. However, triggered emails offer an opportunity to increase customer engagement and close more sales.  For example, abandoned cart emails in which a series of emails are triggered to encourage the shopper to complete the purchase.
Another great triggered email campaign to implement is a "we miss you" or win-back campaigns.  These emails can be automated to restart a relationship with shoppers who have stopped opening email marketing messages or have not made a purchase in a long time. An email is generally sent to encourage the recipient to open an email, using a subject line such as "We miss you." If an email is opened, another triggered email is sent to encourage re-engagement, such as a special coupon or free shipping.
So if you aren't already doing so, get "trigger-happy" in your retail campaigns. Move beyond the standard "thank you for joining our list" emails by implementing personalization, behavioral data, and dynamic content to increase engagement.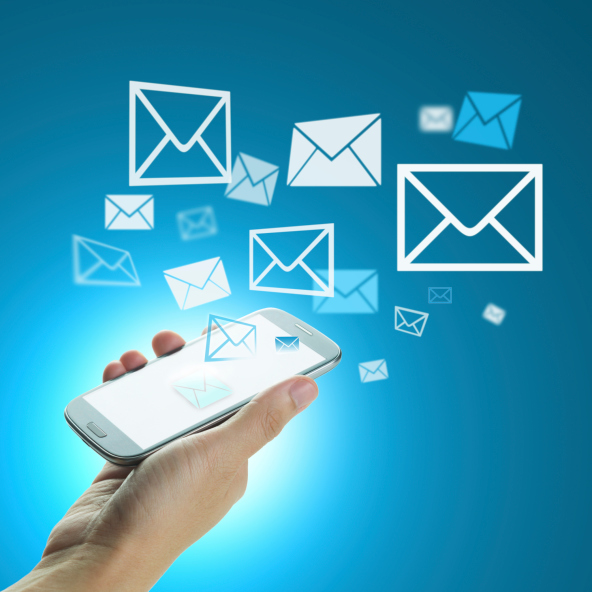 A Mobile Email Strategy is No Longer an Option
Email is increasingly being viewed on mobile devices – we are now at the tipping point when mobile usage will exceed that of all other devices combined. And mobile users not only expect your emails to be optimized, but they demand a quality experience.
According to Global Web Index:
Roughly 50% of US consumers expect to find the information they want or need based on their context on their mobile device.
Only 14% of companies Forrester surveyed use mobile to transform their customer experiences. Examples include Apple Pay, Starbucks order-ahead, and mobile boarding passes.
Other statistics include:
45% of email opens occurred on mobile, 36% on desktop, and 19% on a webmail client. – Adestra "Top 10 email clients" (March 2015)
33% of emails are opened in a mobile application, 17% in a webmail client, and 48% on a desktop. – Freshmail "Best practices for email coding" (May 2015)
Webmail and desktop opens have steadily declined throughout 2015, each dropping 13% since January. Litmus –"Email Analytics" (Nov 2015)
75% of Gmail users access their accounts on mobile devices. Gmail now has 900 million users. – Google / TechCrunch "I/O developers conference" (May 2015)
So beyond optimizing messages for mobile devices, here are some mobile email best practices you should be focusing on for 2016.
Create attention-grabbing headlines. Your subject headline needs to be short and to the point. The suggested length is around 60 characters.
Make sure your first line is compelling. Email clients often use the first line or so of text to display a message snippet. Users can scan this before deciding whether to open the message or simply hit delete.
Websites and landing pages must also be mobile-friendly. Don't forget that usability doesn't stop with getting a consumer to read your email.  The ultimate goal is to get someone to engage ith your email campaign by clicking through to a landing page or website. Those click-throughs need to take customers to pages that are mobile optimized
Remember the goal of email marketing is not to send as many emails to as many people as possible – but to send the right message, to the right person, and at the right time. And with the right data and technology in place, you are on the road to ramping up your retail email marketing success.
Download our Email Marketing Kit for Success for more great tips and strategies.