Today's car shoppers are in control. With the availability of more channels on which to research, they are willing to commit the effort required to make informed purchasing decisions. However, not all sources are created equal. C+R conducted research, asking consumers about 24 different sources they use when making a purchase decision.
While consumers may encounter many different types of information, on average, car shoppers are influenced by 6-7 different sources. On average, consumers use only 1 or 2 resources as their main sources of information and they prefer the digital path to purchase.
Despite so many channels of influence, the winner is clearly digital. According to C+R's research, most shoppers are influenced by at least three online sources and two-thirds of consumers refer to an online source as they main channel of influence. The top online sources for auto consumers are:
Independent Research Sites (50%)
Search engines (49%)
Manufacturer Websites (46%)
Automotive Dealership Websites (42%)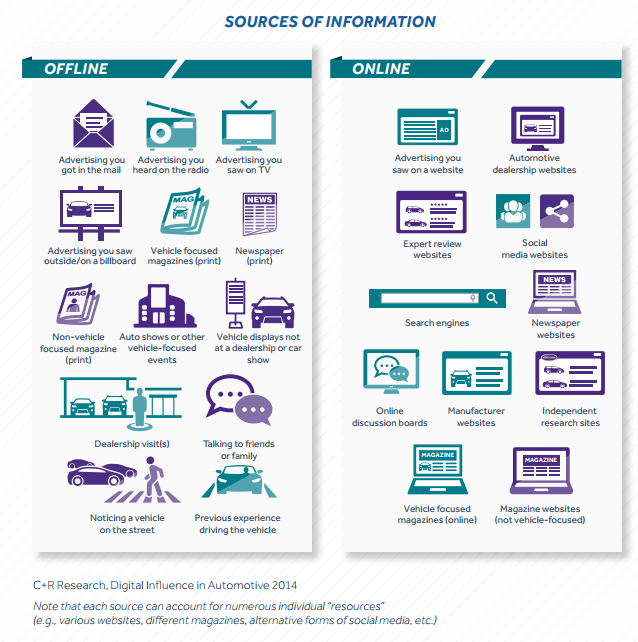 Dealerships and automotive marketers must maintain a strong online presence across a variety of digital channels to influence consumers at key moments along the purchase journey.
This doesn't mean that dealerships should ignore the importance of offline sources as well. The 3 top offline sources include talking to friends, dealership visits, and noticing a vehicle on a street.
Two other significant channels of influence that have gained huge momentum include mobile and social.
Mobile Channels
Over half of new-vehicle internet shoppers use a mobile device to do online automotive research as they shop for a car or truck, according to a report from J.D. Power and Associates. Over the past three years, the use of mobile search has risen consistently. According to the report, "34% of new-vehicle shoppers use a smartphone for automotive research, and 33% use a tablet. At dealerships, 48% of new-vehicle buyers are using a mobile device; 13% are using a tablet for information gathering while at the dealership. At showrooms, customers are mostly accessing vehicle pricing as well as model information, inventory searches and special offers and incentives."
In the case of millennials, mobile capabilities are a must-have. Millennials use their mobile devices more than any other generation. According to research by Edmunds.com, 41% of Millennials (as compared to 20% of other adults), said they use mobile for activities like reading vehicle reviews; 34% said they use it to locate vehicles for sale (versus 20% of others); and 33% said they research vehicle pricing on mobile devices versus 21% of other adults. Overall, 80% of millennials have used their mobile devices at least once during the car purchase journey, compared to only 46% of people age 35 and over.
To stay competitive, dealers must ensure that websites, information about inventory, and offers are mobile-friendly. When a user can shop on a mobile-friendly, responsive website, engagement increases dramatically, ultimately generating more leads and more visits to the dealership. In fact, Google gives mobile-friendly sites an advantage by tagging them for users. And before long, sites that do not use a mobile design may not show up in search at all.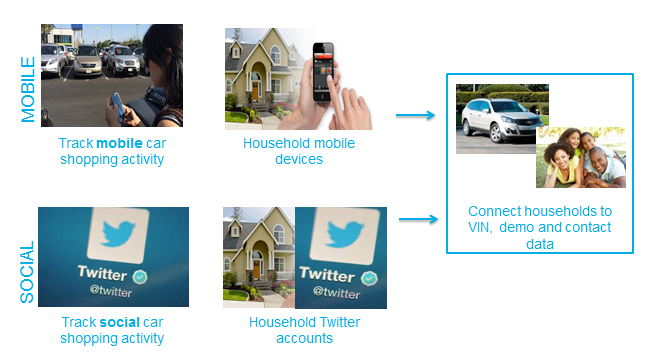 Social Channels
Social media is another channel where dealerships can find a variety of new opportunities. A study by Crowdtap discovered some interesting take-aways:
68% of those who purchased a car found the vehicle on social media
87% say they research cars via social media
80% say they're 'more likely to turn' to social networks than sales people
95% say they 'would talk about' car models they like on social media
Social media has become a powerful channel to reach online car shoppers. And car shoppers expect automotive bands and dealerships to have an active social presence. Consumers are seeking to engage in conversations, have their questions answered, and read social reviews. They also expect inventory to be available not only on a dealership's website but on their social accounts as well.
Identify and Target In-Market Auto Shoppers across Channels
With so much data available as consumers shop across multiple channels, dealerships can use these insights to target specific auto consumers who have indicated purchase intent. Technology and analytics have become so advanced that marketing data solution providers can now match a consumer's offline and online identities. This linkage enables marketers to track both offline and online consumer behaviors indicating purchase intent as well as deploy highly targeted messages across digital and offline channels alike.
For example, a car dealer can track both a consumer's mobile and social car shopping activity. These insights can be linked back to the consumer's household mobile device or social accounts. These data insights alone would bring a huge competitive advantage to dealers, but when enriched with third party specialty auto data, such as VINS, demographics, and contact data, the best offer can be presented, through the right channel, and at the time when consumers are actively in market.
Download our Automotive Marketing Success Kit for more great tips and strategies on how to target and acquire today's car shoppers.