The Surge in Online Shopping and the Outlook for the Future of Retail
Many consumers still love the in-store shopping experience – trying things on, browsing sales racks, or touching a piece of furniture. But what may surprise you, more and more consumers see shopping at a brick-and mortar establishment as something to be avoided.  If fact, they would rather wash dishes than hit a physical store.  According to a report by Capgemini Digital Transformation Institute, 40 percent of consumer respondents said they see shopping as a frustrating activity, even calling it a chore.
Consumers feel that the in-store experience is simply not keeping up with the same convenience as shopping online.  For example, 30% of consumers surveyed said they had experienced lack of consistency in discounts in-store versus a website or app.  They want to be able to be able to make online price comparisons, expect same day delivery of products purchased in-sore, and in essence, want the store to offer more than simply selling a product.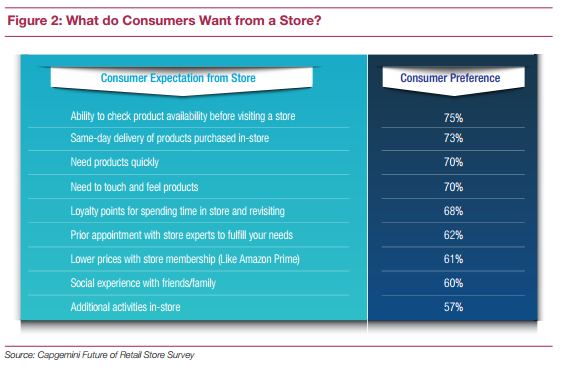 The Disconnect Between Consumer and Retail Executive Perceptions
Many brands are failing to see and react to these shifting consumer perceptions. While 81% of retail executives see the store as important, this drops to 45% for consumers.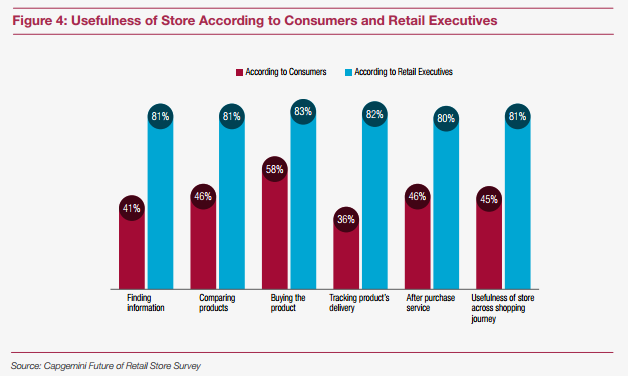 Consumers are also giving brands very low Net Promoter Scores (NPS), which is a measure of customer loyalty and an indicator of future store growth. 48% of brands were given a negative NPS by consumers. The study also evaluated the retail executives' perception of NPS by asking them if they thought their customers would recommend their store. While the average NPS score by retail executives is 34, this drops to 9 for consumers.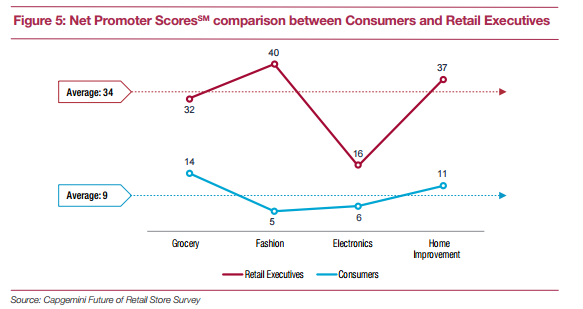 Top Consumer Frustrations
Consumers pointed to a number of reasons causing their dissatisfaction with physical stores.  The top frustrations include:
71% – Difficult to compare prices
66% – Long checkout lines
65% – Not able to locate products
65% – Discounts or promotions not personalized
64% – Lack of ins-store help from associates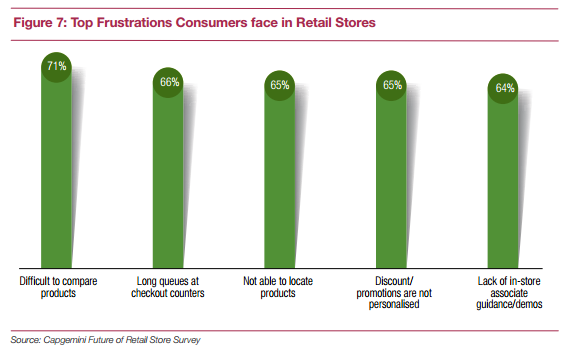 Online Shopping is Surging
Online shopping is on the rise. Research from the Pew Research Center's Internet & American Life Project indicated that 79% of American adults have bought something online at some point, including about 9 in 10 adults aged 18-49.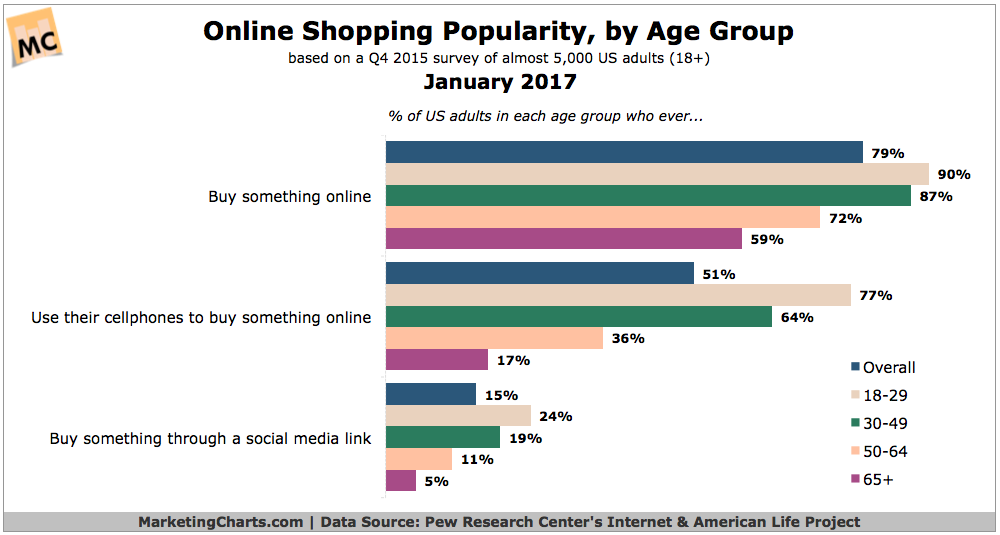 Additionally, according to the survey, 15% shop online weekly, while another 28% do so a few times a month. While online shopping is most popular with younger adults, a majority (59%) of adults aged 65 and older report having shopped online.
When it comes to mobile shopping, 77% of 18-29-year-olds and 64% of those respondents aged 30-49 said they've used their cellphones to buy something online. This number is much lower among those aged 50 an dup. Only 36% of those aged 50-64 have made a purchase using their cellphone, and 17% of adults aged 65 and up (17%) have done so.
The Pew research also mimics some of the same findings as the Capgemini study. Among weekly online shoppers, almost twice as many would prefer to buy online (62%) than in-store (37%) given the choice. The ability to compare prices also ranked as high in importance. 60% of shoppers said they typically compare prices if they need to make a purchase, rather than buy in-store or online without comparing prices to the other channel.
How Retailers Are Responding
The customer experience can make or break a relationship with customers.  Consumers expect seamless experiences across channels both offline and online.   A brand may provide a really exceptional experience online, but a poor offline experience can quickly mitigate these benefits.  Even with the surge in ecommerce, the brick and mortar experience still factors into the overall brand perception.  In such a highly competitive economy, retailers need to take advantage of every opportunity to win customer loyalty.
In the Capgemini study, among consumers who visited stores offering digital technologies, 59% found them useful and 50% use them frequently. In the figure below, the technologies in the "Bull's-Eye" quadrant are those that have been implemented in most retail stores and are also rated as useful by consumers. But as the figure shows, retailers are also investing in technologies that are less relevant.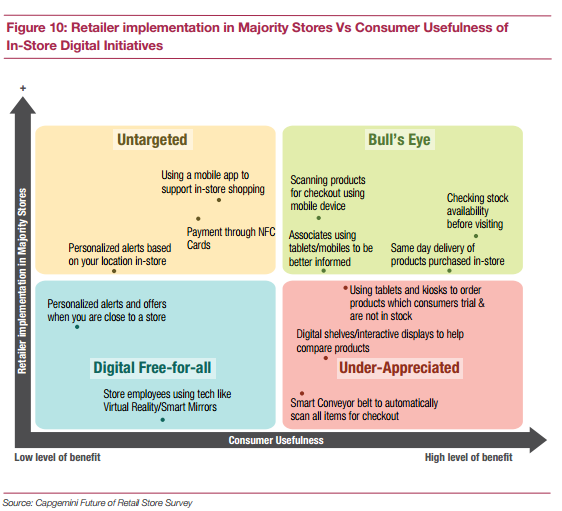 Retailers are also challenged by a lack of a consistent and integrated customer data. Much of this data is stored in legacy systems and data siloes. Without a clear customer understanding, retailers cannot meet their expectations, either in a physical store or an ecommerce site.
As retail continues to change, retailers must embrace digital change while taking the opportunity to improve the experience in their physical locations.  The store front is still important in the digital age, but only if brands take the extra step to ensure they provide consistent customer experiences.
Download our Omnichannel  Marketing Success Kit for more great tips and strategies on how to target and acquire today's modern retail shopper.