This transcript has been adapted from the webinar, New Mover Trends: Marketing to Today's Movers.
Larisa: Good afternoon, everyone. We're really excited to be presenting the results of our new mover research that we did with The Harris Poll. If you'd like a copy of the deck, feel free to reach out to me and I'm happy to send that over to you.
Host: Thanks, Larisa. Hello, everyone. We appreciate your joining us today.
We will share some information on Porch Group Media and our ownership by Porch Group in a little bit more detail. Porch is really dedicated to helping movers, throughout their journey, and this has led to the topics that we're going to discuss today.
I'm delighted to welcome David Krane from The Harris Poll, who's been a fantastic partner in helping us understand a lot about today's new movers. David, thank you for joining and welcome.
David: Thank you, I really appreciate it and am looking forward to sharing some of the new mover results of the survey with everybody.
Host: When Porch Group Media was acquired by Porch back in January, we identified this massive opportunity in new mover marketing. As David will illustrate with the research findings, this opportunity really does come from evolving consumer insights in order to hone in on what moving consumers are buying and when.
When we first looked at the research that was out there on new movers, we discovered it was incredibly outdated – the same new mover report was done about five years ago and kept resurfacing in all our online research efforts. We recognized that the market desperately needed an updated, consistent look at what was really happening with today's new movers.
The Harris Poll has been an excellent partner that has helped us accomplish the latest new mover research. As David from The Harris Poll will get into shortly, these findings are incredibly dynamic.
Our analysis of the market revealed that new mover marketing really had gotten quite stale. There was every reason for a reset in terms of improving data sources, channels, consumer insights, technology, and more.
As a result, we pursued this huge opportunity to reinvent new mover marketing. The move is a very compelling life event where consumers are making a lot of important purchases, changing service providers, and exploring their new communities.
Additionally, the velocity of moving that Americans are clearly showing reinforces the need for all marketers to be aware of the latest new mover trends and the power that new mover marketing brings to the table.
Marketing to New Movers
Host: Premovers present a massive opportunity. Consumers who are in the premove phase present a greater opportunity for marketers to engage early, and to manage the mover journey through whichever funnel that they're moving them through.
For those of you who don't know who Porch Group Media is, we're a company that couples data, technology, intent, and marketing execution to drive outcomes for marketers.
In January of 2021, we were acquired by the Porch Group who trades on the NASDAQ under PRCH. Porch truly is a company that has dedicated itself to helping new movers through the move journey.
Porch does this through a couple of routes. One is the most obvious part of the company, which is Porch.com. Porch.com is an all-in-one resource to help new movers understand what they need to plan for and guides them through the entire moving process.
Porch simplifies the move by connecting new movers with a wide range of service providers like movers, mortgage providers, cable companies, internet service providers, and more.
But underneath Porch.com is really the potentially more compelling part of the company, which is a set of vertical software companies that Porch builds and maintains for players like home inspectors, mortgage companies, roofers, and so on.
These players run their businesses on the software that Porch provides. This gives us early access and greater insights into new movers than any other source on the market.
As marketers, it's great to have a unique set of data that you're dealing with. And that's what Porch really brings to new mover marketing.
At Porch Group Media, we've helped Porch so that the marketplace can really take full advantage of this, from appending more data to it, linking programs, and so on.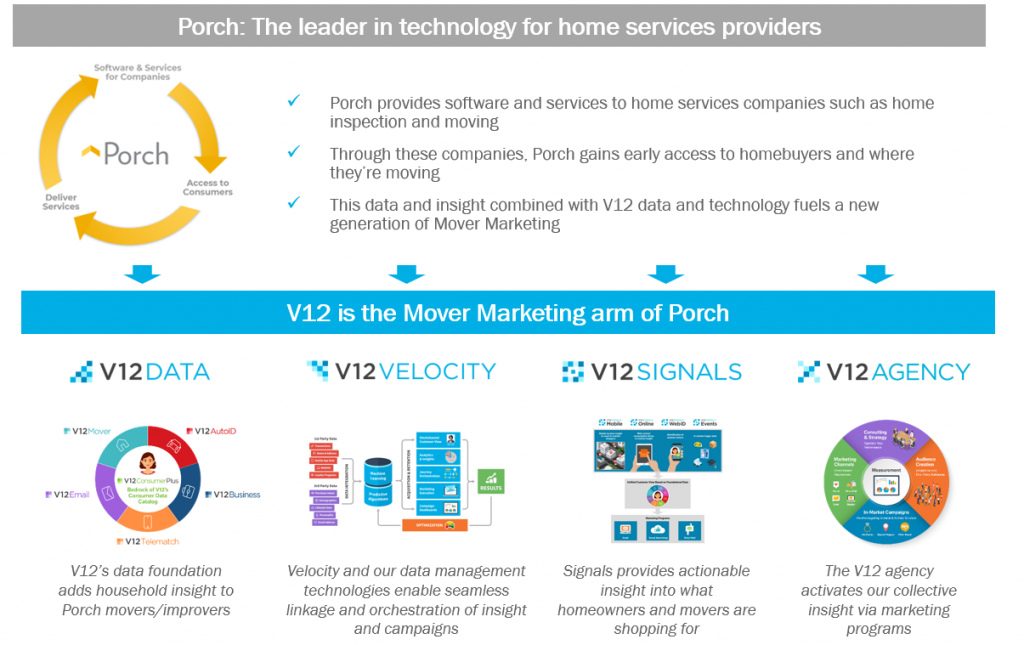 As a result, you have a set of technologies that are generating early access to unique movers, that are not available on the open market, which really gives marketers a competitive advantage.
The first thing that we did with Porch was to launch a product called MoverTech, which offers that proprietary data and insight from the Porch platform. Combined with Porch Group Media's rich consumer insights and technology, MoverTech offers a much broader approach to new mover marketing.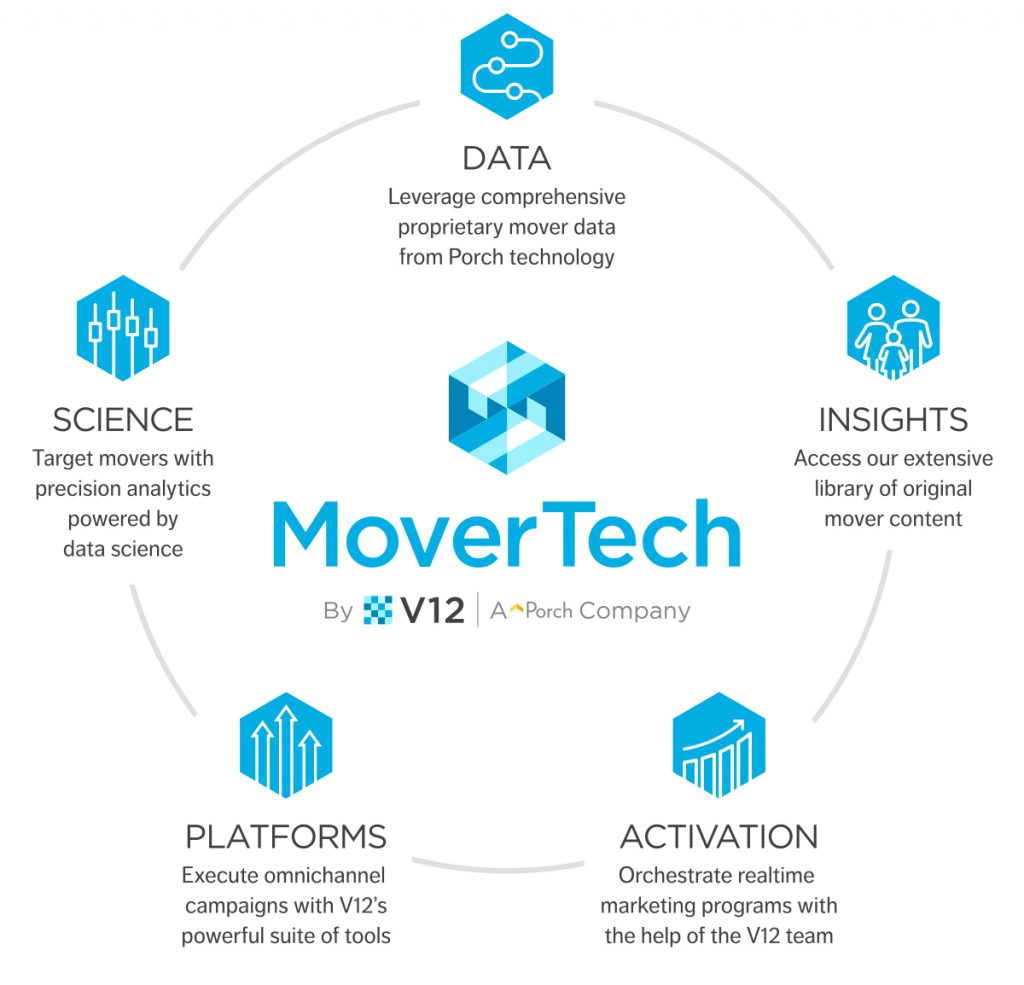 To better understand today's new movers, we needed unique insight. We're delighted to partner with The Harris Poll to start bringing insight that will help marketers understand what new movers are all about, what they buy, and how marketers can best engage with them.
I'm going to turn it over to David to give you a high-level overview of what we're trying to accomplish and some of the key new mover research findings that can act as sort of a springboard. Over to you, David.
Exploring the 2021 New Mover Research Findings
David: Thank you. I first want to say that the Porch Group Media team was terrific to work with. We really appreciate all of your help and insights as we developed this project.
I wanted to provide a little bit of background on the 2021 New Mover Trends study. We surveyed one thousand US adults 18+ who indicated that they had moved in the last 12 months, or were planning to move in the next three months. These are the people that we're labeling for the purposes of this project as new movers.
The research revealed that many new movers may be moving in the next 12 months, indicating that today's new movers are already planning ahead for their next moves.
Another interesting finding was that 77% say they've reported their move to the USPS, with 23% who said they have not reported their move.
The new movers are largely migrating to new areas, new neighborhoods, new cities, and new states. On average, these new movers are moving about 150 miles to their new homes. So obviously, a considerable distance from where they used to live.
And as a result, they all recognize that their lives are going to be changing, and this will require them to be acquiring new items and new services from companies.
One of the fascinating things that we found is that 90% of new movers said that they would be willing to try new brands or new companies for any of these items.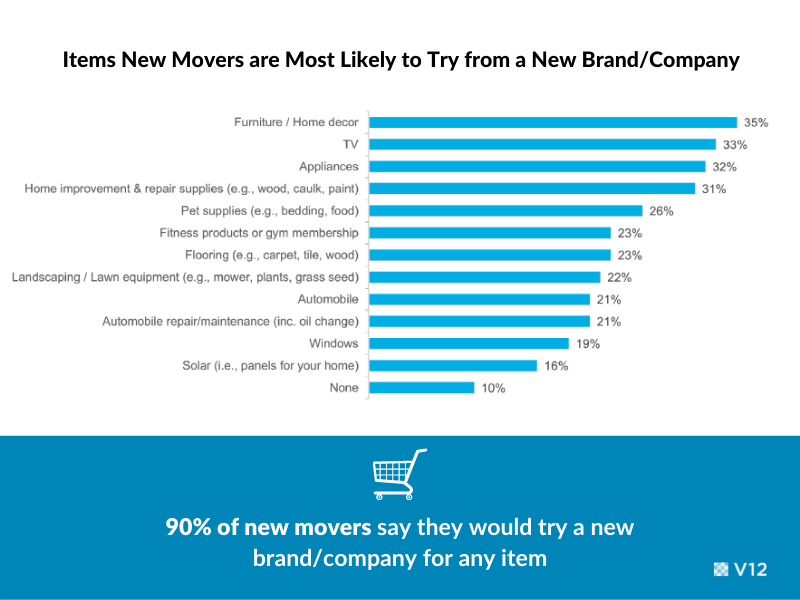 New movers recognize that as they move into new areas, they may need to try new companies or new brands.
These habits are also seen in the services that new movers will require in their new homes. For example, 35% of new movers say they are willing to try a new provider for internet service and 25% are willing to try new providers for insurance, moving services, doctors, dentists, home security, and more.
So clearly, new movers are not only willing to try new brands for items, but are also open to trying new service providers. In fact, 88% of new movers are willing to try new providers.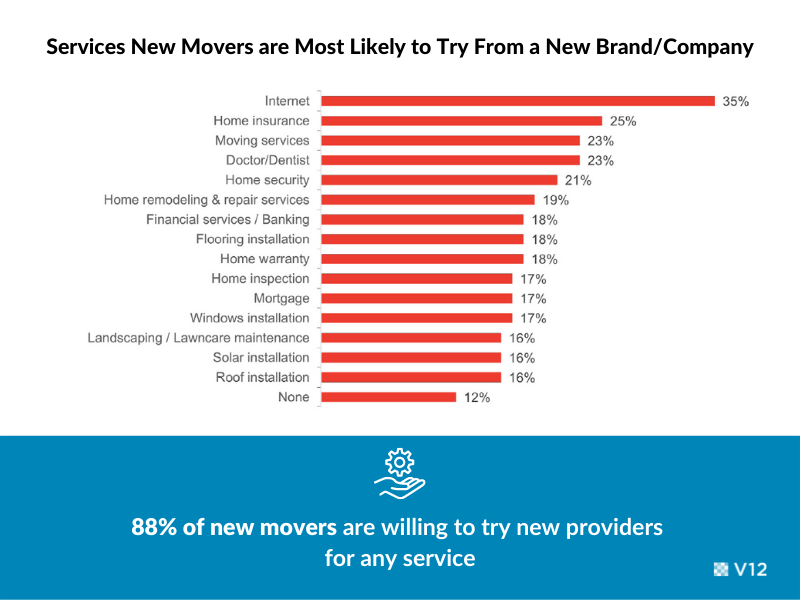 Additionally, about two-thirds, 64%, say they are making their purchase of items prior to the move. So, for a large number of folks, they're thinking ahead, and are researching items for purchase, whether it's solar or home improvement, or windows, – or even, you know, gym membership, flooring, all of these things. This finding demonstrates that new movers are doing their homework and are actually biting the bullet and making purchases prior to the move. They're not waiting until the last minute to make these types of major purchase decisions.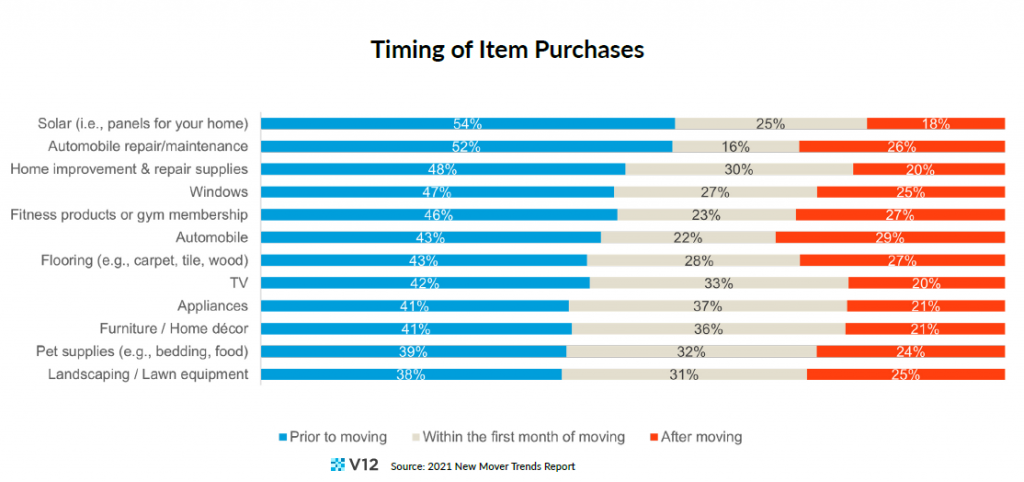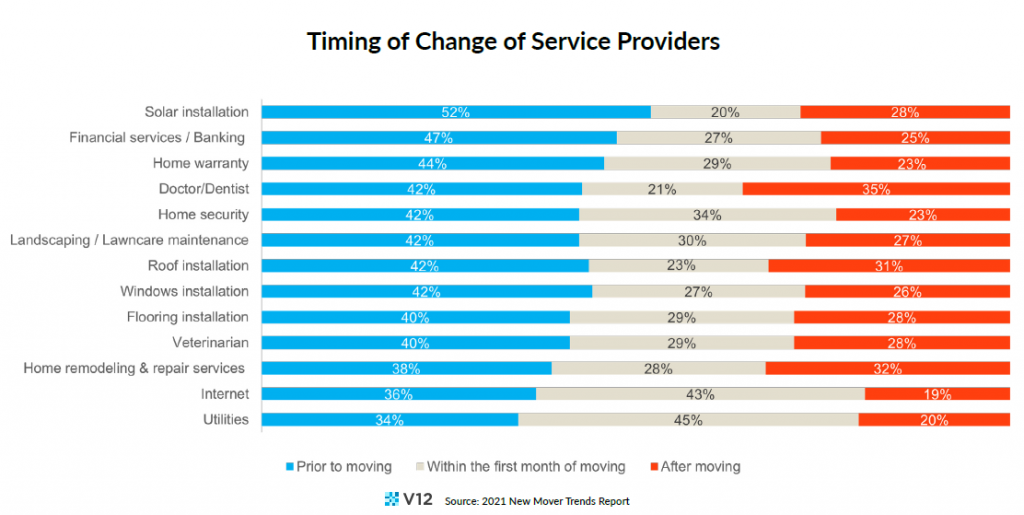 Of course, there is still a significant number, 44% of new movers, who are waiting until after their move. But nonetheless, we found it very interesting to see the number of new movers who are willing to do this prior to the move.
The survey also explored the actions and behaviors of the new movers. We asked them about their attitudes and their sentiments regarding the process of moving. Not altogether surprising, the process of moving was more stressful than they imagined. 72% said that they found the moving process to be more stressful than they imagined. Seven in ten new movers wished they had more resources to help them with the moving process.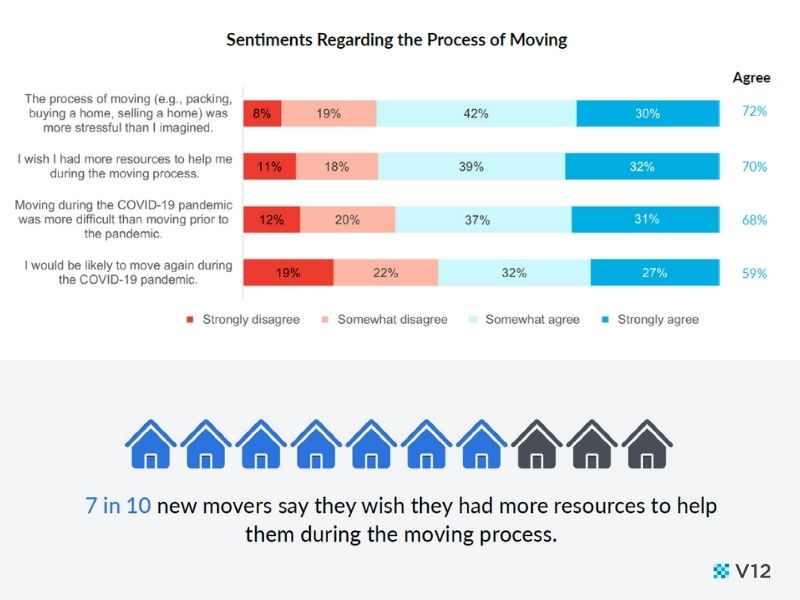 Additionally, nearly 7 in 10 new movers said that moving during the pandemic was more difficult than moving prior to the pandemic. So that was an acknowledgment that the pandemic was impacting them in this part of their life. We've all seen how the pandemic has uprooted all our lives and the moving process clearly isn't any exception to that. Despite these sentiments and perhaps surprisingly, nearly 6 and 10 said they would be likely to move again in the future.
From this study, we also wanted to understand how these new movers are making their purchase decisions. New movers are largely turning to the internet, with 46% are doing online research, and 37% looking at online customer reviews.
Of course, new movers are also still relying on recommendations from family and friends and neighbors and three in ten are visiting stores to inquire about certain items.
New movers are doing a number of different things to research the items that they are going to be possibly purchasing. As you can see, 45% of the new movers say they are purchasing items online, and having them delivered to their homes, 29% said they purchase them online but pick them up in the store, and the rest said they purchased them in-store.
To take things a step further, we wanted to understand what types of enticements encouraged these new movers to try new brands.
Our research revealed that just over half were looking at customer reviews, with 52% reporting that good reviews were an enticement to try these new companies. Just about half said better prices than other brands of the same industry were an enticement and 43% were going by recommendations from family and friends. So, these are the enticements that we uncovered as to what might encourage the new movers to try new brands.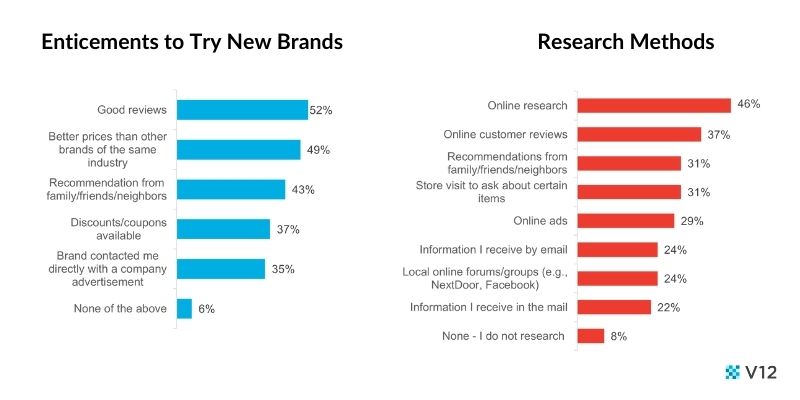 We wanted to find out how much new movers were spending on items and services as well. On average movers are spending about $10,000 on an automobile. Now, again, I'm stressing the average, because obviously there are people who have spent more and there are people who spent less.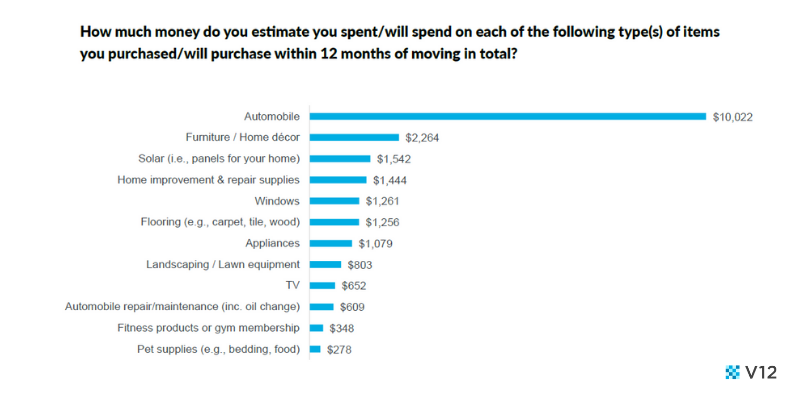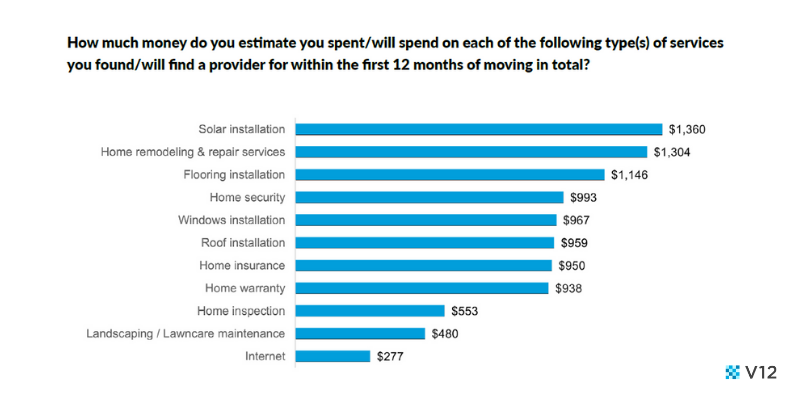 We identified that moving often involves home improvements, with over 8 in 10 new movers doing or planning on doing home improvement projects. For example, 83% are saying that they're doing home projects, such as painting, redecorating, kitchen remodeling, landscaping, and bathroom remodeling. So, as you can see, new movers consider home improvement to be a priority.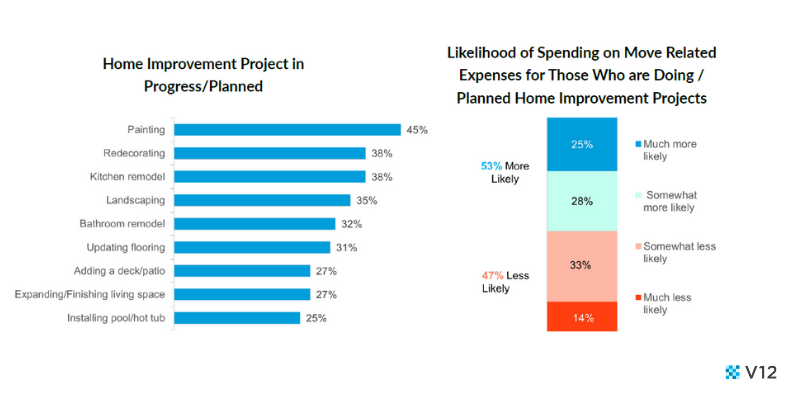 We also wondered whether these home improvement expenses will affect how the movers are thinking about the move itself. About half say that these expenses will impact the move, but also, the opposite – half say they won't.
The new movers in our study recognize that they may need to try new companies, new brands, and new providers of services. About 9 and 10 of these individuals are willing to take a chance on these new brands and companies when they are seeking out new items and services for their new homes.
Many of these new movers are doing their homework, either through online research, checking out customer reviews, and getting information from their friends and family.
Many of our new movers in this study are making their decisions and making their purchases prior to the move in anticipation of their move. And again, we thought that that was overall a very interesting set of data.
So, thank you for allowing me to share some of the reports highlights with you all.
Host: Great, David, thank you very much.
There is a lot going on with the move, probably more than we all might have thought. And the anticipation of additional moves is quite compelling to me, as is the overwhelming willingness to change service providers which provides an open landscape to marketers.
I don't know that there's ever really been a company like Porch, that has dedicated itself to helping movers, both through the journey to find products and services that are going to be helpful to them.
There's this incredible dynamic in the premove phase. It's important for marketers to make sure that they engage early on because many new movers are doing their research prior to moving.
There are a lot of lessons and tells for marketers that want to capitalize on what looks to me, like a $250 billion-plus opportunity. If you've got 31 million new movers times $8,000 spent on average per move, that's a lot of money.
Marketing to New Movers Throughout the Entire Move Journey
I'd like to talk a little bit about our product MoverTech and how it helps marketers navigate their campaigns through these new mover trends. We have broken down the move journey into four phases: Possible movers, Likely movers, Verified Premovers, and Postmovers.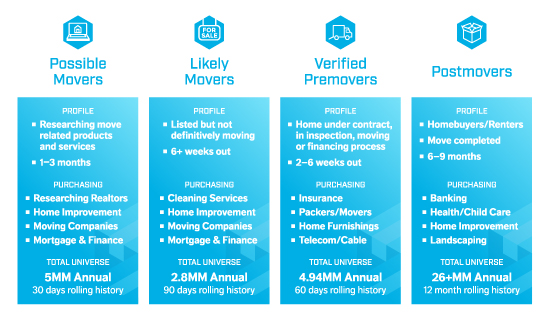 The first phase, Possible Movers, is derived from our behavioral intent data, largely from online sources where we categorize people's browsing and their content consumption into audiences.
What we've done is create about a five million-strong audience of people who are doing their research – who haven't necessarily raised their hand and told the USPS, haven't listed their home or entered into the real estate funnel in any way – but they are doing their research on move-related products and services. The great thing about possible movers is it gives the marketer the opportunity to engage much earlier than traditional mover marketing would have enabled.
The first phase includes Porch Group Media's behavioral intent data, which we have been building now for the last 5 or 6 years, linking people's browsing behavior to personal identity, name, address, and contact information, and so forth. 
This intent data has historically existed only at the device level. So, if you are a marketer, the proof that people are doing their research so early in the process means you need to engage as early on in the process as possible. Reaching new movers in the "Possible Movers" phase is as early as it gets to engage with new movers.
Then you begin to enter into the real estate funnel, and this is where the Likely Movers phase begins. Likely Movers are folks who have listed their house. They're probably moving, but not for sure. These people are about six weeks out, versus the 1 to 3 months that the possible movers are, and there are certainly a lot of them.
In the third phase, where we see the money really getting spent is in the Verified Premover phase. This is where a lot of the unique data resides. The consumers interacting with Porch are serious about moving.
They're shopping for a mortgage, are engaged with a home inspector, might be undergoing a roof repair, etc. They might be engaged on Porch.com, trying to find service providers. This 2-to-6-week period is where a lot of the money is as these new movers are buying products and services, and engaging very actively.
If you've done your job, you've migrated these folks through these phases and you've nurtured them to this point. Here's where the money really starts to flow.
This data from Porch is truly unique and cannot be accessed through any other provider. You're looking at an audience of about 5 million, which provides a massive opportunity to engage with new movers before anyone else.
The final phase of the move journey is the Postmover phase. Postmovers are homebuyers or renters who have completed the move. These movers are settling in and are seen making a variety of purchase decisions for their new homes within the first 12 months of moving.
Our goal is to provide marketers with the whole spectrum of new movers and help our marketing clients understand who buys what and when. The research findings we've shared with you all really demonstrate the importance of reaching movers early on and engaging with them throughout the entire move journey.
2021 New Mover Trends Report from Porch Group and Porch Group Media
The 2021 New Mover Trends Report from Porch and Porch Group Media explores the profile of today's new movers and provides valuable insights into movers' life events, spending behaviors, attitudes about moving, and much more. Download your free copy here!
---
Stay up to date with the latest insights and marketing resources.
---
Ready to get started? Learn how Porch Group Media can help you target and acquire new mover audiences. Contact us to learn more!