The customer experience has been and will continue to be top of mind for marketers across industries. Positive experiences generate more revenue, brand loyalty, and repeat purchases. On the other hand, a poor experience can have extremely negative ramifications, damaging brand reputation and causing customers to quickly flock to the competition.
Econsultancy and Ensighten surveyed more than 600 companies worldwide, finding that "Nearly all (96 percent) surveyed companies deem customer experience optimization important, with more than two in five companies (41 percent) claiming that this is now a high priority for their organization."
The top 3 benefits of a superior customer experience included:
Higher engagement and conversion rates
Better brand perception and loyalty
Renewal, cross-sell and upsell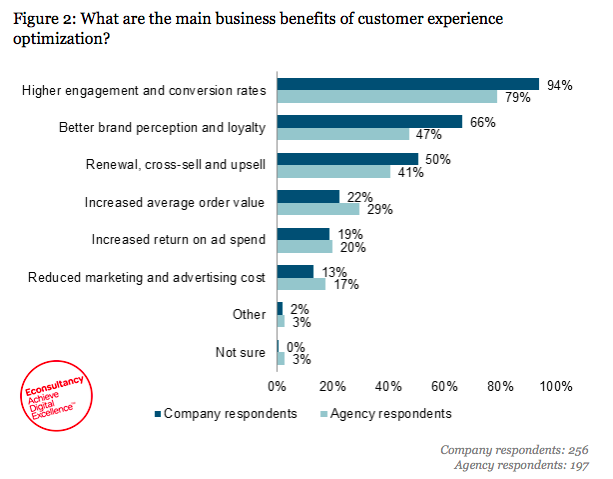 You may have seen the statistics by Gartner – in just a few years, 89% of businesses will compete mainly on customer experience. And by 2020, the customer will manage 85% of its relationship with an enterprise without interacting with a human. This means that the customer experience will quickly overtake price and product as the key competitive differentiator among brands.
What Do Consumers See as the Ideal Customer Experience?
Research by Economist Intelligence Unit in April 2015 revealed that the top five areas consumers identified as leading to a positive experience included:
47% – Fast response to enquiries or complaints
46% – Simple purchasing process
34% – Ability to track orders in real time
25% – Clarity and simplicity of product information across channels
22% – Ability to interact with the company over multiple channels
Benefits of Optimizing the Customer Experience with Data
A consumer's perception of the ideal experience is continually evolving. Consumers expect more and have numerous choices when selecting a brand. Responding to inquiries in a timely manner and providing an easy purchase process are elements that a consumer already expects to be in place. Consumers today are now demanding that brands provide a highly personalized and optimal experience uniquely relevant to them.
According to a new report by Forbes Insights and SAS, "Data Elevates the Customer Experience: New Ways of Discovering and Applying Customer Insights," the benefits of brands evolving to data-driven customer experiences are wide-ranging. The study notes data-driven methods enhance revenue generation and enable cost reduction, as well as accelerate process efficiencies and quality improvements.
For nearly three in 10 enterprises, data-driven customer experiences are delivering a significant shift in elevating customer experiences. Additionally, according to the study, "A substantial segment of executives, 42%, anticipate that data analytics will soon result in a significant shift in their ability to deliver a superior customer experience. This transformational shift is currently most evident among the Leaders in the group, 41%, versus 18% of the Explorers and only 8% of Laggards. Interestingly, those respondents not as advanced with data-driven CX expect to catch up within the next two years, indicating a fast moving space."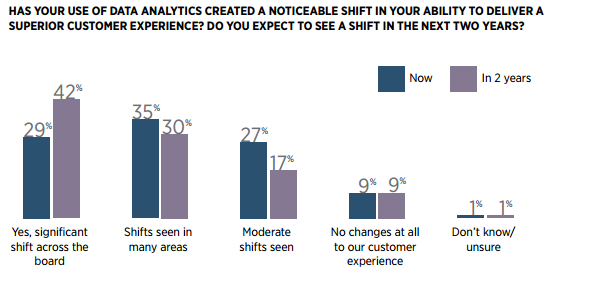 Image Source: Forbes Insights and SAS , "Data Elevates the Customer Experience: New Ways of Discovering and Applying Customer Insights"
When survey respondents were asked how their organization was benefiting from data-driven customer experiences, the value was clear. The top responses included:
62% – Decision making is faster
51% – Better insight into and a common enterprise view of customers
49% – Greater engagement with customers
49% – Managers and employees are more confident about their decisions
47% – Increased sales/revenues
44% – More repeat business from customers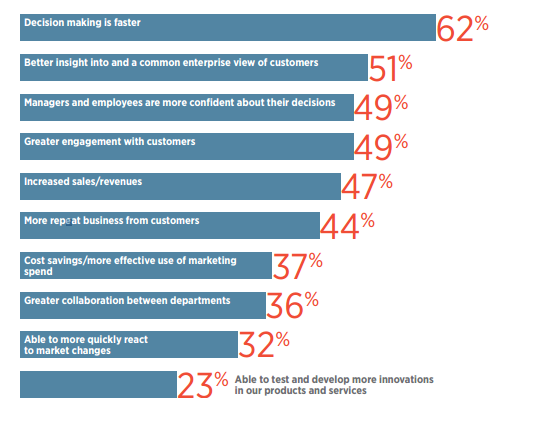 The Value of Data in Driving Optimal Experiences
Delivering this level of personalization throughout the customer experience requires data.  A company must understand who its customers are using 1st party data, demographics, preferences, lifestyles, purchase behaviors, and other key characteristics.
While most companies have plenty of data on their customers, the challenge is in accessing and analyzing these data sources to develop a comprehensive customer profile. Data is often stored in separate siloes. Without a single repository or data warehouse, marketing departments have no way to access a single customer view.
So, for example, Mary, a valued customer, has placed multiple orders online over the course of several months. She also redeems print coupons at physical locations when they are mailed to her but has unsubscribed from several promotional email lists due to irrelevant content. Each of these interactions with Mary contains important details about her preferences. However, if this information is stored in separate systems, such as POS, e-commerce, and email, the marketing department will have no way to understand what is driving Mary's behavior across channels.
By establishing a single view of Mary, she can be emailed offers tailored to her unique needs and interests. Or by arming customer-service centers with integrated information, a service representative can determine that Mary is a high-value customer and can give her the proper attention if she calls customer service with a complaint. Personalized recommendations can also be presented to her when she shops online.
Forbes asked survey respondents about which types of data they considered essential to gaining intelligence of the customer experience. Data from call center interactions, web visits, mobile apps, email, and purchase history ranked the highest.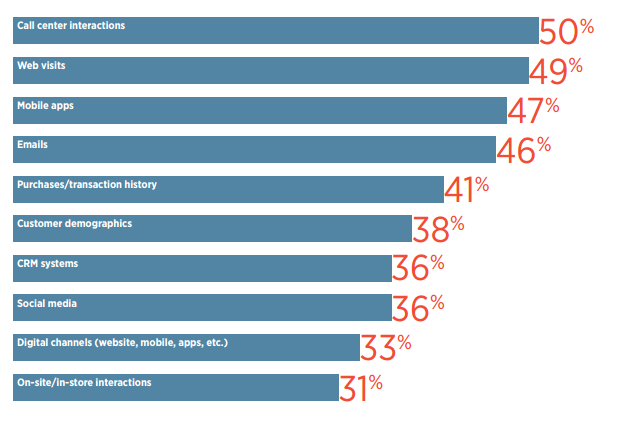 A Personalized Experience Drives More Purchases
Statistics from MyBuy's 2015 Personalization Consumer Survey indicate that when data is used to personalize experiences, consumers purchase more from brands who:
53% – Suggest products based on browsing or buying behavior
49% – Personalize online ads that promote offers and products from website activity
48% – Send personalized emails based on past browsing and buying behavior
48% – Personalize the shopping experience across all channels
33% – Show personalized ads in social media feeds
While there is obviously huge uplift when personalizing consumer interactions, many marketers are unaware of the negative impacts of sending impersonal messaging. A survey by Gigya revealed that 67% of consumers have unsubscribed from an email list when sent irrelevant information. An additional 43% ignored future communications from the company, and 32% stopped visiting the company's website or mobile app.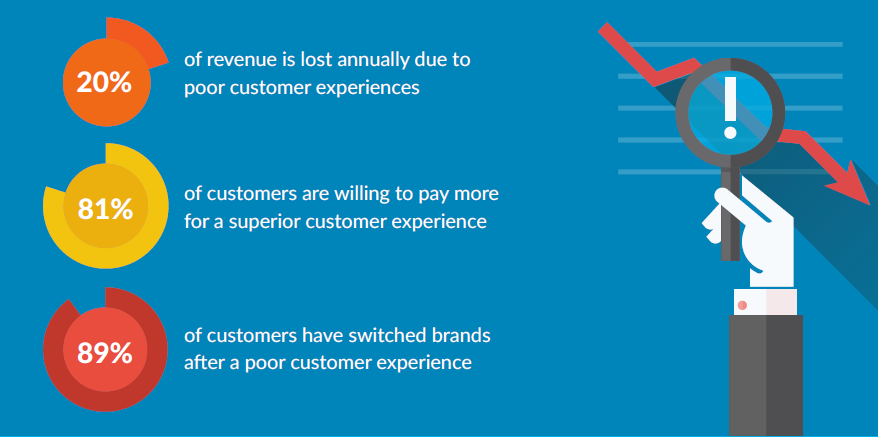 As organizations grasp the importance of infusing data insights throughout the customer experience, executives are taking the necessary steps to invest in the technologies and platforms to better align themselves with consumer expectations. According to Forbes, "Close to half, 48%, report they have developed interfaces or access analytics to increase awareness, while 47% indicate they have promoted more active data sharing across their enterprises. Increased use of tools and platforms to deliver automation is also an option that is frequently cited. Enterprises in all stages of data-driven CX development have been adopting these solutions."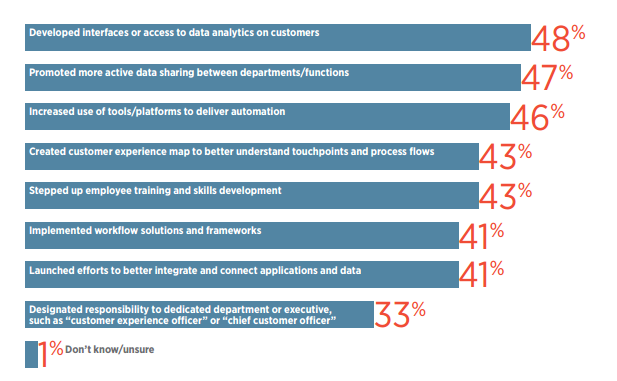 As consumers demand more personalized interactions with the brands they choose to do business with, organizations must step up to the plate and implement the right data, technology, and analytics strategies to optimize these experiences. Consumers are willing to pay more for highly personalized experiences, and for those companies who are delivering, research shows they typically grow at double the rate of their competitors.
Learn how Porch Group Media can help you get to know your customers better and reach them across channels to boost your marketing success. Contact us to get started!