In today's online world, with our inboxes buzzing and screens filled with ads, there's something special about receiving a piece of direct mail. The tangible touch, something we can hold and feel, has a unique charm that digital just can't match.
In fact, an incredible 64% of consumers say direct mail has inspired them to take action such as visiting a website, heading to a physical location, or making a purchase. This is according to research by Lob, which surveyed consumers on how they use direct mail.
Marketers also cite the effectiveness of direct mail, with 74% of marketers saying direct mail delivers the highest response, conversion, and ROI of any channel they use.
What Inspires Action in Direct Mail?
For all age groups in the research study, an offer or promotion that caught their attention was the biggest driver of action, for almost 2 in 3 people.
However, for those aged 55+, this was even higher, with a direct mail offer driving action for almost 3 in 4 (73%) people in this age group.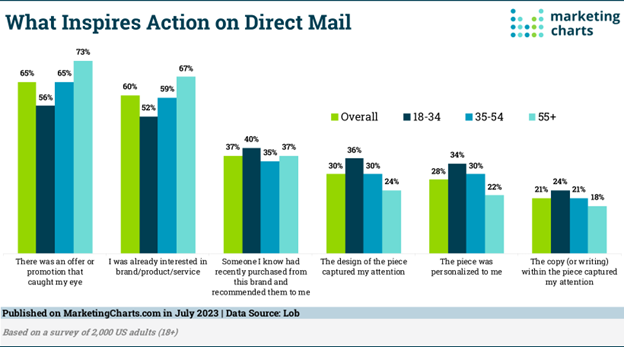 Image Source: Marketing Charts
Actionable Tip: Always include a Call-to-Action in your direct mail campaigns.
Consumers can clearly be swayed by an offer they receive in the mail so be sure to use a compelling call-to-action in your direct mail campaigns.
Types of offers include:
Discounts and Savings: Offer price-reduction incentives.
Percentage Off: "Save 20% on your next purchase!"
Dollar Amount Off: "$10 off when you spend $50 or more!"
Buy One, Get One (BOGO): "Buy one, get the second item half off!"
Gifts with Purchase: A fantastic way to introduce new products or clear out stock.
Sample Products: "Get a free sample of our new skincare line with any purchase!"
Complementary Goods: "Buy a coffee machine and get a month's supply of coffee pods!"
Loyalty Programs: Reward repeat customers and encourage continued patronage.
Points System: "Earn double points for every dollar spent this month!"
Exclusive Membership: "Become a Gold Member and get monthly exclusive deals!"
Free Trials: Ideal for subscription-based services or products.
Subscription Services: "Get a 30-day free trial of our premium subscription!"
Product Trials: "Try our new fitness equipment at home for a week, on us!"
Exclusive Access or Previews: Offer early or special access to products or events.
Product Pre-launch: "Be the first to try our newest product, exclusively for our mail subscribers!"
Event Tickets: "Get early bird access to our annual gala!"
Personalize Your Direct Mail
The survey revealed that 68% are more likely to engage with a message/communication from brands personalized to them. Over half (55%) of consumers expect direct mail to be personalized for them.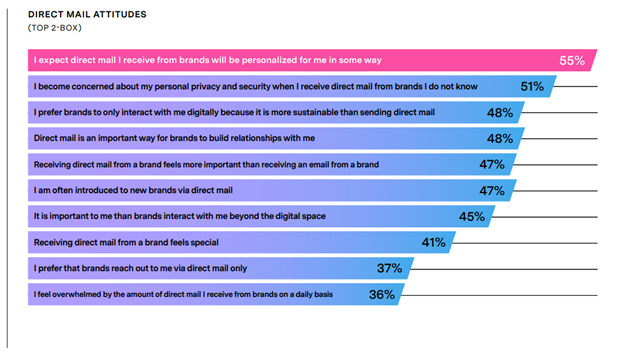 When personalizing your direct mail campaigns, be sure your database is in tip-top shape. Regularly clean and update your mailing list to ensure accuracy.
Variable data printing allows you to change elements of each mail piece without slowing down the printing process. This is perfect for inserting names, personalized images, or tailored messages.
Great example of personalization using a first name and image.
Reference past engagements, like "We noticed you liked our summer collection. Here's an exclusive preview of our fall line!"
Offer deals based on the recipient's purchase history or behaviors. For instance, someone who recently bought running shoes might appreciate a discount on sportswear.
Also, incorporate triggered mails. Send direct mail based on specific actions or milestones, such as a birthday card with a special discount or a follow-up mail after a significant purchase.
Images and Your Direct Mail Pieces
Images of items or services previously purchased were the most appealing to recipients, according to 43% of the survey's respondents. This is in line with the importance of using personalization to make your direct mail pieces stand out.
Also noteworthy is the appeal of images of food, animals, and people.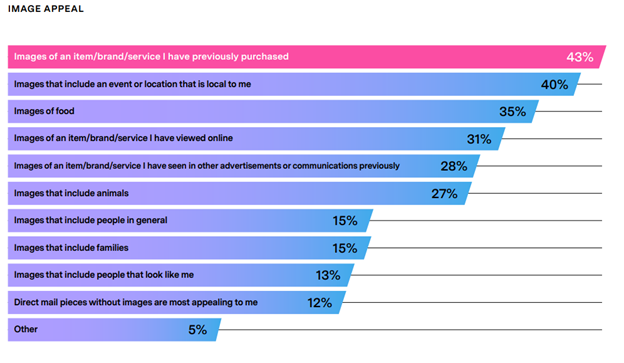 Interestingly, 3 in 10 adults would take action because the design of the direct mail piece captured their attention. Types of actions they would take include searching for a brand online, visiting a brand website, checking the brand's social media, looking up reviews of the brand, buying a product, or visiting a brand location.
Especially for younger audiences, those aged 18-34, the design of a direct mail piece plays a crucial role in motivating action. They are 50% more inclined than individuals aged 55 and above to be influenced by design, with 36% vs. 24% respectively saying it would drive them to act.
How do Consumers Engage with Direct Mail?
According to Lob's research, the majority of consumers read direct mail almost immediately.
71% reported they read direct mail the same day they bring it inside their residence.
78% of ages 55+, report they read direct mail the same day they bring it inside their residence.
58% keep direct mail for less than two days.
Almost 1 in 4 of those 18-24 keep their direct mail for two days but less than five days.
Once engaging with a direct mail piece, consumers are most apt to visit the brand's website (57%), search for the brand/product/service online (53%) or look up reviews (46%).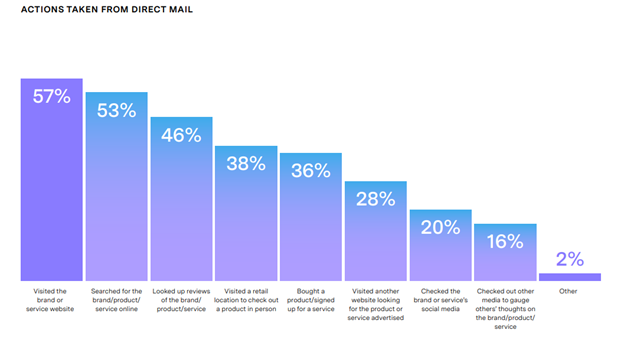 Use QR Codes in Your Direct Mail Campaigns
Almost 4 in 10 (39%) of consumers are likely to scan a QR code on a piece of direct mail and take action.
Some best practices for using QR codes include:
Before the recipient takes the time to scan your QR code, they should know what's in it for them. Clearly communicate the benefit or incentive, whether it's a discount, exclusive content, or valuable information.
Ensure your QR code stands out by using high-contrast colors. Typically, a black code on a white background works best, but you can customize the colors as long as there's sufficient contrast.
For easy scanning, your QR code shouldn't be too small. As a general rule, a size of 1 x 1 inch (2.5 x 2.5 cm) is a minimum, but consider the distance from which it might be scanned.
Dynamic QR codes allow you to change the destination URL without altering the printed code. This is useful for updating promotions or content without issuing new printed materials.
Not everyone is familiar with QR codes. Include a brief instruction like, "Scan with your phone's camera to access exclusive deals!"
Place the QR code in a location on the mail piece where it's easy to scan, avoiding the folds or edges.
With increasing concerns about data privacy, assure recipients that scanning the QR code is safe and that their personal data will not be misused.
Conclusion
Even as digital channels multiply and innovate, the tactile experience of holding a piece of mail, the personal touch it represents, continues to leave a deep impression. Direct mail, with its unique blend of tradition and adaptability, stands firm, proving that some marketing methods don't just survive — they thrive.
[On-Demand Webinar] Direct Mail: Old School Is New School Combining the Power of Direct Mail and Digital
New findings suggest that when direct mail is combined with an omnichannel marketing strategy, marketers can increase the response rate by 63%, with a 60% increase in the return on investment. Check out our on-demand webinar to learn more about the power of direct mail and how to integrate it as a part of your omnichannel marketing strategy.