Welcome to the Movers and Shakers podcast. Join us as industry leaders and experts discuss important marketing topics and share actionable insights and unique perspectives on the latest marketing, strategies, technology, and trends.
---
*This content has been adapted from our Movers and Shakers podcast.
Luci:
Tell us a little bit about the Porch Group Media Network, and about your reach across channels. Todd, you mentioned having the power to do that and I'm seeing on this slide that there are a lot of cross-devices such as computers, phones, even direct mail which is still incredibly effective, especially in insurance and banking and verticals like that. I'm also seeing a new channel here for Connected TV. Tell us about the Porch Group Media Network and how you'll be powering and leveraging your data through these devices.
Michelle:
We're super excited about it. I'm sure everybody who is following the market right now remembers that media networks were big like 10 years ago and now they're definitely coming back due to everything that's going on in the industry around privacy.
If you have the access to first-party data and unique data assets, a media network is just really a winning strategy. We feel and really believe that we have something here that can really provide a huge benefit to brands because of our unique data assets and our strength in our ability to manage audiences.
We've been doing this for a number of years and we're really excited about the lift the Porch data provides to our existing audiences that we have had for a number of years.
With our new approach, and because we have data at an individual level, we can add channels like CTV.
It's a natural fit for us. CTV is all about being able to target at an individual basis, and then following up with channels such as video display and paid social to really be able to get in front of a customer.
Our mission is to truly help consumers talk to the brands that they want to talk to for the services that they're interested in buying. Our mission is not to mass target everybody. Our mission is to truly help consumers to meet a brand for a need that they're looking to meet.
We feel that with our audiences and all the insights we have, we are the perfect company to really help them do that because of all the solutions that we have built in place.
The Porch Group Media Network is a really compliant, full-service solution to be able to help brands to do that and to be able to help consumers get that message in a really safe and friendly way.
So as you can tell, we're super excited about this. We're at the beginning stages. We're rolling it out in a managed service capacity because we really believe that that is the best way to do it for brands.
Todd:
You're absolutely right. The move is especially important, and how we're initially building this media network because that is such an important time for brands to speak to their consumers and it's short-lived
We're able to identify them in the early planning stages of the move and throughout the move once they've settled into their new home. What we find is that that's a high-quality intent signal. It allows brands to understand that "hey, this, this household that's moving from 42 Cedar Drive to 104 Oak Street. They are really important customers to me, and they need all of my services." So that brands need to be able to be higher on that consumer's radar with messaging that has high frequency across multiple platforms.
It's the consumers that matter most to them that will determine their investment level is. And the consumers that are most important get the right kind of communication for them.
Instead of looking at a mover as someone to communicate using a single channel, look at the mover and then communicate with all the channels and all of the media that that consumer is consuming as they plan and execute that move.
The 2022 Marketer's Perspective on Mover Marketing
Download the 2022 Marketer's Perspective on Mover Marketing Report to learn more about how brands are using mover marketing to boost the success of their customer acquisition and retention programs.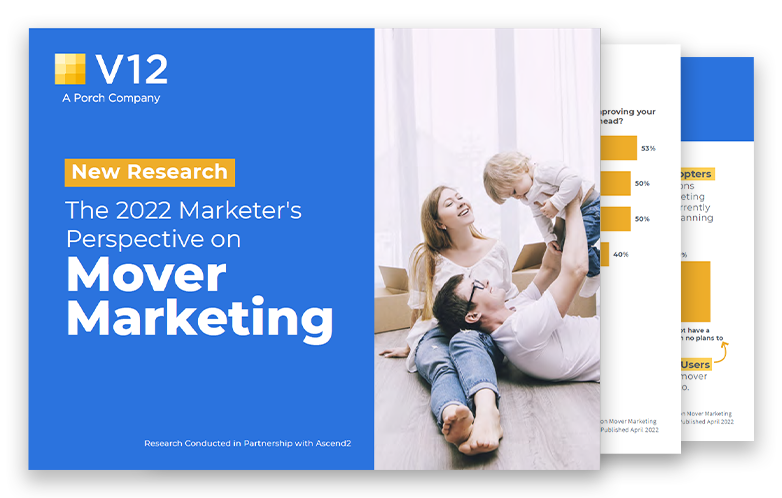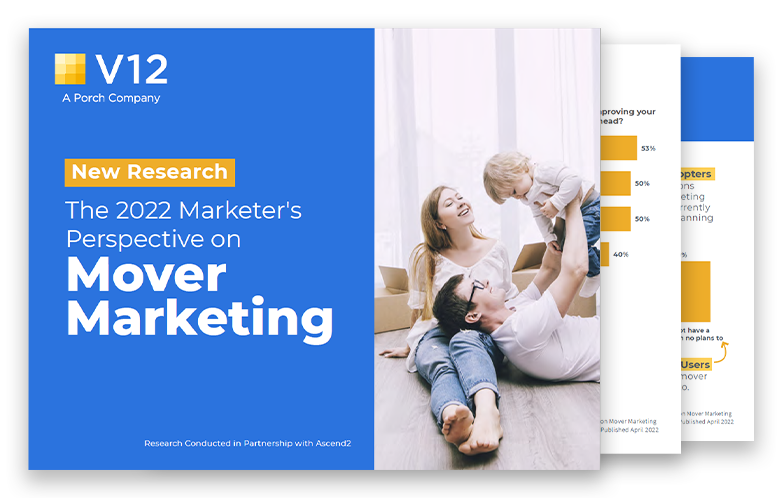 Learn More About How Mover Marketing Helps Brands Boost the Success of Their Customer Acquisition and Retention Campaigns
Subscribe below to stay tuned for upcoming episodes with other industry-leading marketing executives as they look to transform the future of mover marketing.
---
Stay up to date with the latest news and resources: