Welcome to the Movers and Shakers podcast. Join us as industry leaders and experts discuss important marketing topics and share actionable insights and unique perspectives on the latest marketing, strategies, technology, and trends.
---
*This content has been adapted from our Movers and Shakers podcast.
Luci:
There are many parts of the household to understand and leverage, and the household purchase power down to the individual level has really become complex. I think as marketers we just used to look at the overall household, but now because of cross-device and CTV and so forth, it's really that deep understanding down to the individual level in the household and that journey that has become so important.
Tell us a little bit about how household composition impacts how you can build audiences and why it matters.
Todd:
If you think about the homeowner journey, there's an evolution of the household composition. It could be a single adult. It might be a couple of adults. There might be a family with kids, and a move will then unleash a whole new way of looking at those families. Maybe they are moving up or about to become empty nesters.
Then the sorts of products that brands want to communicate to consumers about will vary across those stages. Some brands might not be interested in toddlers or might not be interested in the empty nesters, but other brands will. And so it's not just the move, it's becoming a homeowner, and what stage in life are you as a homeowner.
And then layered on top of that are these economic choices – do you have disposable income? Or do you prefer higher price points? Are you trying to make ends meet where you're living on a budget and all of those things need to be considered when communicating? Do I need to be more aspirational about encouraging them to become a part of our brand?
This can change greatly – when you combine all these insights, it determines how that campaign will perform and whether the investment that the brands make in that marketing campaign will get a strong return or a modest return.
It is the collection of all of those data points that we have on the entire household, specific to the hub for the homeowner that matter the most.
The 2022 Marketer's Perspective on Mover Marketing
Download the 2022 Marketer's Perspective on Mover Marketing Report to learn more about how brands are using mover marketing to boost the success of their customer acquisition and retention programs.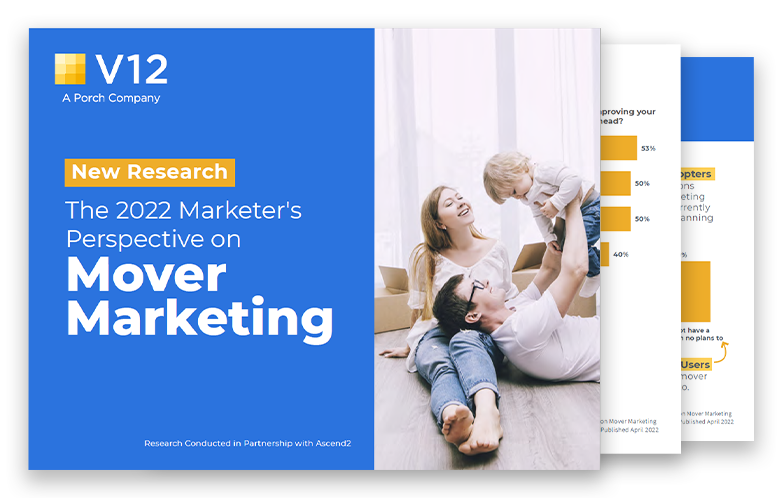 Learn More About How Mover Marketing Helps Brands Boost the Success of Their Customer Acquisition and Retention Campaigns
Subscribe below to stay tuned for upcoming episodes with other industry-leading marketing executives as they look to transform the future of mover marketing.
---
Stay up to date with the latest news and resources: