You Thought 2022 was Big – CTV is Just Growing Up. Why You Can't Afford to Miss out on Connected TV in 2023.
Today, we hear a lot about streaming your favorite shows, cutting the cord, and how CTV is shaping up to overtake linear TV viewing. It's the new norm but I remember when Netflix first entered the scene.
In 1997, Netflix was founded. However, it wasn't the vibrant streaming service of today – it was an online movie rental store like Blockbuster. I remember finishing my movie and sending my rentals back in the mail, eagerly awaiting the arrival of my next rental.
In 2007, Netflix launched its on-demand streaming video. While it technically wasn't the first streaming service, it was certainly the most successful. (The first was actually iTV, a project that launched in Hong Kong in the late '90s.)
Fast forward to today, and streaming has changed the way people consume shows and movies. Viewers are now in charge of what they want to watch at any given time.
What is the Difference Between Streaming TV, Connected TV, and OTT?
In simple words, Connected TV is any TV that can be connected to the internet. It is used to stream digital videos at the convenience of the viewer. CTV is any television set used to stream video over the internet. These are most often videos that are streamed via apps that are downloaded. Examples include Roku, Chromecast, Amazon Fire Stick, and Apple TV.
CTV streams OTT content such as Netflix, Hulu, Prime Video, Sling TV, ATTNow, Tubi, Peacock, and many more.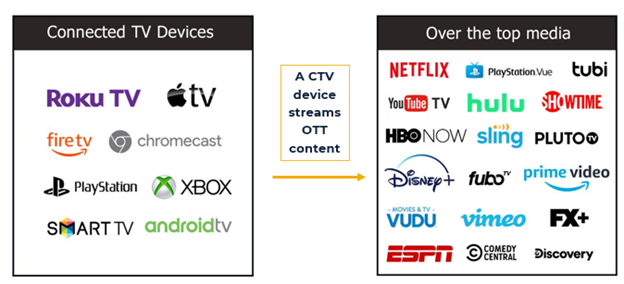 Connected TV statistics
Here are some stats on why Connected TV should be part of your 2023 strategy: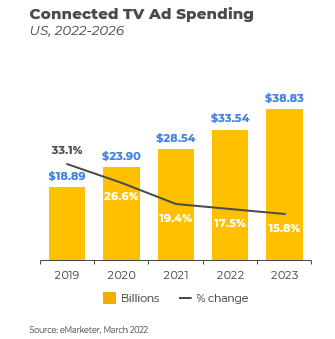 How Does Connected TV Work?
Viewers can view your advertisements when they watch movies, videos, and TV shows on popular streaming platforms like Youtube, Hulu, and more.
The huge advantage of CTV advertising is that you don't have to guess which shows your target audiences are watching. Instead, you can build a target audience based on demographic and behavioral signals, then serve ads to specific viewers. Connected TV ads are delivered one at a time based on the specific viewer watching a program.
3 Key Benefits of CTV Marketing and Advertising
Connected TV is well known to provide a broadcast-quality advertisement experience. This works well for the targeted audiences as it engages them in the product that is intended to be sold.
With several benefits, it is no surprise that Connected TV ads are increasingly being used by brands of all sizes.
Let us now look at some of the benefits of CTV marketing.
1. Precision Audience Targeting
Connected TV allows advertisers to reach audiences based on blending any number of selects. The key to audience segmentation is that it allows advertisers to target viewers with relevant messages that bring awareness to their brand.
For example, advertisers can narrow audiences by:
Behavioral Targeting: This is the ability to target individuals based on habits, online personality, lifestyle, interests, shopping behaviors, and more.
Demographic Targeting: This is the ability to refine a demographic by any data point you can imagine, from ethnicity, education level, hometown, relationship status, income, and more.
Contextual Targeting: This is the ability to place ads for specific products or services within the context of what the viewer is watching. Take for example, an ad for new cookware in between episodes of an at-home cooking show.
Time-of-Day Targeting: This is the capacity to run the same ad to different people at different times, based on their viewing behavior.
Technographic Targeting: This is the ability to target devices based on technical specs such as browser, operating system, connection speed, etc. Filter out the audiences where the ad will run into playback issues and watch the effectiveness go up dramatically.
Geographic Targeting: This is the ability to pinpoint where an ideal customer is, in real-time, where they have visited recently, or frequently and only market to them when we want to based on those inputs.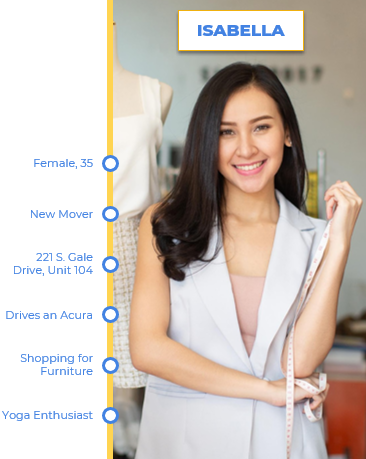 As a result of this precision audience targeting, advertisers can recommend a new video game to someone who plays on an Xbox or recommend a new pair of hiking boots to someone who watches outdoorsy videos on YouTube. Some of these unique identifiers come from connected accounts, such as Google or Amazon, that are associated with the device and provide information about IP, geolocation, device type, online behavior, interests, and social accounts. Learn about Porch Group Media's connected TV advertising solutions here.
2. Cost-Effective TV Advertising
Streamed content is a much more economical choice when compared to traditional cable or linear TV. Unlike mass advertising through linear TV, such as advertising during a sports game in the hopes that you'll reach males of a certain age who like fitness, you can specifically target this demographic. Every cent of your ad dollars is going toward your intended target.
3. Non-Skippable Ads & Engaged Audiences
Ads are not skippable on CTV devices which allows for a higher video completion rate (near 100% across the board for CTV campaigns). Additionally, since the viewer is in the midst of a long-form show or movie that they are already engaged with, there is a statistically higher chance that they will also pay more attention to the video ad that is playing.
While CTV advertising is still considered to be in its infancy, the data shows that it is here to stay. For media buyers and marketers alike, the question is no longer whether or not you jump on the "bandwagon", but how can you stay at the forefront and compete, as this new frontier continues to evolve and change. In fact, viewing habits are now resembling linear TV and in the not-so-far future, there is no question that OTT/CTV advertising will be the standard.
Start Reaching Movers and Homeowners with Connected TV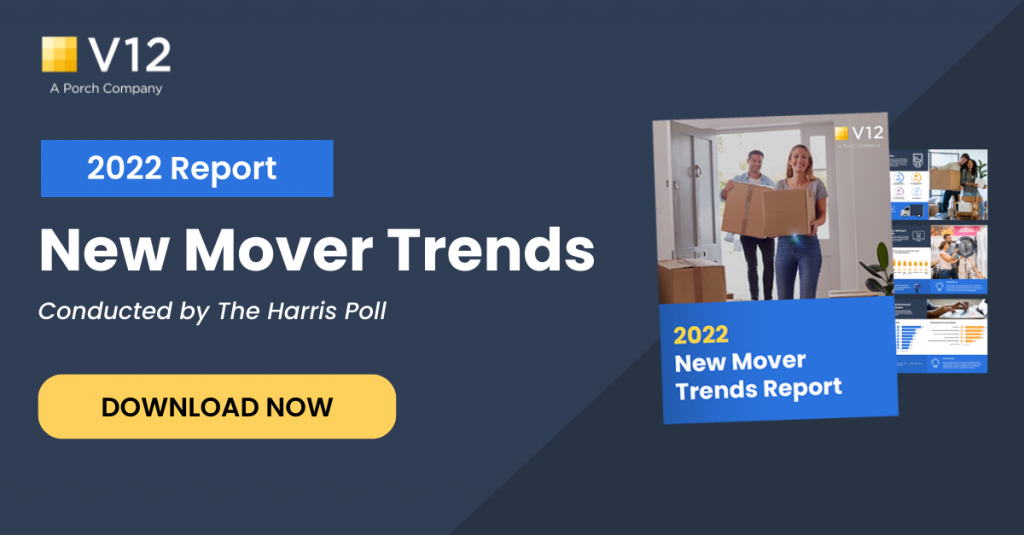 Download the 2022 New Mover Trends Report to learn why you should be reaching movers and homeowners through connected TV advertising.