Segmentation is a highly effective marketing strategy that allows businesses to tailor their messages and offerings to specific customer groups, resulting in increased engagement, customer satisfaction, and overall marketing success.
In fact, a study found that engagement is 101% higher in segmented campaigns (DMA). We all know about demographic, geographic, psychographic, and behavioral segmentation – but what are five audience segment types you may not have considered?
5 Audience Segment Types to Power Your Campaigns
1. Moving Phase Segment
The move is the most economically powerful life trigger. Not only are movers a high-spending group, but they are more open to developing brand loyalties.
Why are movers a crucial segment?
31M people move in the U.S. each year.
85% of new movers use the first business that contacts them.
New movers will spend more in the first 6 months of a move than the average consumer will spend in three years.
New movers are 5 times more likely to become your loyal customer if you reach them first.
90% of movers are willing to try new brands.
3 in 5 make purchases before moving
Movers have a "permission to buy" mentality – but make sure your message is in tune with your customer's move journey. When choosing audience segment types for your marketing plan, ensure you are including move phase so you can hyper-target your message.
Timing matters – ensure you are reaching your customers at key phases in their move.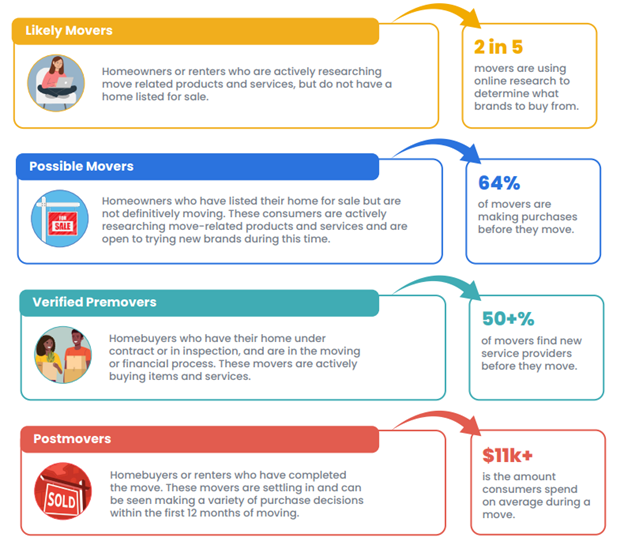 ---
Case Study: How FrontPoint Security Leveraged the Mover Phase Segment to Improve Customer Retention
Check out this case study that demonstrates how adding a mover phase into your customer segmentation types can boost revenue. Frontpoint Security approached Porch Group Media because customers were canceling their services when they moved, leaving the security equipment when they left their property, and then not signing up again at their new property.

Our MoverMatch process identified customers in each phase of the move (Likely Pre-Movers, Verified Pre-Movers, Post-Movers) and emailed them with awareness messaging on how to transfer and/or purchase Frontpoint products and monitoring services.
Proven Results
Matched an average of 7.7% Frontpoint customers to MoverTech
+8% increase with retention of current customers
9% decrease in cancellations
---
2. In-Market/Purchase Intent Segment
Adding in-market shoppers as an audience segment type is a crucial component of any marketing strategy. Choose a marketing partner that can create an audience of consumers who are in-market for your specific product segment.
Porch Group Media's Online Signals provides in-market audiences from actual online behavior data collected in real-time – leveraging a broad network and innovative techniques to discover behavioral keywords, phrases, and terms. Using this intelligence, we can create complex and effective formulas, which classify user intent.
Online Signals delivers 4x sales conversion rates and 3x engagement rates compared to other leading acquisition solutions available in the market. Using hundreds of sources of online signals, we connect you with consumers who are in-market for the products and services you sell.
---
Case Study: How a High-End Furniture Retailer Used an In-Market Segment to Earn $1.5MM in Sales in One Month
A well-known furniture retailer launched a high-end product line featuring a technology-driven sofa sectional. They needed to identify audience segment types that were most apt to purchase a luxury line of furniture.
Our team worked with them to develop a blended audience of individuals who were in-market for furniture, had a high-tier household income, and were pre and post-movers. Our Porch Group Media Network team executed time-targeted, multi-touch acquisition email campaigns coupled with always-on social campaigns to target this custom blended in-market audience.
Proven Results
Email Open Rates: 6.65% – 10.10%
Email CTR: 3.56% average
ROAS: 3,256% average
Attributed over $1.5MM in sales in one month
---
3. Top Tier Look-Alike Audience Segment
Did you ever want to clone your top-performing customers? Now you can! Choose a vendor who can:
Profile your customers and build an analytic file
Prepare attributes to be used as predictors
Validate the model and optimize prediction
Score against the U.S. population and determine audience size
We know that each consumer sits on top of a rich data trail. We can profile your customers, model them, and create a look-like audience for email, direct mail, social media, digital or CTV.
Our machine-learning platform creates predictive algorithms to build scaled audiences.

4. Life Event Audience Segment
New research has confirmed that there may be a connection between recent life events and moving. Nearly two-thirds (64%) of new movers have experienced a recent life event, such as purchasing a car/vehicle (28%), becoming employed (17%), and getting married (8%).
Create a blended audience segment type of new movers that have experienced a recent life event, then personalize your message and target by segment. Some life-events segments to consider are:
Child near high school graduation
College graduation
New parent
Newlywed
Recent divorce
5. Reactivation Audience Segment
Target lapsed and inactive customers that have not purchased or engaged with your marketing initiatives during a set period. This period will vary depending on your industry and customer sales cycle.
Here are some tips to consider when creating a reactivation audience segment:   
Hygiene your lapsed customer list to ensure contact points such as email and address are still valid and active.
Engage a vendor that can perform a profile on these inactive customers to get a better view of their demographics and behaviors
Flag lapsed customers that are in-market for your product or service. Use this information to create more targeted and personalized messaging.
Engage a vendor that offers reactivation email campaigns through dedicated domains to re-engage your lapsed customers without damaging your own delivery systems.
Custom Audience Segmentation Solutions
Need to refine your targeting capabilities and boost revenue? Connect with us to learn more about how we can help you build high-performing audience segments.