COVID-19 had a huge impact on moving trends in 2020, but how has 2021 been measuring up? Looking at the statistics, 2021 appears to be the year for unprecedented moving trends. With the increase in remote work opportunities, rising rent rates, all-time-low mortgage rates, and the desire to leave densely populated states for a more affordable cost of living – a nationwide moving boom is happening.
1. Remote Work is Motivating Mass U.S. Migration
14 to 23 million Americans are planning to move in 2021 because of remote work.1
The pandemic changed a lot – including how and where Americans work – and why they're moving. With the sharp rise in remote work opportunities, workers are no longer confined to living within a commutable distance from their employers. According to Upwork's Future of Workforce Pulse Report, 1 in 4 Americans will be working remotely in 2021. And, the work from home trend doesn't appear that it will come to an end anytime soon. Upwork's findings reveal that by 2025, 36.2 million Americans will be working remotely – that's a staggering 87 percent increase from pre-pandemic levels. As a result, as many as14 to 23 million Americans are planning to move in 2021 due to remote work opportunities.
Check out these results from the three surveys Upwork ran on this topic.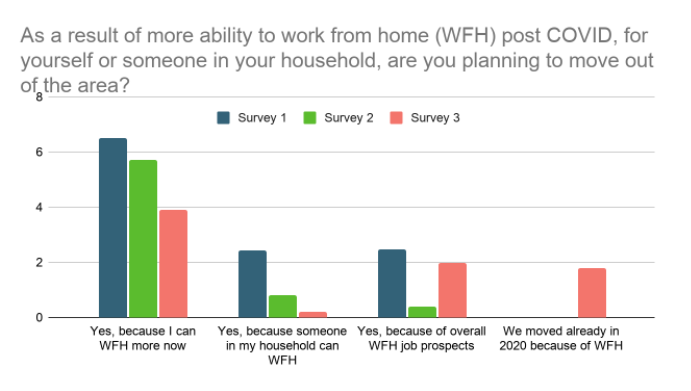 Of these findings, people in major cities are the ones most likely to see out-migration due to remote work.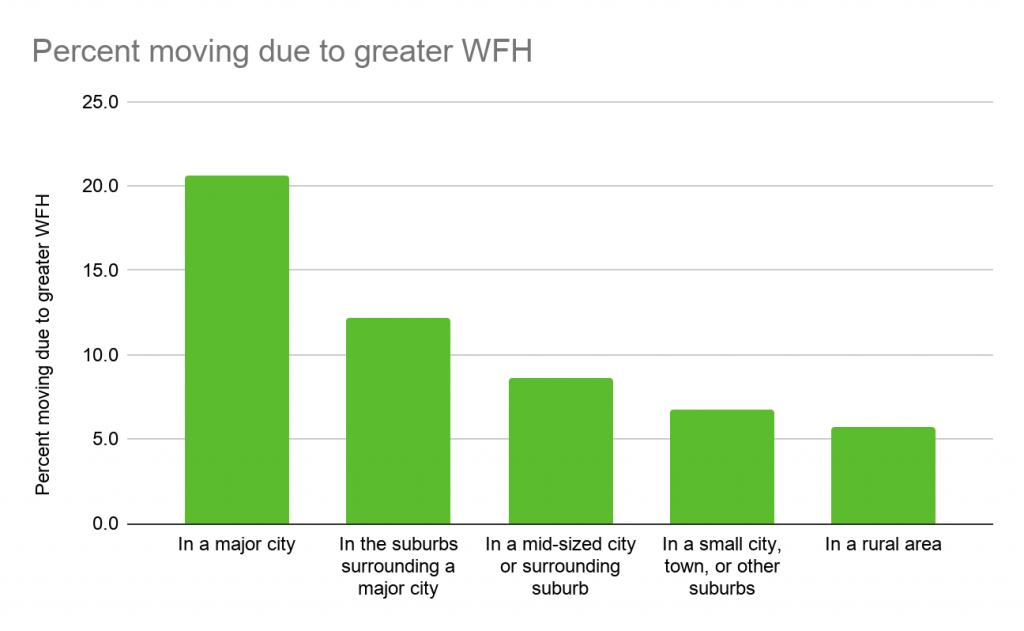 2. More Americans are Moving in 2021 than 2020
Over 20% more Americans plan to move in 2021 than 2020 – primarily to lower their cost of living or to be closer to family.2
While the pandemic caused a huge surge of movers in 2020, a key finding from the Neighbor 2020-2021 American Migration Report reveals that 21% more people plan to move in 2021 than moved in 2020.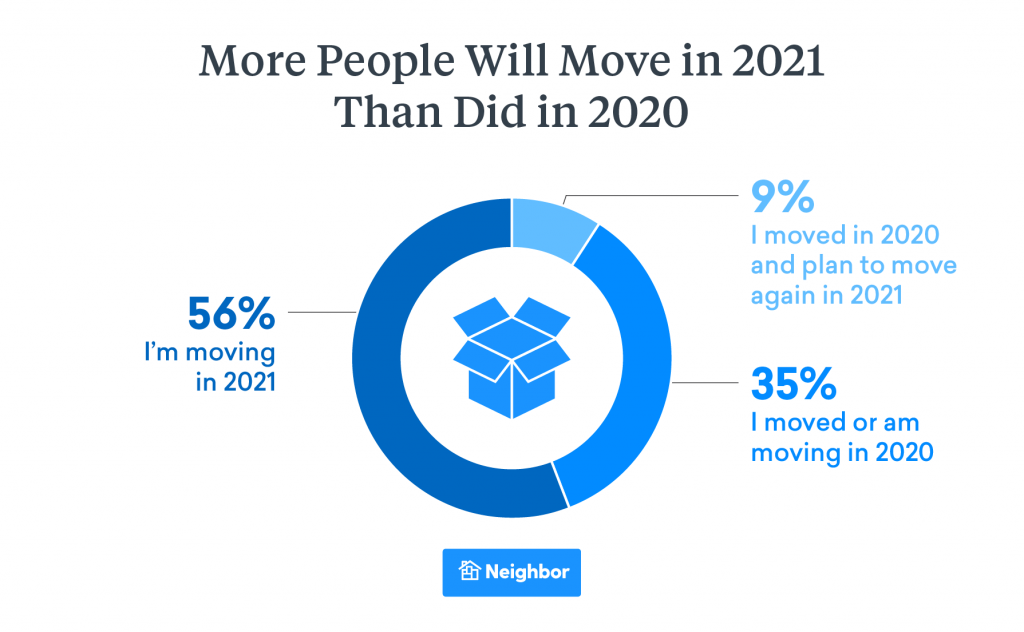 Unlike 2020, COVID-19 is not a major factor driving these 2021 movers. Neighbor's report finds the primary reasons for people who plan to move in 2021 are doing so to lower their cost of living and live closer to family.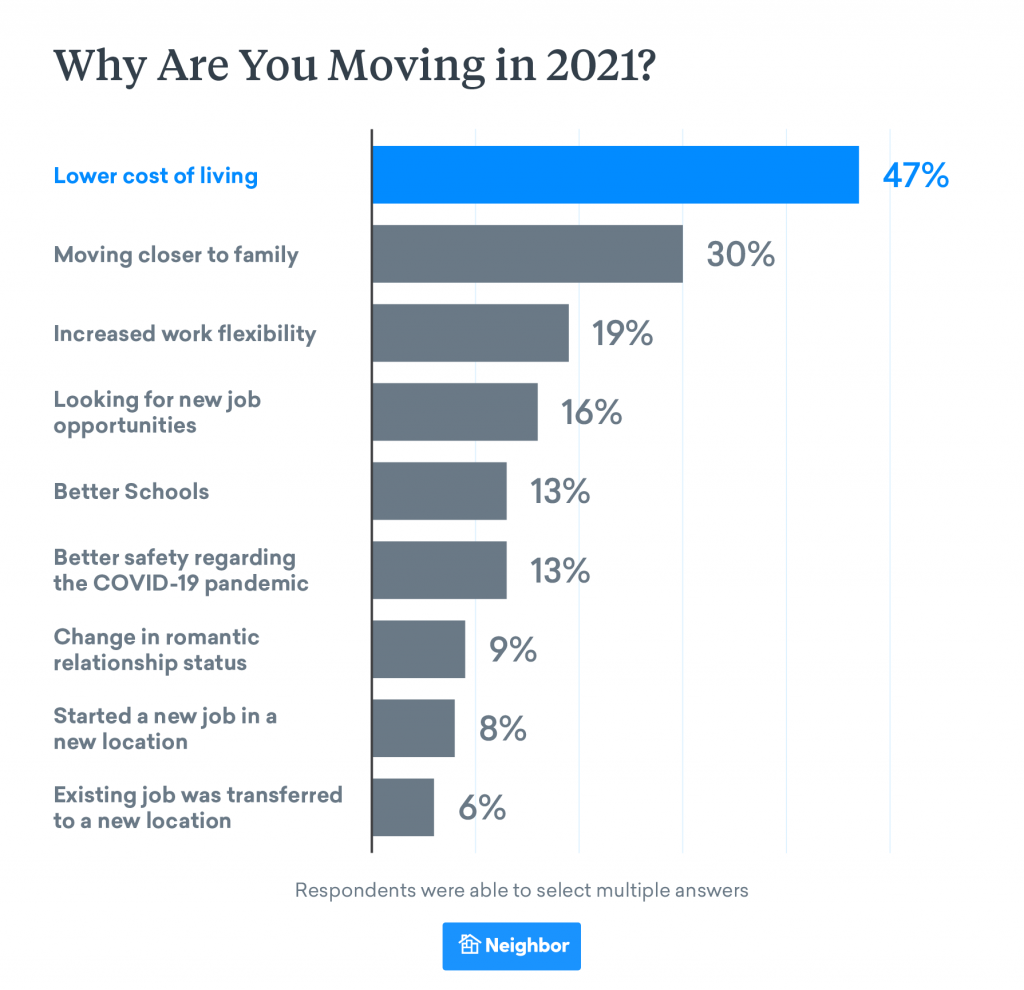 3. The Desire for More Space in Smaller Communities
Movers are looking for more spacious homes in less populated states.3
As America continues to embrace remote work and virtual schooling, desiring a more spacious home in less populated areas is the focus of 2021's movers. Movers are searching for homes equipped with more outdoor space, larger kitchens, storage, and a room for a home office. With the desire to lower their cost of living and seek homes in less populated areas, Arizona, Colorado, Idaho, North Carolina, and Texas are seeing an increase in migration, with the trend likely to continue in 2021. On the other hand, New Jersey, Illinois, New York, Connecticut, and Kansas are the top five states people are leaving in 2021.
4. Homeownership is On the Rise
With more people moving in 2021, home ownership is up 11% in 2021.4
2021 marks the year for a huge influx of first-time home buyers. In a recent survey by Neighbor, 43% of movers said they owned a previous home or current home, while more than 54% reported they now own their new home or will after moving. This increase in homeownership appears to be motivated by rising rent rates while mortgage rates have dropped to an all-time low.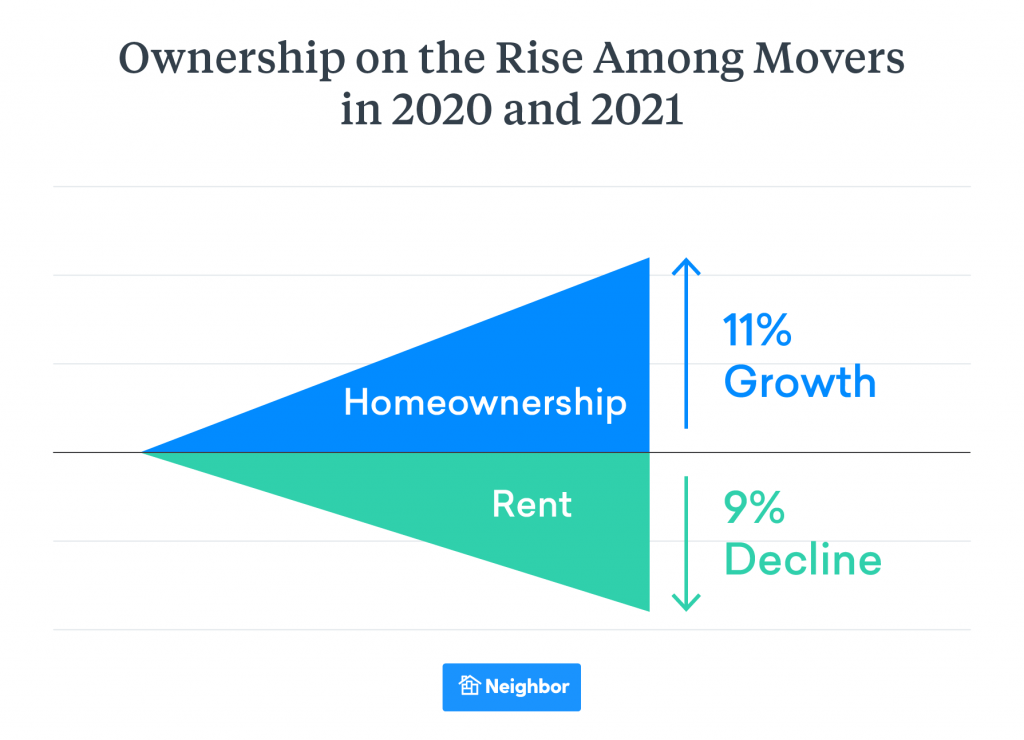 New Mover Trends Report from Porch Group Media
Want more of the latest insights on today's new movers? The New Mover Trends Report from Porch Group Media explores the profile of today's new movers and provides valuable insights into movers' life events, spending behaviors, attitudes about moving, and much more. Download your free copy here!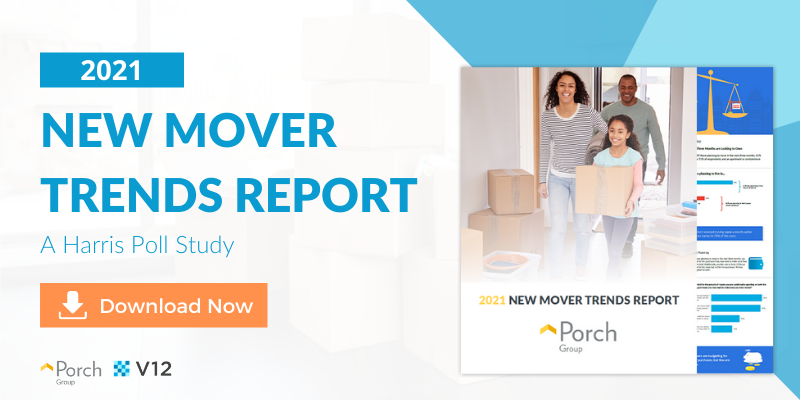 Related Article: How Technology is Changing the Home Buying Process
Sources: