It's been over a year since the pandemic shut down stores, social gatherings, schools, routines and more. From the onset, the coronavirus altered consumer behaviors. With physical locations shut down, consumers had to use digital channels. With many brands being out of stock, consumers tried new brands. With the emphasis on cleanliness, consumers watched to see how stores and businesses reacted to keep consumers safe. And with small businesses closing, consumers grew more conscientious of supporting local.
We've adjusted to a new way of thinking, living and shopping. With more people getting vaccinated and restrictions loosening up, we can take a bit of a breather and look around and assess the past year with open eyes.
Brandify recently ran a survey to track many of the changes of the past year and the impact on industries and consumers. Brandify asked marketers about their experiences across industries including retail, automotive, grocery, restaurants, home improvement, real estate, and more.
Effect on Overall Operations
Brandify first asked about the effect on overall store operations, closures and business hours. We all saw the stories about stores going out of business or closing a certain number of their brick and mortar locations. Here's a snapshot of the impact according to Brandify's findings:
How Did the Pandemic Impact Store or Office Operations in 2020?
Over half of respondents (52%) stated they had to drastically change normal operations and 48% stated they had to modestly change operations.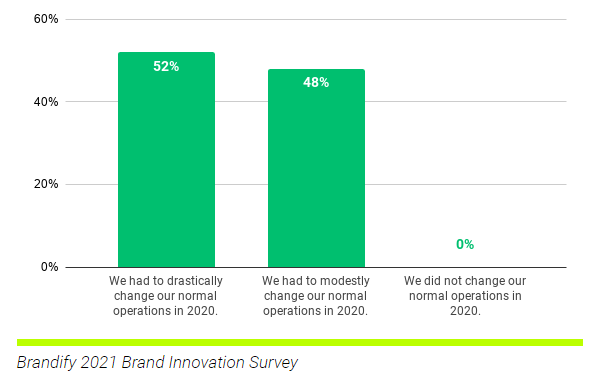 How Did the Pandemic Impact Operating Hours in 2020?
According to 48%, they had to close some stores or reduce hours but the impacts were minimal. However, for a whopping 43%, the impact was more drastic as they had to close many stores or significantly reduce hours for a long period of time.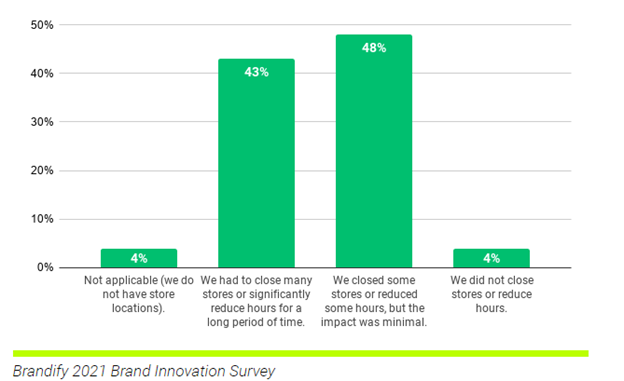 How Did the Pandemic Impact Overall Business Success in 2020?
Surprisingly, some businesses faired better than expected. 39% of respondents stated that the pandemic had a moderately negative impact. However, for 48% of respondents, the pandemic had a moderately or significantly positive impact.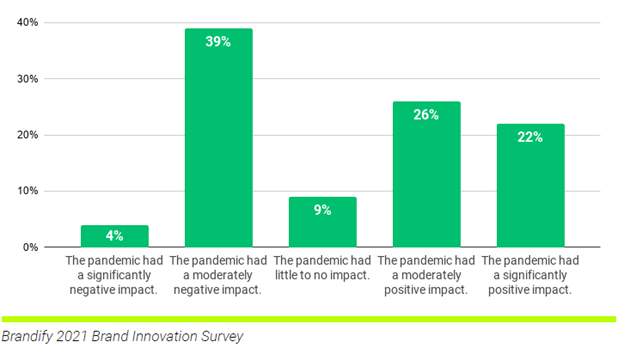 Tactics to Support a New Customer Experience
Without a doubt, the pandemic effected many businesses, some faired worse or better than others, but the impact across industries cannot be argued. As a result, we saw a flurry of activity early on as businesses quickly pivoted to provide new tactics, experiences and strategies in place to serve consumers.
What strategies did you deploy for the first time in 2020 in response to the pandemic?
One of the most popular initiatives put in place and favored by consumers is curbside pickup or buy online and pick up in store. In fact, just under half of businesses surveyed (43%) implemented curbside pickup, followed by virtual / phone consultations at 33% and BOPIS (buy online, pick up in store) at 33%.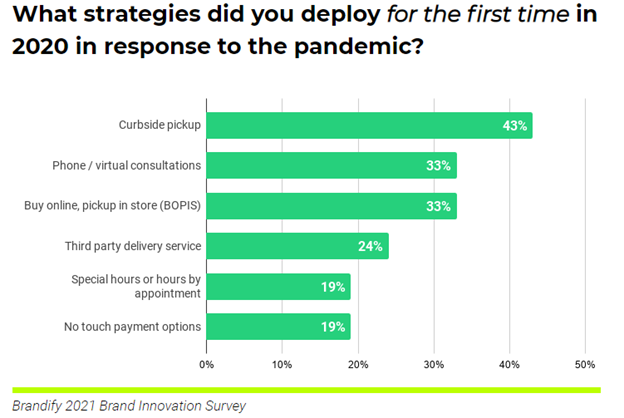 How have customers responded to the changes you've made?
The good news is that consumers appreciate these efforts, with 78% of consumers reacting positively to these changes.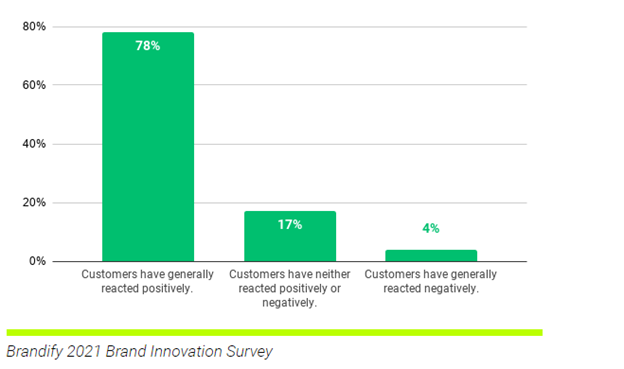 Will these changes likely be permanent?
Three-quarters (74%) of respondents are in favor of keeping the changes they made, stating that at least some of the changes will likely be permanent.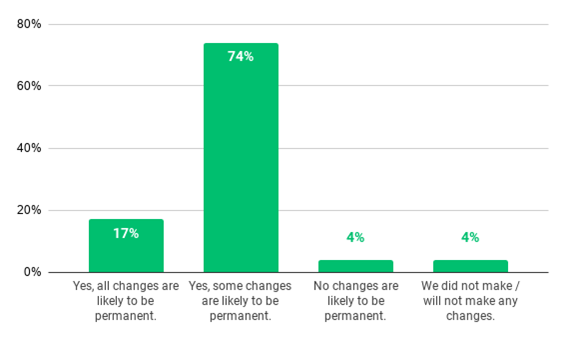 While many brands were unprepared to react so quickly to the pandemic at the beginning, the past year has seen a rapid acceleration and adoption of new technologies and services to cater to today's consumer. Marketers overall seem to understand that these changes are in some way permanent and will continue to evolve now and in the future.
Porch Group Media provides data and technology marketing solutions to help you better understand your customers and prospects and engage them across channels. Contact us to learn more.
For more great information, download our Success Kit to Skyrocket Your Customer Experiences and gain access to some of our most informative resources on customer experience marketing trends, strategies and tactics. The most convenient way to research, this success kit contains topic focused blogs, webinars, white papers, case studies and more – all with one download.