Digital cookies were first invented in 1994 by Lou Montulli and John Giannandrea, who were employees of Netscape Communications. In 1995, the cookie was later used extensively in advertising by DoubleClick to rotate banners, which limited the number of times the same ad was shown to one visitor. They quickly became adopted by the ad technology market. (source)
Now, twenty-five years later, the cookie is going away. Ad-blocking apps, privacy regulations such as GDPR and the California Consumer Privacy Act (CCPA), and announcements by Firefox, Safari and Chrome to phase out third-party cookies all sealed the fate of the digital cookie.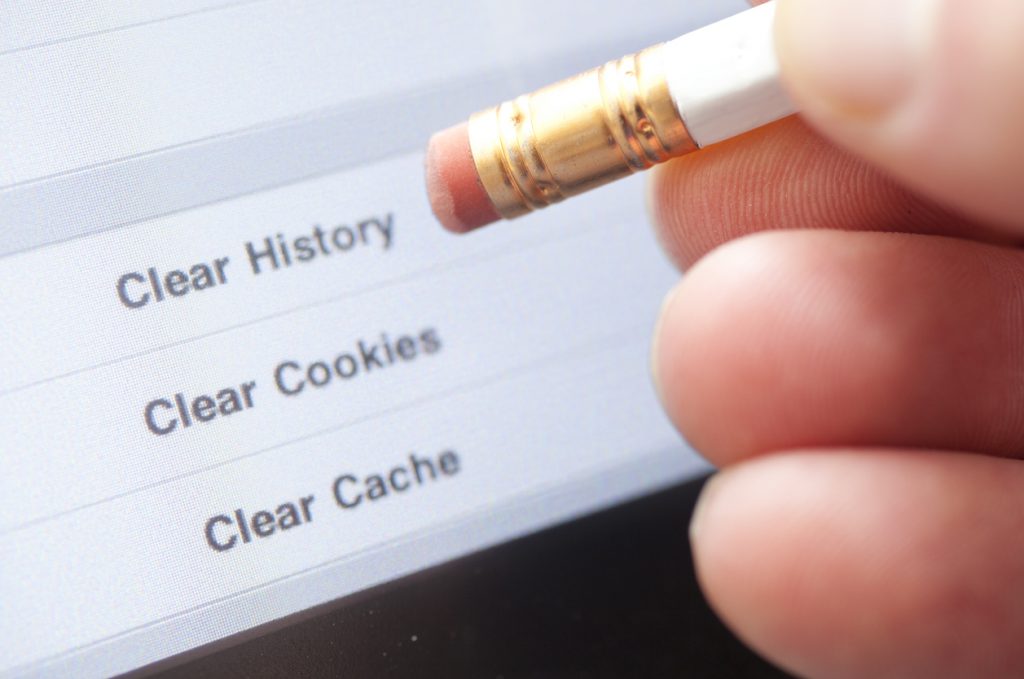 Break the Cookie Habit
While the news has many advertising scrambling for new ways to target their audiences, cookies have been on the decline for some time now and are not as effective as they once were. Back in 2017, ad serving firm Flashtalking analyzed 20 advertisers worldwide and found that 64% of their tracking cookies were either blocked or deleted by web browsers. According to the research, rejection rates on mobile devices were particularly high—75% of mobile cookies were rejected, compared with 41% on desktop. (source)
In 2018, research by Viant found that at the time, many marketers believed that tracking cookies would no longer be needed. Challenges such as audience reach, pricing, privacy and targeting inaccuracy were cited as barriers to digital ad success.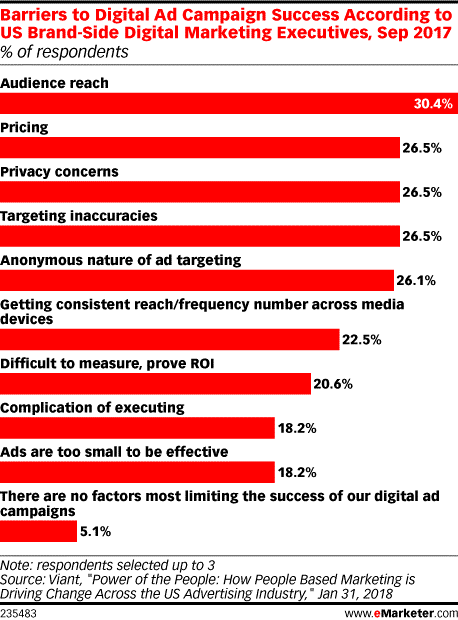 Regardless, marketers continue to heavily rely on cookies and will need to prepare and implement new forms of targeting. While alternate adtech solutions are being developed, here are 5 alternatives brands can begin using now.
1) First-Party Data
Beef up your use of first-party data.  Marketers have relied on third-party data for so long that they have often neglected their own, first-party data.  However, the richest, data-driven marketing comes when both first and third-party data is used in tandem. 

Marketers will need to utilize sources of data they have not previously considered before.  Call center data, billing systems, social media inquiries, POS systems, and a multitude of other channels all contain consumer insights you may be missing out on.  It's time to get this data in order, break down data siloes, and integrate sources into one seamless marketing system.

Consider new ways to get users to share information.  Consumers are often willing to share their data if they receive something in return. Ask users to register on your site and give them a discount in return or ask for an email address at checkout, whether in the store or online.
2) Third-Party Data
With more sources of first party data coming in, third-party data can be appended to your database. With simply a few fields of information such as an email address or name and email address, any number of data elements can be appended in order to better understand your customers.

Few marketers can rely on first-party data alone to power their campaigns. Third-party data is a necessity for many marketers. In a 2018 survey of 226 CMOs worldwide conducted by Forbes Insights and The Trade Desk, nearly one in five respondents said that one of their top data challenges is not having enough third-party data.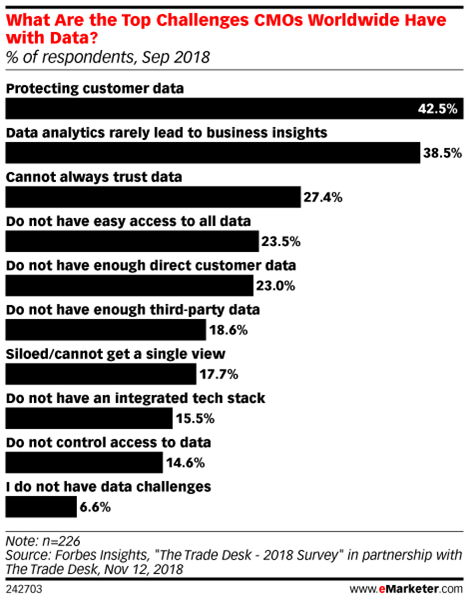 When sourcing third-party insights, be sure you use a vendor who ethically sources data and follows all privacy regulations. In a January 2018 poll by DemandLab of 96 marketing decision-makers in North America, 42% of respondents said that third-party information vendors are an effective data source for their marketing.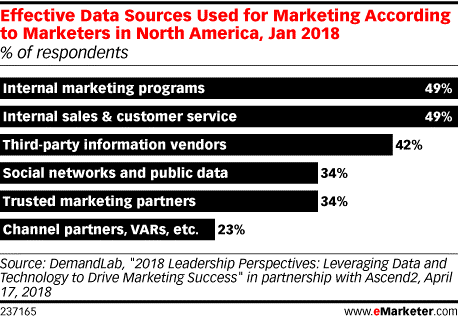 3) Target Your Web Visitors
Target consumers who are ready to buy now. More sources of in-market intent data are being developed as marketing technology becomes more sophisticated.  Porch Group Media offers a solution called Porch Group Media Signals to identify consumers who are visiting physical locations, browsing online or visiting your website.

For example, using a cookie-less solution, brands can target visitors to their website using omnichannel outreach. Our solution can identify 50+% of visitors on their website and market to them across email, direct mail and social. For many brands, their website is a key resource to sell to both returning customers and new customers. However, most site visitors leave without a sale. A common practice is to "re-target" those non-buyers in a variety of ways.
Often, the brand will drop a pixel on the visitor's device to reach that visitor with a digital impression the next time the browser is opened on that device. This sort of re-targeting is limited to the display channel and largely based on web behavioral data.
If the visitor is logged in, the brand can send a direct message (email or direct mail) to that consumer to drive a purchase. For example, a shopping cart abandonment email.  In this last example, these high-impact touches are limited to only the visitors recognized via a log-in (which can be heavily skewed to returning customers).
Porch Group Media's Signals Web ID process expands these high-impact touches to visitors who were not logged in. The process leverages an identity graph to identify the consumer making the visit.  Porch Group Media can then send campaigns to these consumers on behalf of the brand by executing an email or social campaign.

4) Email Marketing
Today, email is as strong as ever, even more so as brands have shifted to digital channels and communications with the rise of the Covid19 pandemic. More than 55% of marketers have reported receiving the best ROI from their email marketing campaigns. (Seventh Sense)

According to HubSpot, email marketers are sending 27% more emails than they then did pre-coronavirus. Marketing platform LiveIntent recently released data showing email newsletter engagement has also grown during the pandemic, with gains highest for email newsletters that cover finance (43%), hard news (38%) and shopping (83%).

This trend is only expected to continue so now is the time to take a fresh look at your strategies.  Is your email database in tip-top shape?  Most organizations are challenged to keep their email databases addressable and productive.  Consumers opt-out, emails go bad or customers stop engaging with your emails.  Take the time to establish a regular cadence of email hygiene to ensure you are working with the most productive emails possible.
Additionally, consider the following points from Porch Group Media's agency team:
Emphasize active users
Engaged users are the key to email success and they tend to be a very consistent group of consumers — today's openers will, largely, be tomorrow's openers. As a result, consider special, smaller, sends to your engaged audience.

Consider trigger campaigns that target previous openers
Today, more so than ever, an open without a click is NOT indicative of a lack of interest. Re-engaging previous hand raisers results in 30-40% open rates and enjoys 4x the conversion rates of the traditional audiences.

Do not fall victim to conditional dis-engagement
Deploying too early can cause consumers to miss your emails. With over 50% of email being opened on mobile devices, it's more important than ever to consider when you deploy your campaign. Traditional notions of ideal deployment times may be out of line with modern realties. 9 AM EDT has shown the overall best results if you have to pick a single time for deployment.
5) Social Media Marketing
Consider ramping up your social media advertising spend. If you are still on the fence about social advertising, now may be the time to dig deeper and take the plunge. Using social media advertising tools across platforms like Facebook, Instagram and Twitter, brands can launch hyper-targeted ads to specific audiences.

Although Facebook turned off tools using third-party data for targeting within the tool, marketers can create and import audiences for targeted campaigns. Porch Group Media works with our clients to create first-party data audiences and look-alike audiences. For example, based upon your best customer profile, we use third-party data elements, combining over 1,000+ attributes to create a highly custom audience.

An ODM Group study found that 74% of consumers rely on social networks to help with their purchasing decisions. According to a Hubspot report, 71% of consumers are more likely to make purchases based on social media referrals. A report from Aimia shows that 31% of consumers say they're using social media to browse for new items to buy. Furthermore, Forbes has shown that 78% of consumers' purchases are impacted by companies' social media posts.

There is no doubt that social networks have an impact on how people purchase products.
Before Google turns off its third-party cookies, marketers need to put alternatives in place to target audiences effectively in the long term. Although solution providers are working to develop a host of new ad tech solutions, there are plenty of strategies brands can implement now to prepare for the future.
---
Learn how Porch Group Media can help you get to know your customers better and reach them across channels to boost your marketing success. Contact us to get started!