This transcript has been adapted from our webinar, New Movers: The Untapped Opportunity to Transform Your Customer Acquisition.
Host: We are delighted to talk to you today, particularly as Porch Group Media has gone through some recent changes and we're now owned by the Porch Group which opens up new opportunities, particularly in mover marketing. Porch is a company that has evolved from a home services marketplace where consumers and home services providers get matched. Porch has really transformed over the last five years to become the leading software provider for home services providers, such as home inspectors, roofing, companies, and so on.
Porch is now the leading provider of business management software for those companies. Additionally, this gives all of us as marketers insights into these consumers that Porch is touching throughout the move process. This is where the relationship with Porch Group Media really begins to come into focus. So, for those who are in marketing know, the ability to access data that no one else has is really getting increasingly difficult. Porch knew that it needed a partner that could help structure and monetize and bring that data to market.
Porch has unique and privileged access to consumers at the time when they're making these massively important economic decisions around the move and improving their home.
And Porch Group Media has the tools, services, and people to help Porch bring that data to market.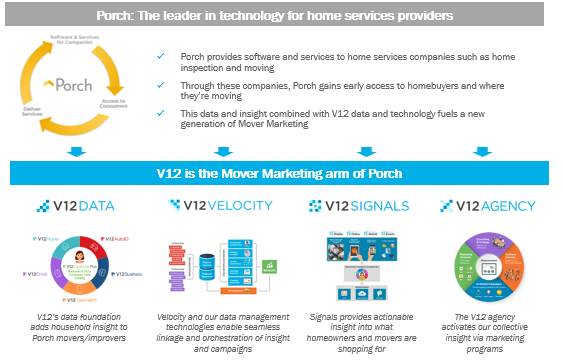 Porch Group Media is able to link Porch's data to our vast data catalog, which has foundational insights about all the consumers in the US including how to contact them and data about their in-market shopping activity both in physical locations and online, which we monitor through our Porch Group Media Signals product. We're then able to structure and link all of that data together with our Velocity tool which gets delivered in marketing execution by Quinn's team, the Porch Group Media Agency. As part of our relationship with Porch, we've launched MoverTech, which we'll discuss shortly.
The Move is the Most Economically Impactful Life Trigger
Without doubt, the move is probably the most important economic move that any household ever makes. Many of us in marketing have taken that for granted over a period of time. We know that the move is a big deal, but this is not new news and mover marketing has been the same for so long that we begin to think of the move as just another event. However, when you step back, you realize how much of an economic impact it has.
As part of the move, you can see the number of people that move every year, how much they spend, what their loyalty is. And even in categories you wouldn't think about – you can see how the move has an economic impact like buying a car. The problem is that mover marketing has been done the same over the last 25 years. There is an opportunity to step back and really look at mover marketing. It's the same old data sources, it's the same old kinds of programs. How could we begin to make it different?
And the way that you begin to make the marketing around the move different is to leverage the unique data that the porch platform provides.
Introducing MoverTech Mover Marketing Data and Solutions
The name MoverTech is very intentional. The data comes from a place that is entirely different than marketers have been used to. And we've been able to link together all the things that are important for the marketer to understand what's going on at different phases of the move, understand what's going on in that household, and to be able to execute with much greater precision against the economic potential that that move represents.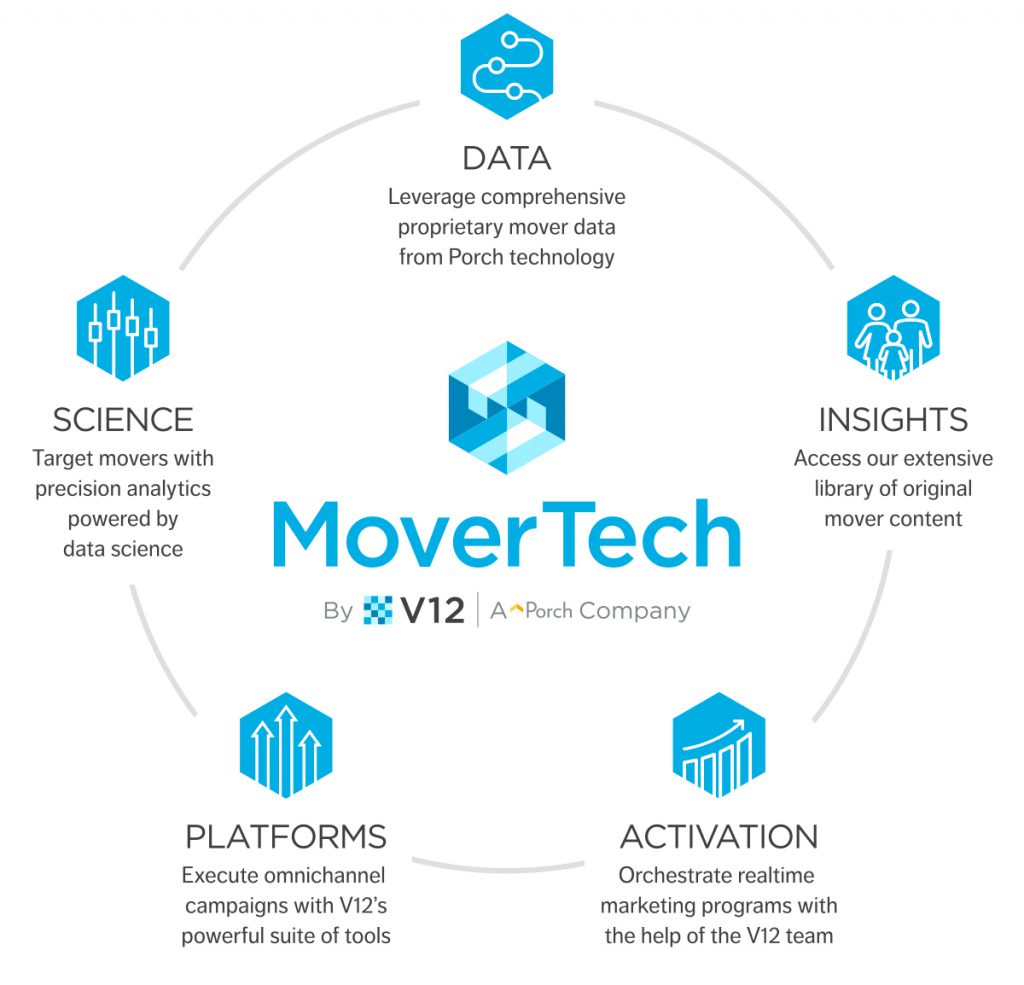 So, starting at the top is data. I won't go into that too much today, but data really is one of the key centerpieces of the MoverTech product family with insights around the move. One of the things that we realized when researching mover marketing is that insights into what consumers are interested in at what phase of the move cycle, for example, is based on old data that goes back 5 or 10 years. This was the last time somebody ever did a survey on what consumers buy during the move.
We are launching our 2021 New Mover Trends Report, done with the Harris Poll, to get insights into what movers are buying today. As I said, the way that mover data has been brought to market and mover programs has been really the same for the last 25 years and Todd and team have really figured out how to design programs and bring those programs into modern channels.
Platforms is about the technology that has been able to link together all of these complex datasets and to provide them to our clients, as well as give our clients the necessary capability to put omnichannel programs into market. Not just the single-channel programs such as direct mail that I think many of us are used to in mover marketing. And then our data science team has found all kinds of opportunities to model potential outcomes and more robustly design the product.
Phases of the Move
So, let's talk about the phases of the move. I think most of us have been in marketing have really focused on this post-mover phase or people that have already moved. And that is still really, really important. There's a lot of important decision-making that goes on. But what if you could get out in front of that decision-making a little bit? What if you could insert your product or service at exactly the right time based on what movers care about at that moment?
And so what our product team did was to use the insights we had access to and they developed the most scaled, most complete post mover product that's out there on the market as well as really dug into the pre mover phases to build out a data set well beyond the current sources of premover data. Based upon our mover marketing study with Harris Poll, we are able to understand what phase movers are buying products and services and knit that together with our mover product.
So now we have much more precision around what phase to deploy campaigns for products or services and to what kind of consumer. This is just a really good example of how tangible we're making the MoverTech product and bring it to market in a way that will deliver the kind of results that are in keeping with the economic outcome of the move.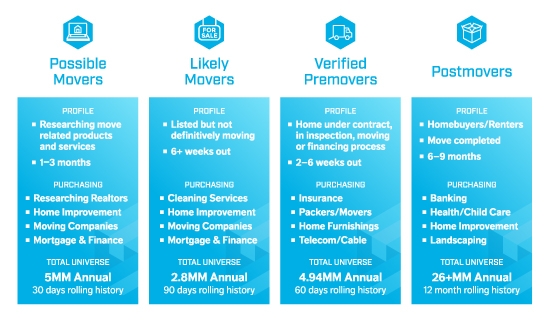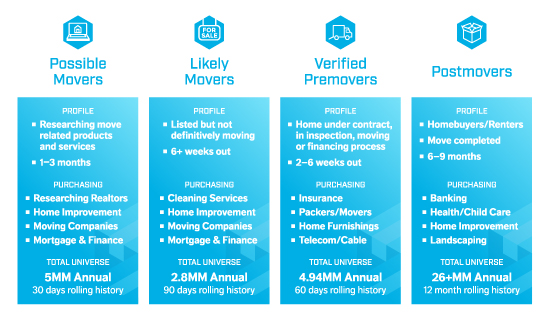 So let's start at the left here as we build up to the post mover.
The first phase is possible movers, which is derived from the Porch Group Media Signal's product. We have harvested data on folks who are researching the move and move-related topics online for the last several years. We now have this enormous library and catalog of all kinds of very specific product searches or general audience searches.
We've been able to assemble a five million strong audience of people and households that are just thinking about the move, just doing the research. One of the things that we've learned is that for most products and services, the earlier that you can begin to engage movers, the more successful you're going to be. So, this audience would be 1 to 3 months out from the move.
Premove research is a very, very important step. Then we transition into likely movers. Here is where we begin to leverage both house data and real estate data. So likely movers have listed their house or showing other behavioral indicators of having done so.But it's not guaranteed that they're going to move, these folks are six weeks out. It's a really large universe, nearly three million folks.
Where things get really interesting is where we really see the big economic decisions being made in this verified premovers stage, which is 2 to 6 weeks out. I want to point out that there are about six million houses sold in the US every year, existing and new. We're able to track about 80% of folks who are going to be buying those houses in that verified premover stage. And here is the power of both the Porch Group Media dataset and all of this unique porch data from the platform that we're able to pull in.
This is a phase where the big decisions are getting made.
The money is teed up to be spent and so we're talking to marketers in virtually every category, automotive retail insurance, financial services, you name it, this is where a lot of the interest begins to manifest itself very tangibly.
And then, of course, we get into the post-mover phase which is critically important. We don't want to minimize this at all, but I think the big discovery around MoverTech has been our ability to really build out the depth and breadth of these premover phases so that marketers can get ahead of the dollars that are being spent.
MoverTech Marketing Data
So let's peel the onion on all the data that is available to marketers. Whatever your business is in the business of selling, the high likelihood is we've got active shopping data about what it is that consumers are in market for. So for instance, if you were interested in marketing home insurance to verified premovers, we can combine our active shopping data in insurance with that verified premover dataset. That's pretty good.
---
Active Shopping Data
Billions of Shopping Signals, Powered by Porch Group Media Signals
Understand what movers are shopping for with Porch Group Media's Signal technology. Porch Group Media has insights into billions of offline and online shopping signals to power campaign performance.
Reach movers who have recently visited your store or a competitor's location
Reach movers who are actively browsing online for products and services you sell
---
But then what if you cater to a very specific type of consumer, whether that's a segment, or specific markets, or whatever it is. Well, we can pull in very specific consumer, household and contact data, name, address, demographic, composition, segmentation, email, address, phone number. You name it. That's a really important part of the foundation. Then, we'll combine that with property data.
---

Household & Contact Data
The Largest Consumer Dataset in the Industry, Powered by ConsumerPlus
Deep assets with breadth & depth at 200+ attributes: Date of Birth, Home Ownership, Ocuupation, Gender, Donors, Estimated Income, Age, Telephone Number, and many more
Confidence scoring system for flexible marketing
High-quality data processing powered by DataFuse
---
So, now, for some marketers, this may not be as important, but for a lot of marketers, for instance, let's just say that a consumer is moving from one market to the other. And they are moving from a two-bedroom house to a three-bedroom house with an old roof. Well, that is a lot of detail that can help you target your audience.
Porch Group Media Consumer Segments are geodemographic segments that will allow the marketer to key in on a particular type of consumer and some of their behaviors, such as where they shop, that may be important to cultivate their interest.
---

Target Movers Based on I-Market Behaviors with ConsumerPlus & Vistas
Using sophisticated AI and machine-learning, Porch Group Media blends our Signals mobile location data with our ConsumerPlus attribute data to develop a 360-degree view of consumers' choices, preferences, lifestyles, and shopping intent. Target movers across any of these segments or with our special mover segments:
---
Data Science & Mover Personas
Courtesy of some of our early clients, we've been able to create mover personas. So let's talk about data science and drill into some of these segments.
With first-time homebuyers, we have identified specific demographic characteristics, very specific life triggers and active shopping tendencies. Moving Up and Active Adults have different kinds of demographic characteristics, different kinds of life events, and different kinds of shopping behaviors.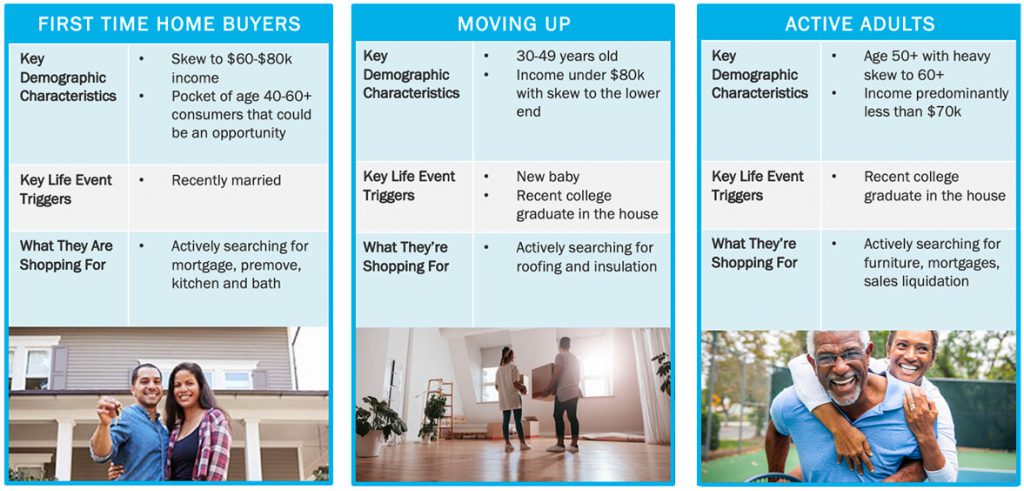 As we've piloted and tested with clients, these segments have proven to be quite accurate and are definitely worthy of your attention as you talk to Porch Group Media about what it is that you're interested in.
MoverTech Activation
So we've built this data asset but what do you do with that data? Here to discuss this is Todd, our SVP of Digital & Analytics who is linking programs to these complex data sets through Porch Group Media Agency.
Todd: Thanks. So at the end of the day, different consumers want to experience offers in different channels and in a meaningful way. The offer needs to be uniquely tailored to them and that is what my team at Porch Group Media Agency does. We help our clients to understand what mix of channels will optimize our chances of delivering the ideal experience to consumers.
Consumers very selectively engage with brands in very specific channels. So, or if you're a provider of hardware supply as an example, you may want to reach consumers with an equal mix of social, display, and email. On the other hand, if you're a provider of goods and services that specifically target younger audiences, you may just use display, social media and email.
We know that during the move, the consumer is most likely needing to make a decision about changing their provider. So we want to make sure that this consumer is receiving the right and most relevant offers based on the mover phase they are in.
How to Access MoverTech
Anders: There are three basic ways to access MoverTech.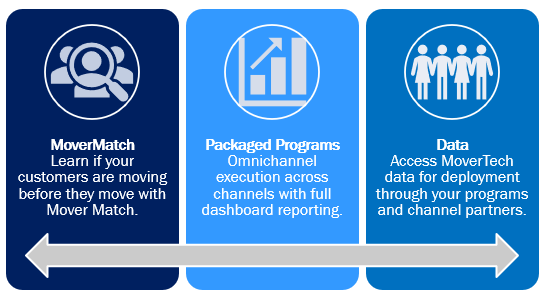 The first is MoverMatch. If you have a CRM database of some scale, we will match your CRM file to movers across all of these stages. We can then deliver packaged programs to movers – our clients are increasingly relying on Porch Group Media to not just deliver data, but to deliver outcomes.
We are really linking data and in-market execution so that we can provide results. Marketers are busy enough managing vendors and managing other kinds of things internally. They really need somebody who's going to just deliver them the outcome. And that is what this combination of data and marketing execution provides.
So, we are offering MoverTech in bundled packages and programs, all of which can be customized for whatever the marketer's needs are.
And then, of course, there's data. If you have execution partners or have internal analytic use of the data, we can certainly talk about that, but certainly, the two prevalent use cases are MoverMatch and packaged programs, again all-around delivering the outcome.
Interested in learning how Porch Group Media can help your business turn new movers into new customers? Complete this form for additional information