As a marketer, I love a good list of statistics and even better when they are accompanied by a good chart. If you've stumbled on this blog, you probably are just as keen to read up on the latest stats – in this case, about email marketing. Our team curated the latest stats we could find to help you stay current and informed for 2023. Read on!
Table of Contents
Email Usage
Did you know that the first email was sent in 1971? It was sent by Ray Tomlinson to himself. "The test messages were entirely forgettable. Most likely the first message was QWERTYIOP or something similar," he said. Since then, email has grown into the vibrant channel we know today. Take a look at these stats on how it has grown and who is using email.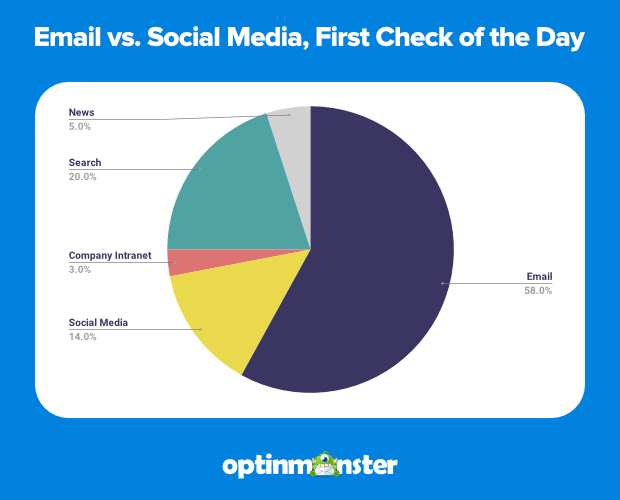 Checking email is also a complementary activity. People do it while watching TV (69%), in bed (57%), and on vacation (79%).

89.45% of Americans over the age of 15 use email. Ninety percent of users aged 15 to 24 use email, as do 93.6% of those aged 25 to 44. At age 45 to 64, usage drops back to 90% (still by far the vast majority of U.S. adults), and at over 65, the email use rate is 84.1%.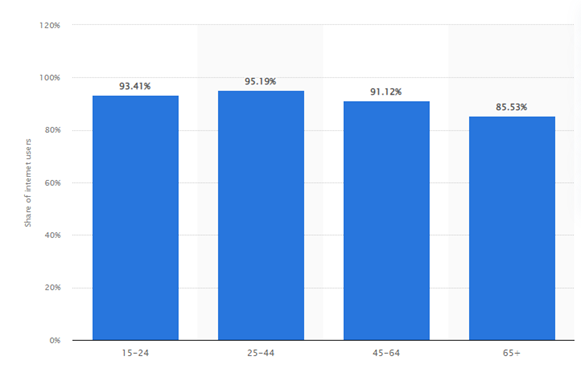 99% of email users check their inbox every day, with some checking 20 times a day. Of those people, 58% of consumers check their email first thing in the morning.

40% of consumers say they have at least 50 unread emails in their inbox.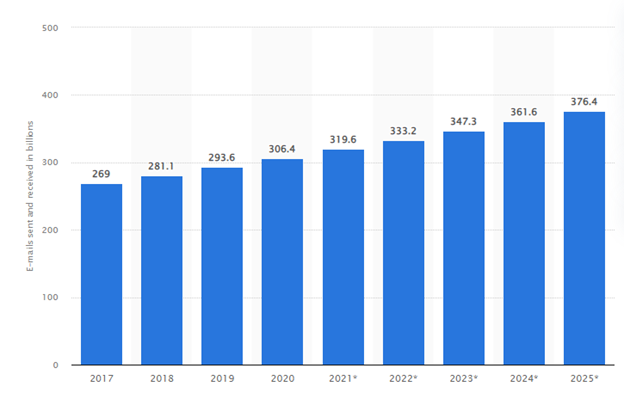 The latest email users statistics for the US show that 90% of people older than 15 use email. The highest email usage by age group is within the 25-44 range with 93.6%. The penetration rate is 90% or higher for 15-24 and 45-64 as well. The only age group with less (84.1%) is over 65. (Statista)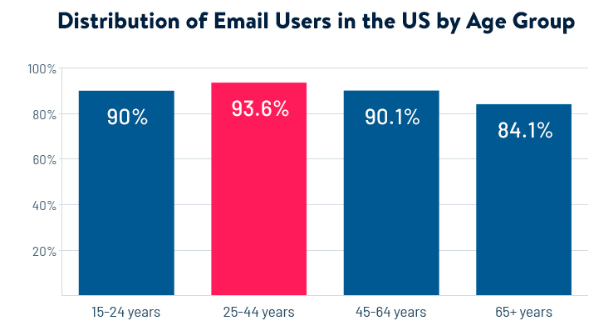 Email ROI
One of the reasons email is so popular is because of the incredible ROI it brings in. A relatively simple channel to implement, email brings the biggest bang for the buck compared to almost every other channel. Take a look at these statistics showing just how effective email is.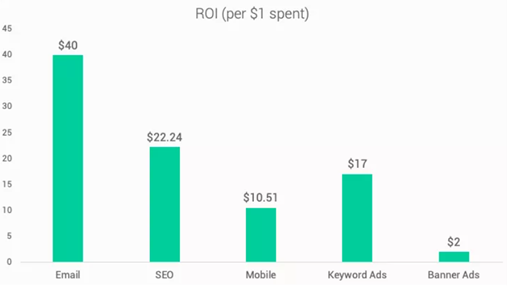 Constant Contact reports that for every $1 a company spends on email marketing, they can expect to earn $38 of revenue on average.
18% of companies achieve email marketing ROI greater than $70 per $1 invested.

A survey from eMarketer reveals that email marketing drives 25% of the overall revenues from those companies surveyed.

Also according to an eMarketer study, the median email marketing ROI is 122%. That is four times higher than any other digital marketing channel.

Consumers who purchase products through email spend 138% more than those that don't receive email offers.

89% of marketers use email as the primary channel for generating leads.

Marketers listed email marketing as the most effective marketing strategy, followed by Paid Search/Ads, Organic Search, Social Media, and Events. 79% of marketers included email within their top three marketing channels.

Email marketing persuades the purchasing decisions of nearly 6 out of every 10 email subscribers. At least once per month, 50.7% buy something from a marketing email. Meanwhile, 23.8% of people make a purchase via marketing emails several times per month and 3% do it more than once per week!

Marketers who segment email lists increase email marketing revenue by 760%.

Email marketing revenue is estimated to reach almost 11 billion by the end of 2023.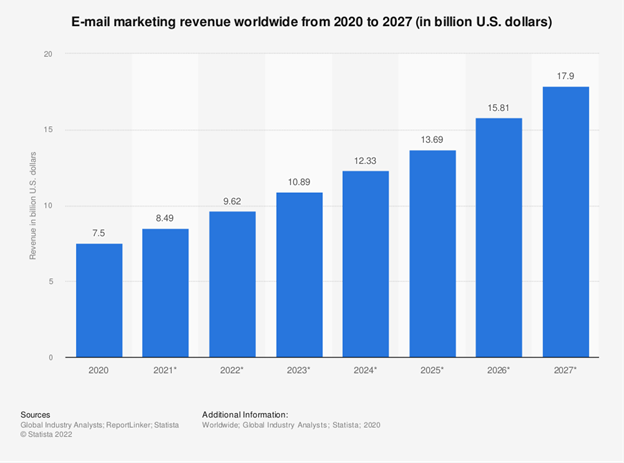 ---
Let us help rock your email campaigns in 2023. Download the Email Marketing Best Practices Guidebook, full of tips and best practices to help you get through to the inbox and in front of consumers waiting to hear from you.
---
Email Personalization
Consumers want personalized experiences and will favor businesses that provide those 1:1 experiences. In fact, 80% of consumers are more likely to buy from a company that provides a tailored experience. Creating a customized experience in email goes a long way in cutting through the clutter and boosting engagement.
Email Subject Lines
An email subject line is the first impression a consumer has of your marketing message and you can either hook them or lose them depending on how well your email subject line is written. A catchy phrase, a compelling stat, a funny emoji – all are tricks of the trade. Take a look at these stats discussing the importance of a well-written subject line.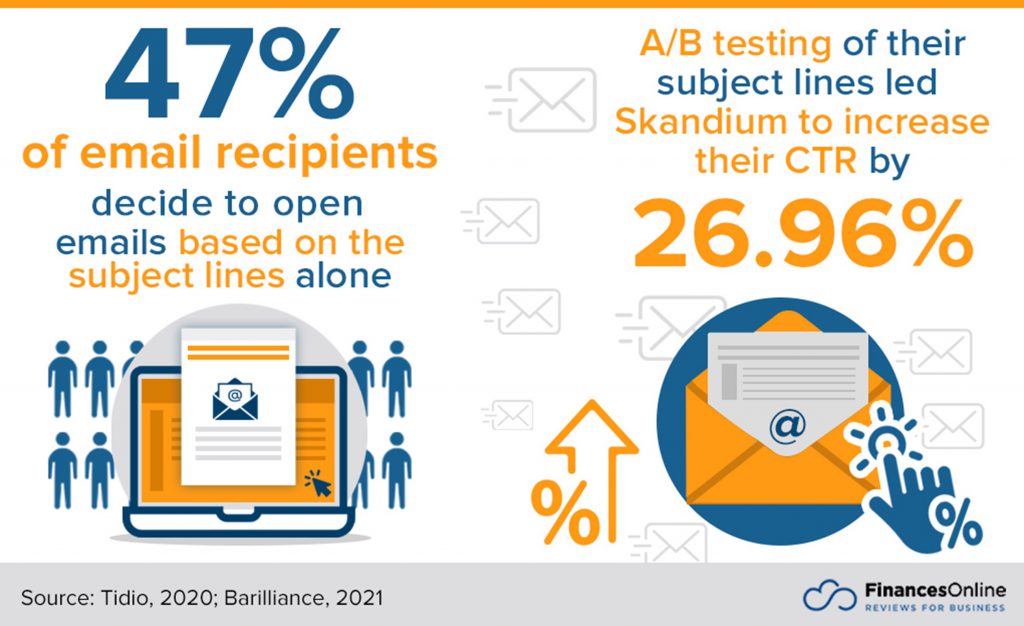 Mobile Email
Your audience is mostly mobile – you should be too. This is no longer an option, but don't take our word for it. Take a look at the statistics proving the importance of going mobile.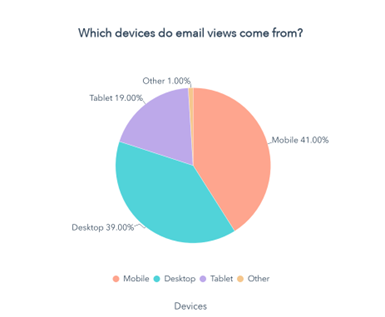 Email Frequency and Timing
Does timing really matter for sending emails? How many times a week should you send emails? You've created the perfect email but finding the right frequency and timing is just as important. Here are what your fellow marketers have to say:
Just For Fun
So we have 90 stats now on why you should invest in email marketing. If I haven't convinced you by now, then at least I can say I gave it the old college try and it's time to move onto something a bit more interesting. So check out these just for fun facts.
Let us help rock your email campaigns in 2023. Download the Email Marketing Best Practices Guidebook, full of tips and best practices to help you get through to the inbox and in front of consumers waiting to hear from you.