Social media platforms have transformed from mere social networking spaces into powerful arenas for businesses to connect, engage, and convert consumers. Advertising on these platforms offers a direct channel to reach potential customers and foster meaningful relationships.
Social Media and the Consumer Journey
Consumers today use social media extensively when researching and purchasing from brands. Social media platforms are now valuable resources for making informed buying decisions.
According to research by Curalate, 76 percent of consumers have purchased a product they saw in a brand's social media post:
11 percent bought immediately
44 percent bought later online
21 percent bought later in a physical store.
Additionally, 65 percent of U.S. consumers said the link in a post led them to a product they weren't originally interested in purchasing.
Generational Social Media Trends
Research by Hubspot also showcases the incredible power of social media in making purchase decisions. Findings among generations include:
Generation Z (Born 1997-2012)
57 percent of Gen Z have discovered new products on social media in the past three months, and 71 percent say it's where they most often discover products.
Almost half (49 percent) of Gen Z consumers prefer to discover new products via Instagram Stories.
Millennials (Born 1981-1996)
Millennials use feeds or story posts most to discover new products.
36 percent also like to discover new products through short-form videos.
Generation X (Born 1965-1980)
41 percent of Gen Xers use short-form videos to discover new content.
Baby Boomers (Born 1946-1964)
Only 17 percent have discovered a product on social media in the past three months.
However, of those who use social media, 42 percent prefer to discover new products via feed posts.
The platforms they visit the most are Facebook, YouTube, Instagram, and Pinterest.
The Evolution of Social Media Content
What types of content perform best on social media? According to Hubspot's research, 48 percent prefer funny content, followed by relatable content for 42 percent of research respondents.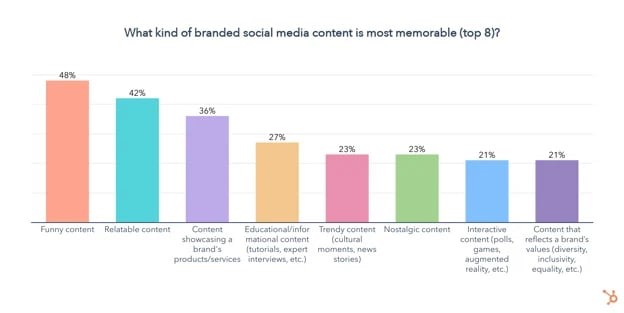 What Social Platforms Should You Use to Promote Your Products and Services?
Facebook: The All-Inclusive Giant
With over 2.8 billion monthly active users, Facebook offers a huge reach across diverse demographics. Most impressive, 78 percent of US consumers have discovered new products on Facebook, more than any than other platform.
The platform offers dynamic ad formats, including images, videos, carousels, and interactive posts, allowing brands to showcase products creatively.

Facebook also offers robust shopping features, including Shops and Marketplace, where brands can set up online stores directly on the platform. According to Capital One Shopping research:
In an average month, up to 1.185 billion online shoppers buy something on Facebook Marketplace.
The number of monthly Facebook Marketplace online shoppers is equivalent to 40 percent of Facebook's 2.96 billion monthly active users.
An estimated 474 million or 16 percent of active users log in to Facebook for the sole purpose of shopping on Facebook Marketplace.
Instagram: Visual Storytelling at its Best
Instagram's visual-centric nature makes it perfect for brands with visually appealing products or services.
Ideal for fashion, beauty, travel, and lifestyle brands, Instagram's aesthetic platform allows for immersive visual storytelling. Instagram Stories offer a great way for brands to share content that engages users on a personal level. Brands can also use interactive features like polls, questions, and quizzes to spark conversations and deepen user engagement.
In a report by Statista, an impressive 130 million users click on Instagram shopping posts monthly, with 70 percent using the platform for product discovery. Additionally:
Around 60 percent of users learn about products via Instagram
46 percent have used Instagram's checkout feature
Brands featured in shopping posts attract interest of 50 percent of users, and 36 percent make a purchase within 5 hours of discovery.
Millennials display 54 percent higher digital shopping engagement than Generation X.
YouTube: Video Engagement and Discovery
For brands looking to engage audiences through video content, YouTube offers a vast platform with over 2 billion logged-in monthly users. Video tutorials, product demonstrations, and behind-the-scenes content can effectively showcase products and connect with viewers.
YouTube is widely used across multiple age groups. In HubSpot's research, 83 percent of Millennials have visited YouTube, followed by 81 percent of Gen Z, and 79 percent of Gen X.
Additionally:
Pinterest: Inspiring Discovery and Planning
Brands with products that cater to DIY, recipes, fashion, home décor, and creative projects do exceptionally well on Pinterest. Users turn to Pinterest for inspiration, planning, and discovery, making it an excellent platform for promoting unique and visually appealing products.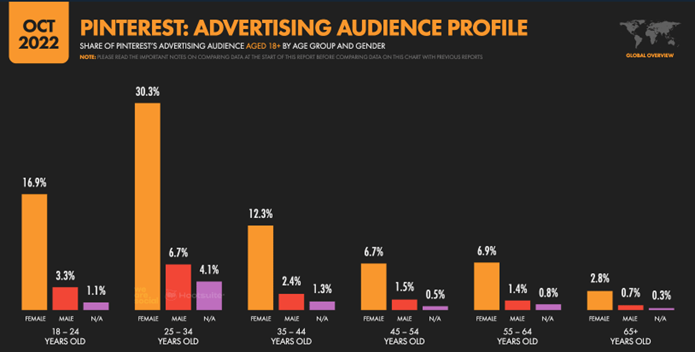 Source: Hootsuite 2022 Digital Trend Report
Additional findings from Hootsuite include:
80 percent of Pinners have discovered a new brand or product on Pinterest.
45 percent of people in the US with a household income of $100k are on Pinterest.
85 percent of Pinners use Pinterest when starting a new project.
LinkedIn: B2B Networking and Thought Leadership
LinkedIn is the go-to platform for B2B marketing, allowing brands to target professionals, industry decision-makers, and thought leaders. Brands can share thought leadership content, network with other businesses, and establish authority in their industry.
TikTok: Engaging Gen Z and Young Audiences
TikTok's short-form video format is ideal for brands seeking to connect with younger audiences. It has over a billion monthly active users, with more than 60 percent of Gen Z users using this social media app daily.
More than 100 billion videos are viewed monthly. Brands can creatively engage through challenges, trends, and authentic content, reaching an audience that values creativity and entertainment.
TikTok has also rolled out multiple shopping features on the platform. TikTok's live features is one of the best formats to increase brand awareness and grow sales. A TikTok study reveals that 50 percent of TikTok users have bought something after watching TikTok LIVE.
Here are some other fascinating stats, shared by SocialPilot:
Consumer spending on TikTok has surpassed $2.5 billion globally.
TikTok buyers in the US increased by 72.3 percent, reaching a total of 23.7 million.
1 in 3 TikTok live users consider TikTok their go-to place to connect with brands.
TikTok ads reach 17.9 percent of all internet users aged 18+.
TikTok Ads reach 25 percent of Female Gen Z users and 17.9 percent of male Gen Z users.
With TikTok video ads, you can send users to a landing page, an app page, or your website.
90 percent of branded hashtag challenges generate 2.5X ROI on ad spend.
61 percent of TikTokers mentioned that they tend to buy from brands they see advertised, and 63 percent consider themselves brand-conscious.
Conclusion
As social media continues to shape consumer behavior, businesses have an amazing opportunity to connect with audiences, influence purchasing decisions, and foster brand loyalty.
By strategically leveraging a variety of platforms brands can tailor their approaches to the unique preferences and behaviors of each platform's user base.
Social Media Audience & Advertising Solutions
Social media advertising just got easier! Learn how we can help boost campaign performance and drive sales through the power of the Porch Group Media Network. Contact us today to get started.