Customer data platforms are making a huge impact in marketing world. You may have heard the term by now and understand the basic definition of what it is, but many marketers still have questions. How is this different from a data management system or customer journey platform or even a DMP? Is it worth the investment? How will it accelerate my customer acquisition, retention or other marketing goals?
In this article, we'll break down the basics of a customer data platform so you can decide for yourself if this technology will make an impact on your goals.
So what exactly is a customer data platform?
Starting with the basic definition, a customer data platform or CDP, is a type of packaged software which creates a persistent, unified customer database that is accessible to other systems. Data is pulled from multiple sources, cleaned and combined to create a single customer profile. This structured data is then made available to other marketing systems. (Wikipedia)
According to David Raab, the founder of the Customer Data Platform Institute (CDPI) and first to coin the phrase:
"A Customer Data Platform is packaged software that creates a persistent, unified customer database that is accessible to other systems".
This definition has three critical elements:
– "packaged software": the CDP is a prebuilt system that is configured to meet the needs of each client. Some technical resources will be required to set up and maintain the CDP, but it does not require the level of technical skill of a typical data warehouse project. This reduces the time, cost, and risk and gives business users more control over the system, even though they may still need some technical assistance.
– "creates a persistent, unified customer database": the CDP creates a comprehensive view of each customer by capturing data from multiple systems, linking information related to the same customer, and storing the information to track behavior over time. The CDP contains personal identifiers used to target marketing messages and track individual-level marketing results.
– "accessible to other systems": data stored in the CDP can be used by other systems for analysis and to manage customer interactions.
Source: https://www.cdpinstitute.org/cdp-basics
So let's break this down to better understand practical uses of how a CDP can be used in your own organization.
Consistent customer ID:
We all know the importance of establishing a consistent, 360-degree view of our customers and prospects. We need to fully understand who our customers are in order to provide hyper-personalized experiences and send communications at the time when they are most apt to covert.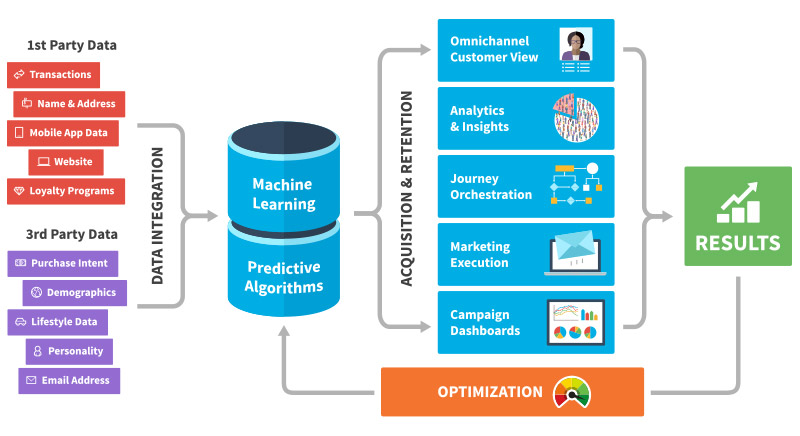 diagram of Porch Group Media Velocity, Porch Group Media's CDP
Many marketers are challenged in creating this consistent customer view. With the explosion of more data, marketers must decide which data is relevant, capture it, and integrate it in a timely manner before new real-time data sources are introduced and alters the customer view.
In research by Experian, 46% of marketers stated that technology was the biggest barrier to integrating customer data. An additional 43% pointed to data access across the organization and 41% stated that technology to house and collect customer data was a challenge.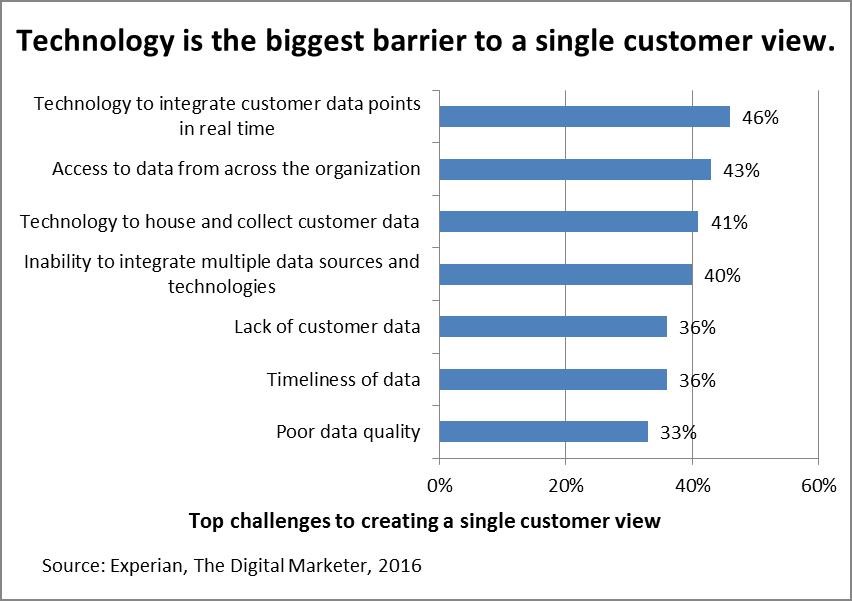 In another study by Forbes Insights, survey respondents may have a database but their existing database doesn't fully support their data unification needs.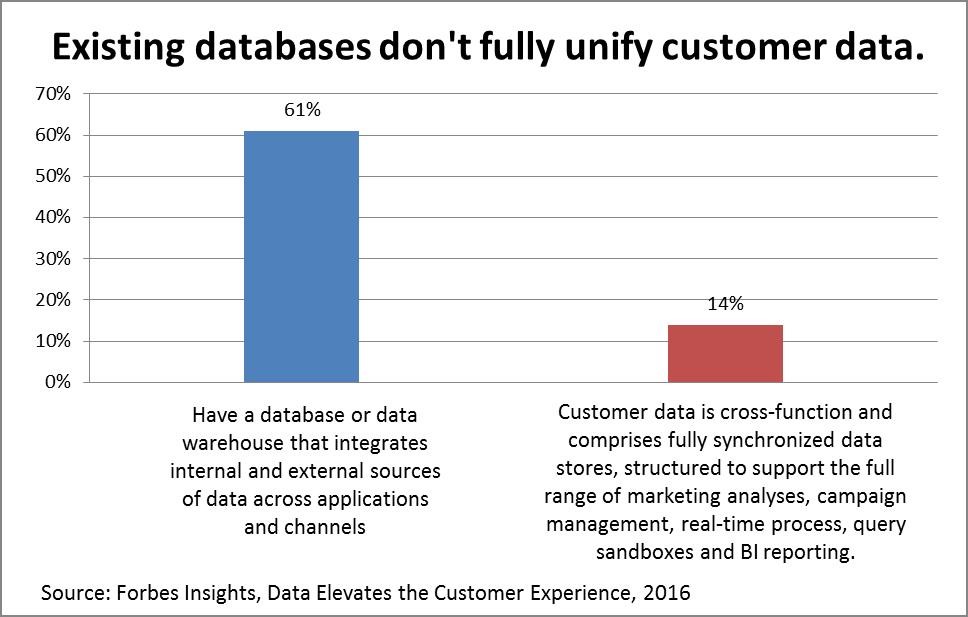 Customer data platforms on the other hand were developed to do just this – this is a basic core principle of a CDP – rapid data integration from both offline and online sources, including fast, real-time behavioral insights. However, all CDPs are not created equally. Most do not offer third party data sources inherently built into the system to fill in the missing blanks, add additional demographic and behavioral insights and even insights into active purchase intent.
Velocity, Porch Group Media's CDP platform, has been developed to include our full library of data assets such as movers, homeowners, automotive insights, in-market shopping behavior, demographics, and more.
Marketing Programs
With a unified customer view, marketers can now begin putting programs into market. The data stored in a CDP connects to multiple to other systems. Real time integrations with other digital technologies you may already have in your martech stack make it easy to unify, manage and schedule data flows for any channel.
In addition, some CDPs also offer built in journey management. Today's empowered customers, choose their path and view the entirety of the experience with your brand across all touchpoints as one connected experience. Your customers interact with you across multiple touchpoints, across channels, and at the time of their choosing. However, an effective customer journey management program helps you eliminate any disruption in the customer purchase process to keep them seamlessly moving to conversion.
A customer journey map is a visual representation of every experience your customers have with you. It helps to tell the story of a customer's experience with your brand from original engagement to final purchase and beyond. Type of journeys include:
Engagement/Brand Awareness: Welcome, Birthday, Re-Engagement, Engaged Non-Buyers, Profile Updates
Cross-sell/Upsell: Abandoned Cart, Abandoned Browser, Next Best Offer, First Order
Acquisition: Signals intenders, Competition Conquests, Top Tier Look-alikes, Life Event
Nurture/Purchase Oriented: Nurture, Renewal Reminder, Loyalty, VIP, Thanks for Purchase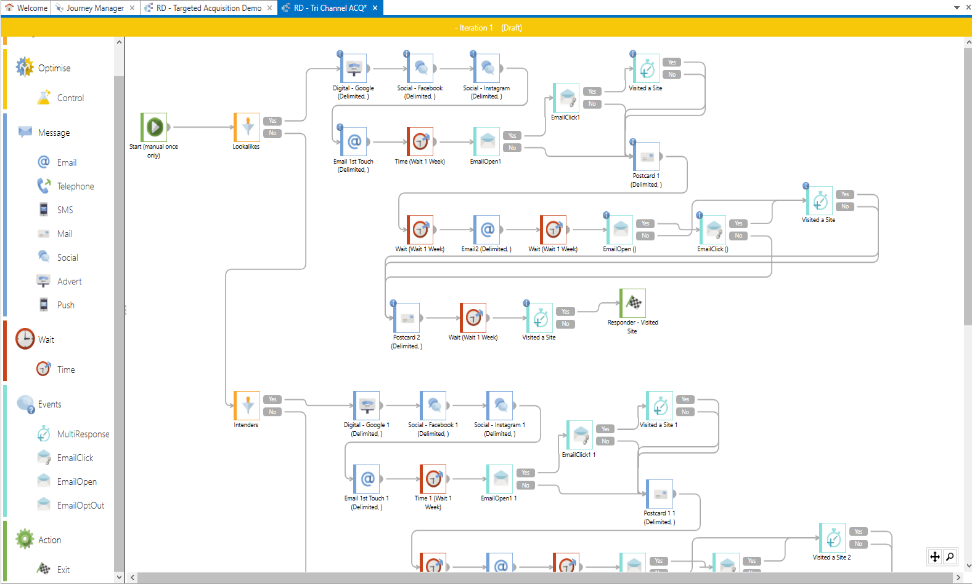 Example of a customer journey map
State of the Customer Data Platform Market
Take a look at this list of statistics on how companies are using CDPs
44% of organizations surveyed by Forbes Insights report that a customer data platform is helping drive customer loyalty [Forbes]
62% of companies that leverage a CDP use it to enable individualized personalization in email, 55% for advertising and 53% for real-time targeting [The Relevancy Group]
In research by the Relevancy Group, 62% of marketers are using a CDP to personalize their email communications, 55% for addressable advertising and 53% for real time targeting.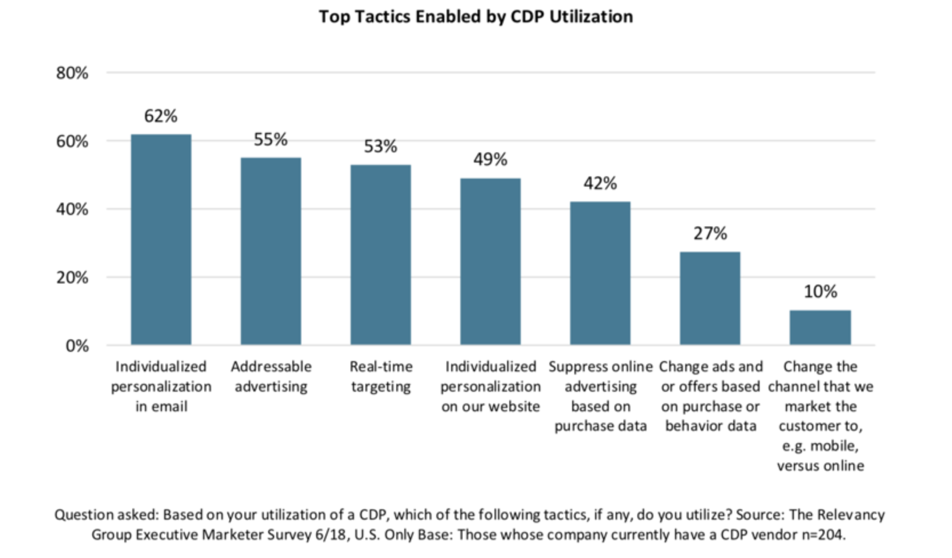 According to research by the CDP Institute in 2017, 26% of companies planned to start implementing a CDP within 12 months and 18% already had a deployment in process. This number has only risen as more companies are realizing the importance and competitive advantage a CDP can bring.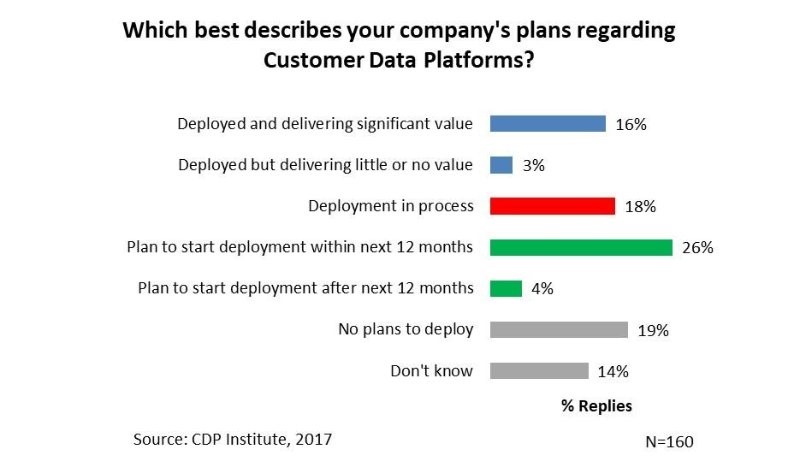 CDPs deliver speed and timely insights so marketers can continually engage with their customers and prospects with the right messages and through the appropriate channels. To learn more about the Porch Group Media Customer Data Platform and to see if it's a fit for your organization, complete the form for additional information.
Check out one of our additional marketing resources for more great tips on how to acquire today's omnichannel consumer – download the Omnichannel Marketing Success Kit.
Learn how Porch Group Media can help you get to know your customers better and reach them across channels to boost your marketing success. Contact us to get started!