The automotive industry is extremely competitive and constantly changing. Changing consumer behaviors, increased demands for connectivity, trends towards alternate types of mobility, and the convergence of the online and offline world have put the consumer firmly at the center. 
Auto companies must be more committed than ever to understanding today's auto consumers on a one-to-one level, including what drives them, what motivates them, and what they are looking for in their next vehicle.
To get to know consumers this well requires data – and lots of it. Of course, data today is bigger and more pervasive than ever before, and the automotive industry can no longer rely on internal data alone. Information that is sitting in CRM systems, billing and shipping databases, or customer service centers is a great starting point, but in order to step up their competitive advantage, automotive companies must turn to third-party sources of automotive intelligence.
In KPMG's Global Automotive Executive Survey, automotive executives agree on the value of data. According to the research, "84% of executives absolutely or partly agree that data is the fuel for the future business model of auto companies."
Consumers produce mountains of data every day – information about who they are, their intent to purchase, and more. Examples of third party data include:
Demographic Data: Information such as households with new children (may upgrade to a larger vehicle), teenage drivers (may purchase a first car), or lifestyle attributes such as environmentalism or an interest in the outdoors (hybrids or four-wheel drive) can take targeted marketing to the next step. Income, marital status, occupation, hobbies, lifestyle, and age are other examples of demographics that can be used to create targeted marketing messages to which consumers are most apt to relate.
VIN Marketing Data: Information on vehicles and their owners such as make, model and year or data such as engine size, fuel type, drive train, engine block, and engine cylinders.
Lease Expiration Data: Data on consumers with leases expiring in the near future.
Trigger Data: Consumers who may be in-market for a new vehicle based on life events such as new movers, new teen drivers, newly married or newly retired.
Auto Equity Data: Consumers who are in positive equity and may be willing to trade their cars in for newer models.
Not only do consumers produce loads of data, but today's connected vehicles also produce huge amounts of data. According to an article by Hitachi Data Systems, a connected car will upload twenty-five gigabytes of data to the cloud every hour. That's equal to about a dozen HD movies and exceeds the storage capacity of most smartphones today.
Combining and analyzing the various pieces of information from different vehicle systems can reveal driving habits, frequently visited locations, an occupants' taste in music, potential maintenance issues, and a myriad of other insights into consumer behavior.
Of course, who actually owns this vehicle-generated data is another topic of discussion. KPMG's study revealed that over 30% of executives believe that OEMs are the owner of consumer/vehicle data and over of consumers believe that the owners/drivers of the vehicle are the sole owners of the vehicle/consumer data.
When asked how likely do you think consumers would be willing to share their data, 81% of executives believe that consumers are likely to share their consumption behavior data. In comparison, only 58% of consumers are willing to share their consumption behavior data.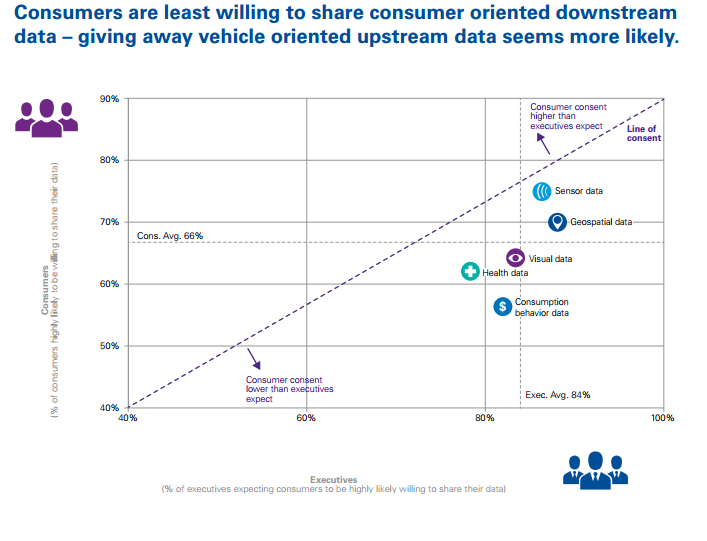 Consumers expect to be compensated for their data. 45% of executives still believe that they need not offer anything to consumers in exchange for their data while 84% of consumers want direct monetary benefits in exchange for their data.
One thing is certain, there is certainly no shortage of data when it comes to getting to know today's auto consumers. And consumers expect automotive brands to collect and use this data to create highly personalized experienced across multiple channels. The future of automobile brands depends on it.
Download our Automotive Marketing Success Kit for more great tips and strategies on how to target and acquire today's car shoppers.