Introduction to Retail Media Networks
Retail media is becoming one of the fastest growing channels available today, representing the next evolution of advertising. So why is this trend so hot now? First, the pandemic completely altered the way consumers engage and interact with brands. As consumers increased the amount of time they spent shopping online, brands followed, buying retailers' digital space to get closer to these in-market audiences at the point of sale.
Additionally, the deprecation of third-party cookies and loss of third-party data has left marketers and advertisers with few alternatives and little or no first-party data (data directly from consumers who consent to sharing it) to fall back on.
Here enters the surge of the retail media network – a digital platform that provides access to a retailer's coveted first-party audiences as well as the means to reach them through the retailer's website or apps.
Amazon launched the first media network in 2012 and since has dominated the space. Fast forward to today and many players are now active, with new entrants continually entering the space. According to AdWeek, 74% of brands have dedicated budgets for retail media networks in 2022. And eMarketer forecasts that US Retail Media Networks will exceed $52 billion in ad sales by 2023.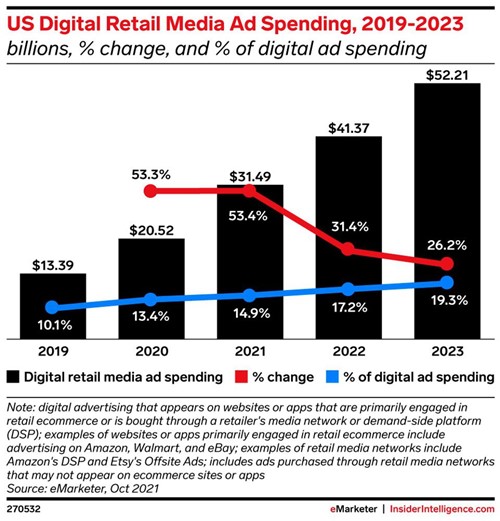 What is a Retail Media Network?
Through a retail media network, a retailer gives advertisers access to its first-party customer data and channels, such as the retailer's website or app. This allows brands to reach in-market consumers when they are in a purchasing mindset.
Besides Amazon, top retail media networks include Walmart, Instacart, Ulta and CVS. These retailers all have massive numbers of customers – and huge amounts of traffic on their website. Through their retail media networks, these retailers provide brands access to both their digital spaces as well as their highly specialized audiences that had previously been off limits.
Advertisers may choose to show advertisements on a variety of pages including the home page, product detail page, category page or search page. This makes it possible for marketers to connect with consumers at different points throughout the buying process.
Retail media networks also frequently offer closed-loop reporting to tie ads directly to incremental sales, making this appealing to advertisers who are increasingly under scrutiny to prove ROI and ROAS.
Take a look at this example from Walmart. The search for "mattress" yields a top advertising banner by Serta and a sponsored spot by Zinus. Consumers see this before even getting to the search results below. The Walmart retail network sold $2.1 billion in ads in 2021.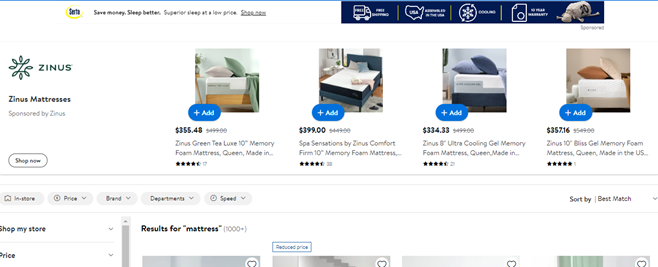 How Retail Media Networks are Benefiting Retailers, Advertisers, and Consumers
Retail media has altered how consumers and brands communicate, providing a wealth of benefits.
For Retailers
The biggest advantage for retailers is the ability to create a new revenue stream. At the top of the list, Amazon reported $31 billion in revenue in 2021 from its advertising business. In 2021, a quarter of retailers reported receiving more than $100 million in revenue from their media networks.
Additionally, the Evolution of Retail Media Networks study conducted by Merkle in 2021 found that:
81% of consumer-packaged goods (CPGs) plan to spend more media dollars with retail media networks in 2022
62% of CPGs want to work with retail media networks for access to their first-party data
58% of CPGs view a closer relationship with the retailer as the biggest benefit of retail media networks
For Advertisers / Brands
Access to actively shopping, first-party audiences is a huge draw for brands who are trying to find new options and alternatives with the decline of third-party cookies.
In Merkle's study, CPG brands are looking for partners who can get them closer to the point of purchase and provide access to valuable first-party audiences: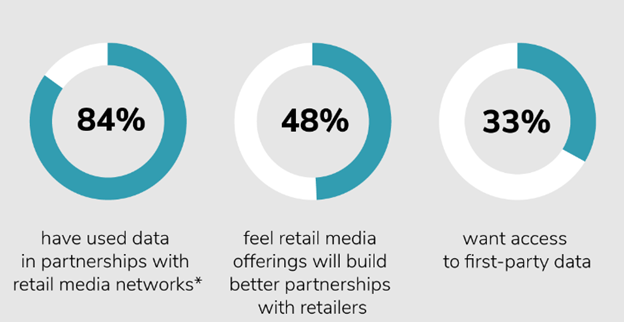 For Consumers
In Twilio's 2022 State of Customer Engagement Report, 85% of consumers said they want brands to make use of only first-party data when creating personalized services. A retail media network is the perfect solution.
When advertisers provide personalized offers and ads to consumers, this enables a superior shopping experience (CX). Consumers can then make wiser purchase choices about relevant goods and services they might be interested in.
The Future of Retail Media
The retail media boon is not expected to slow anytime soon.  Especially as the cookieless world becomes more of a reality, there will be a shift of digital media dollars to first-party audience solutions such as the retail media network.
Omnichannel Marketing Strategy Guide
Interested in more great resources? Our Omnichannel Marketing Strategy Guide gives you access to some of our most informative resources on omnichannel marketing trends, strategies, and tactics. Get your free copy today!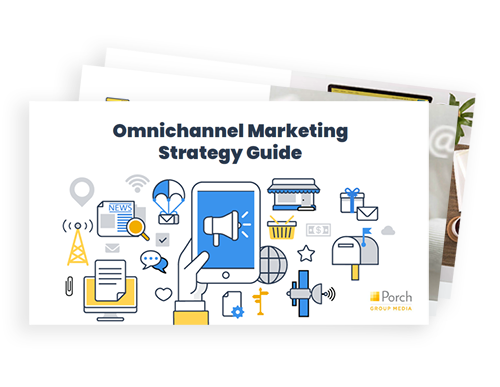 ---
Stay up to date with the latest news and resources: