Key Insights into Understanding the Car Buyer's Journey
Car shoppers today are online before they ever step onto your dealership's lot. And while this trend is not new news, a study commissioned by Cox Automotive through IHS Automotive confirmed that this is new normal for car shopping. Although dealerships may understand this, many have not made the switch from traditional marketing strategies to those that target digitally savvy consumers.
Car Shopping by the Numbers
The study revealed some important insights for dealerships:
59% – The percentage of time buyers are spending online before they purchase a vehicle
2% – The time consumers spend shopping for cars through print materials, such as newspapers
88% – The percentage of customers using the internet to shop for car
46% are using multiple devices to get to your dealer website. 14% used a mobile device ONLY
30% – The percentage of people who knew exactly what vehicle they plan to purchase
70% of people are undecided. Customers may have an idea, but will change their minds once they're at your dealership and test drive a vehicle
56% – Percentage of customers visit walk onto your showroom floor without making any prior contact
63% already have an idea on what their trade-in is worth
Top online sources consumers used to shop for both new and used vehicles include 3rd party sites (78%), dealership sites (57%), and OEM sites (36% total with 54% of consumers using OEM sites for new vehicle research)
Most Car Buyers Are Undecided When They First Start Car Shopping
When car buyers first begin their research for a vehicle, 6 out of 10 them are undecided and open to multiple vehicle options. They consider different makes and models as well as different purchasing options during this initial phase of research. Additionally, consumers are often open to considering either a new car or used vehicle.
However, by the time they have actually reached the dealership, they often know the vehicle they want to purchase. In fact, 38% of car buyers only visit one dealership and 52% only test drive one vehicle.
There is certainly a window of opportunity for car dealerships to influence consumers before they get to this final decision process – however this must happen online. When consumers are considering a variety of options, dealerships that use both mobile and digital channels to target in-market consumers can have a large influence over the type of vehicle and the dealership the consumers actually decided on.
Which Online Sites Have the Most Influence in the Purchased Journey?
Car buyers use a variety of sources to conduct their research, but there are certain channels that have more influence over others. Most consumers use 3rd party websites more so than any other site with 56% of car buyers say that 3rd party sites are the most useful sites.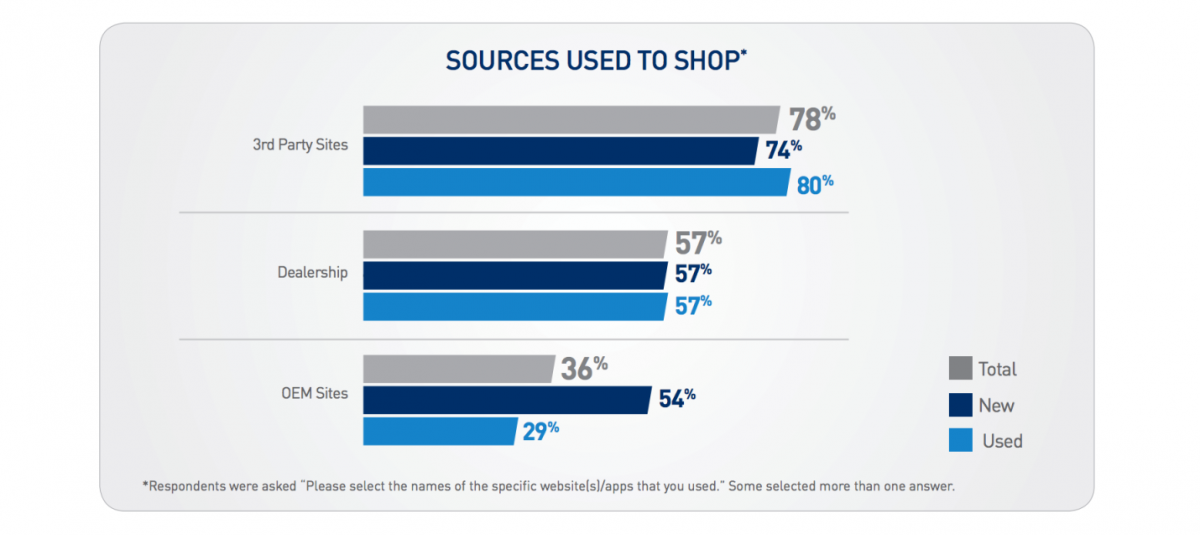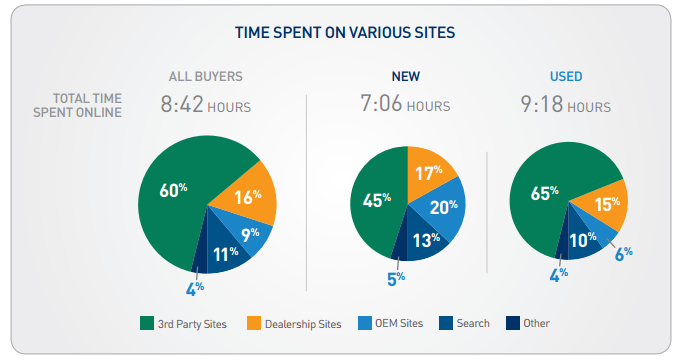 Additional research by LeadiD examined the top 3rd party sites consumers tend to use. Kelley Blue Book, AutoTrader, Cars.com, and Edmunds appear on both consumer and dealers' lists. Automotive marketers must double down on their efforts and ensure they have a strong presence in the online inventory marketplace to reach and influence shoppers wherever they are shopping online.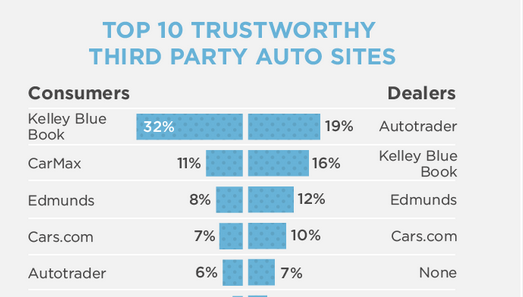 What Are the Top Online Activities During the Shopping Process?
By understanding what consumers are looking for during their online shopping and research process, dealerships can make sure they have the right strategies in place to target consumers with the right messages across the purchase journey.

Content marketing plays an essential role throughout the car buying journey. Many dealerships utilize top of the funnel content strategies such as blog posts and article to improve search engine rankings. However, it is increasingly important for automotive dealerships to integrate other types of content to drive conversions. Based on the Cox Automotive research, consumers are looking for content that will ultimately drive them further down the funnel and into your dealership:
71% – Research car pricing
68% – Find actual vehicles listed for sale
64% – Compare different models
63% – Find out what current car is worth
46% – Locate a dealer or get dealer info
Types of Content to Drive Conversions
Dominion Dealer solution published a great article featuring the top types of content that drive results for dealerships. Key highlights include:
Photos: Ten photos on a Vehicle Detail Page (VDP) can increase page views by 142% and increase dealer contacts by 117%. The more photos displayed of each vehicle, the better the car shopper's experience. (NIADA)
Prices: The top reason car buyers use online sources to shop for vehicles is to research pricing (62% in 2015, up from 61% in 2014). (IHS/Polk)
Videos: 25% of all new shoppers spend one hour or more watching videos while researching cars, 49% of shoppers visited a dealership after watching an online video, and 72% of auto purchases indicate that YouTube influenced purchasing by providing "in-action" videos of vehicles that shoppers were considering.  (Millward Brown/Google)
Service department details: 83% of consumers are likely to look online for vehicle service and repair information making it extremely important to market your services service department specials and services online. (C+R Research)
Reviews: 70% of Gen Y shoppers trusts car reviews on independent websites while only 53% trust manufacturer websites and 40% trust salespeople at the dealership. With reviews on dealership websites – both on vehicle pages and service pages – online shoppers validate dealers' quality and service levels. (Deloitte)
Social media: 33.5% of recent car buyers find social networks equally as helpful as dealership websites. Engage your customers and prospects via your social networks. (Automotive News)
Auto Shoppers Use Multiple Devices Throughout the Purchase Journey
While 88% of car buyers use the Internet to shop, they also use multiple devices to shop. According to the study, 46% use multiple devices when shopping for a car which breaks down as follows:
83% – Desktop/Laptop
46% – Smartphone
31% – Tablet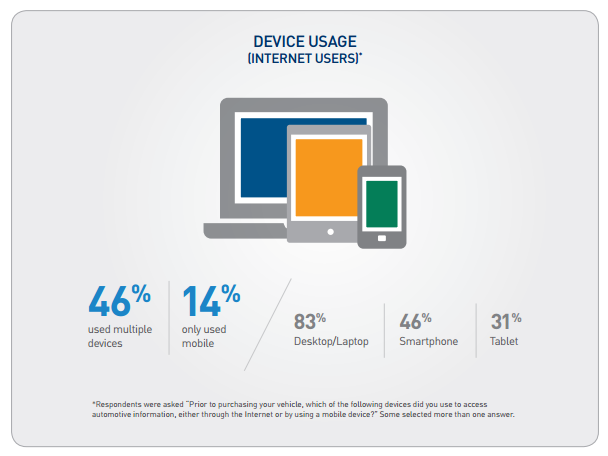 Dealerships must focus on ways to deliver a consistent message across devices. Be sure your website and email messages are responsive and mobile-friendly. If not, consumers will simply visit another site or dealership that can provide a good online experience. Also create targeted and timely message for multiple devices. A laptop or desktop has much more real estate for words and images than a smartphone. Today's shoppers have come to expect a fully immersive digital and mobile experience that offers easy access to vehicle information, pricing, reviews,  and inventory on any device.
Car shoppers are researching online and using multiple devices to do so. During this critical stage of research – before these shoppers make their final decision – be sure to get your digital presence established using multi-channel and targeted engagement strategies. By doing so, your presence will bring new customer to your lot, more cars driving off the lot, and more revenue for your dealership.
To learn more about targeting and winning with today's multi-channel automobile shopper, download the Automotive Marketing Data Success Kit.