A survey recently released by CallSource revealed a massive spike in inbound phone calls to car dealerships within the last year. With today's consumers using their smartphones throughout the car purchase journey, many consumers prefer to pick up their phone as compared to filling out a web form or sending an email. However, one-third of dealers are missing out on 1 in 5 of these calls to competitors.
Inbound calls have been on the rise for some time now, with the most recent numbers adding up to quite an influx. Only 12% of dealers reported no increase in call volume, while 39% reported a 5% – 10% increase and 49% reported an increase of 15% or more.
Additional survey findings state that the majority of dealers (89%) agree that having a process for handling inbound calls is important; however, only 40% are confident they are managing incoming calls effectively. Of those surveyed:
32% believe they are losing 5% of calls to competitors
31% believe they are losing 31%
31% believe they are losing 20% of calls
And finally 6% believe they are losing 50% or more of calls
According to David Greene, VP CallSource Auto Division, "For every four sales appointments set, a dealer typically converts at least one into a sale, averaging about $2,200 in bottom-line profit for a new car sale. This means for every four or five mishandled incoming calls, a dealer is potentially losing not only $2,200 in profit but also forfeiting the marketing spend that went into driving that consumer to their phones in the first place."
Here are some tips to make sure you aren't missing out on inbound phone opportunities and profits.
Get Contact Details
How many calls does your dealership get from a consumer inquiring about a car that has already been sold? The call may go something like this:
Caller: Hello, I'm calling about the 2012 Pontiac I saw on your lot yesterday. How much is it?
Dealership: Sorry, that car has already been sold.
Caller: Um, OK, Thanks.
Of course this is just one scenario but not asking for contact information occurs more often than you may think. In fact, a J.D. Power study of inbound calls to auto dealerships found that only 11% of phone calls yield customer data. In other words, if 100 potential customers called your dealership, you are only getting details on 11 of them. And the other 89 in-market consumers are probably heading to a competitor to make their next purchase.
These consumers called your dealership for a reason so they are already more apt to give you their information. Train you staff to collect basic contact details for EVERY caller. Gather details such as name, phone number, and email and the reason for the call. By collecting this basic information, you now have at the very least a lukewarm lead to which any number of data elements can be added to create a potentially really hot lead.
Append Your Phone Lead Records
With simple contact details, you can append an assortment of data variables so you really have an understanding of who your potential customer is, what they may be interested in, and the best way to target them. For example, consider adding specialized auto data so you know what kind of make, model, and year your prospect currently drives. Or add consumer demographics such as age, income, occupation, address, and purchase behavior.
Data can be appended through a third-party data provider. Common types of data may include:
Demographics: age, home ownership, occupation, gender, estimated income, credit card, hobbies, purchase behavior, and lifestyle interests.
VIN Data: Make, model and year of the car currently being driven, Kelley Blue Book and Black Book data, or even very specific data including engine size, fuel type, drive train, engine block, and engine cylinders.
Maximize Every Opportunity
Whether the majority of your consumers call about vehicles for sale or parts and services, improvements can be made to convert more phone calls into sales. Mobile advertising company Marchex conducted research on inbound dealership calls and found the following:
16% of calls go unanswered.
When customers DO connect with a dealer representative, 63% of the time there is no attempt to get the customers to make an appointment.
By addressing these key issues, dealerships can expect to increase customer conversion rates by 20%.
Ultimately, dealerships must seize opportunities to build relationships every step of the way in the online-to-offline customer journey. This means implementing training on proper handling of inbound phone calls, enhancing the lead record to understand the best way to target your individual prospects, and nurturing your leads from the moment the phone rings to when the customer drives off the lot and even after to create loyal brand advocates for life.
Download our Automotive Marketing Success Kit for more great tips and strategies on how to target and acquire today's car shoppers.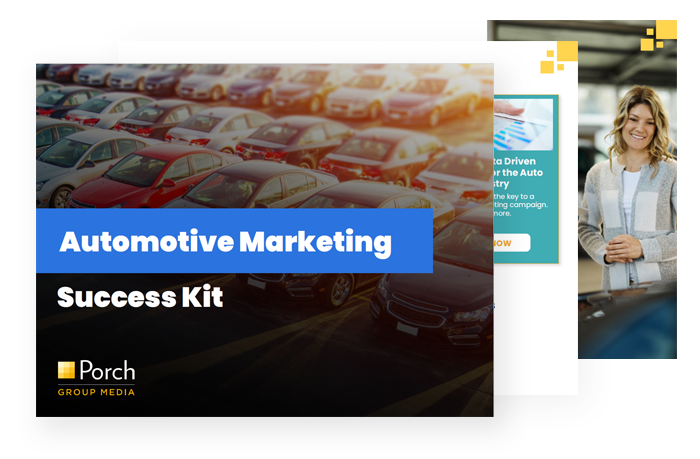 Learn how Porch Group Media can help you get to know your customers better and reach them across channels to boost your marketing success. Contact us to get started!