The Power of First Party Data
In the last two years alone, 90% of the world's data was generated.  By 2020, it's estimated that 1.7MB of data will be created every second for every person on earth.
With so much data, brands have plenty of opportunity to know their customers and to use data-driven tactics at every turn. According to research by Econsultancy and Adobe, using data-driven marketing that focuses on the individual ranked highly as companies' most exciting opportunity for 2019.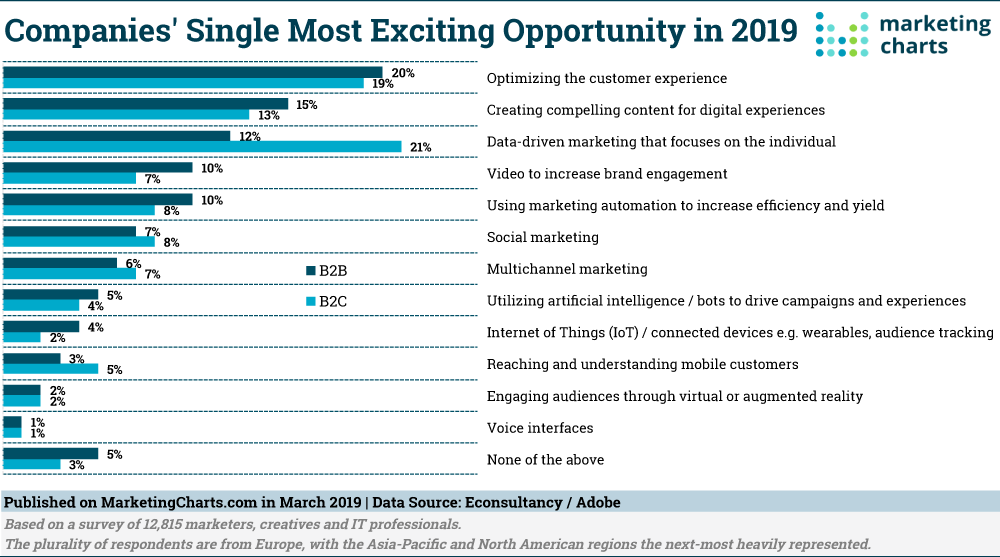 Marketers use three types of data in their marketing efforts – 1st, 2nd and 3rd party data.
1st party data is information a brand has collected about their customers and prospects. This includes transactions, contact details, websites, and data in CRM systems. This is considered a brand's most valuable data –insights a brand has collected for themselves rather than obtaining from an outside party in which the origin of the data may be questioned.
2nd party data is another brands' 1st party data in which you may have worked out an agreement to share your data with one-another, such as through a data co-op.
3rd party data is data sourced through vendors such as demographics, contact details, lifestyle info and in-market purchase indicators. As is often the case, a brand's internal database is missing important contact details or lifestyle and behavioral insights so 3rd party data can fill in these gaps or fix incorrect data.
While first party data is considered to be the most valuable, many brands are struggling to realize it's full potential. In a survey of US digital marketers by Advertiser Perceptions and programmatic agency MightyHive, respondents said they were, on average, tapping into just 47% of their company's first-party data potential.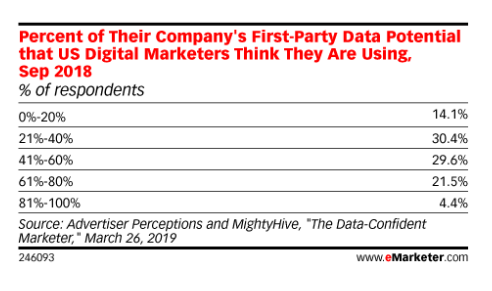 A full 60% of respondents only felt somewhat confident or less about their first-party data delivering a strong ROI.
When asked what type of value they are seeking to gain from their 1st party data, the top four answers included improved performance/ROI, accuracy/data quality, more precise targeting and improved measurement and attribution.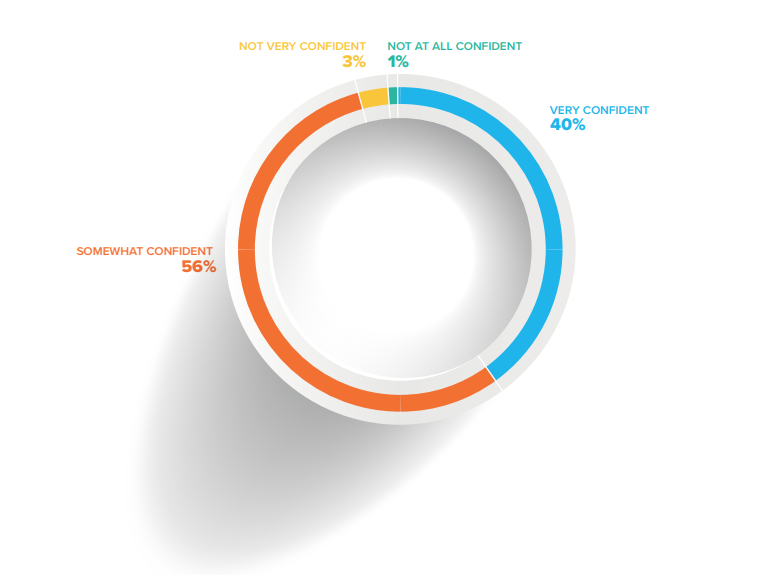 Brands are working to realize more value from their data. However, most marketers believe it will take a year or more for this to happen, with 27% stating it will take between 13 and 18 months, 16% between 19 and 24 months and 17% of respondents stating it will take 2 years or longer.

When it comes to the types of 1st party marketers believe will bring the most advantage this year, mobile app analytics, social media platform data, online sales data and site analytics were the most popular.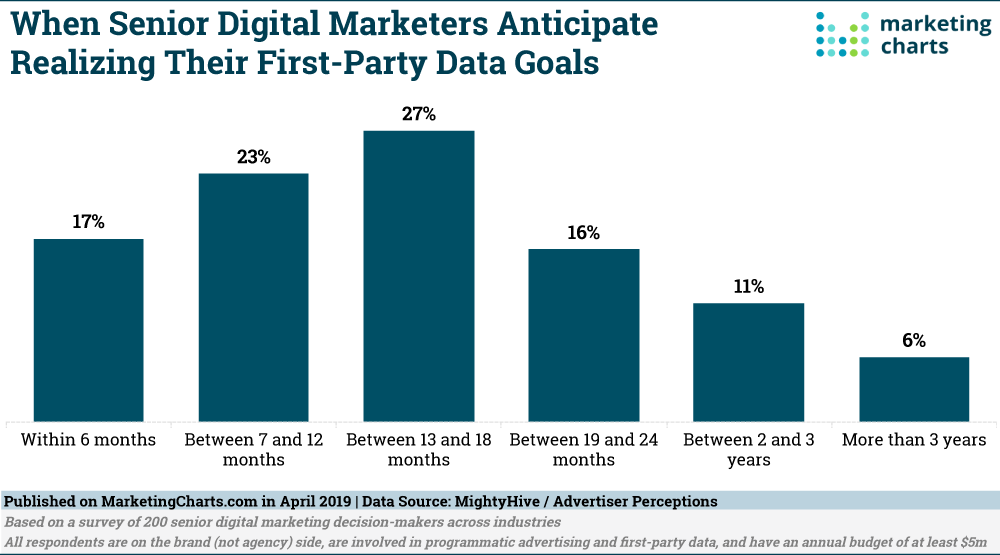 How to Get Value from Marketing Data
Data-driven insights and strategies, from 1st party to 3rd party, brings huge advantages. Just take a look at the following list of data-driven marketing statistics:
Companies who adopt data-driven marketing are more likely to have an advantage over the competition and increase profitability. In fact- they are six times more likely to be profitable year-over-year. (Forbes)
64% of marketing executives "strongly agree" that data-driven marketing is crucial in today's economy. (Forbes)
GlobalDMA found that 49% of marketers use data to enhance customer experience. (GlobalDMA)
According to CMO, 67% of marketers believe speed is one of the primary benefits of data-driven marketing, resulting in the ability to execute their campaigns quickly. (CMO Council)
Marketers that exceeded their revenue goals in were using personalization techniques 83% of the time whereas businesses that employ data-driven personalization delivered five to eight times the ROI on marketing spend. (Invesp)
63% of marketers said their data-driven marketing spend grew last year. (CMO by Adobe)
Data represents about 20% of all US marketing spend. (CMO by Adobe)
Marketers understand the value of utilizing marketing data but are clearly challenged in how to best extract the most value.  According to recent research by Widen, brands have a difficult time collecting and organizing data, as well as getting the data to tell a story r provide the full picture about individual consumers.
According to the report, the biggest marketing challenges were:
Telling the right story with data to create individualized experiences (21.5%)
Managing data across different platforms for a single view (13.7%)
Simplifying complex data (11.6%)
Distilling premium data from numerous data sources (11.4%)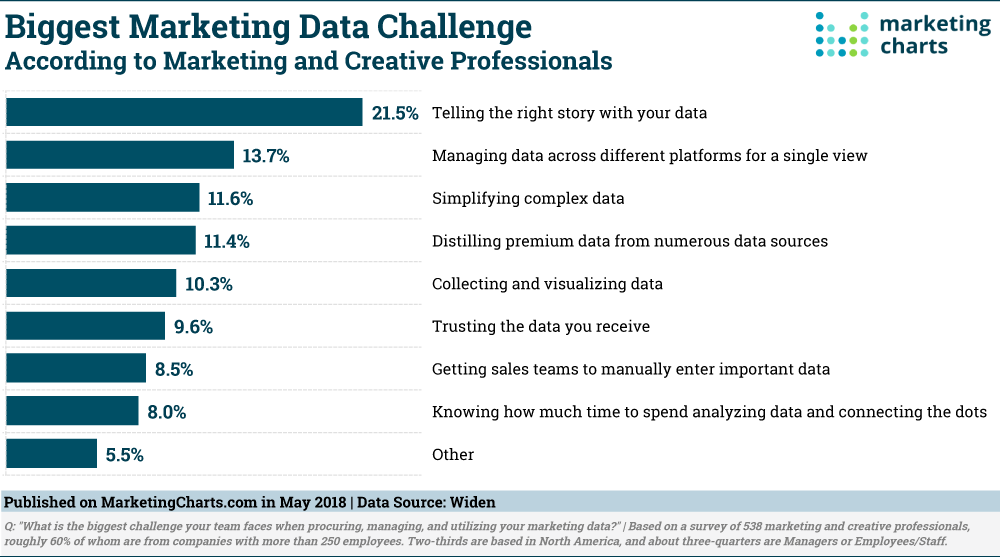 Invest in a Customer Data Platform
Many companies this year are turning to customer data platforms as a way to integrate siloed data and create a consistent, 360-degree customer view.  In research published by BlueVenn, 51% of companies are already using a CDP while 35% plan to do so in the future.  Only 14% of companies stated that they have no plans to do so.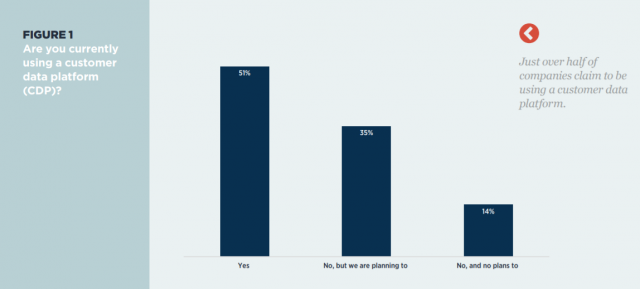 According to the research, those companies who are using CDP are more than twice as likely to have significantly outperformed on their marketing goals for 2018.  About 24 percent of companies with a CDP reported significantly outperforming their marketing goal in the prior 12 months.
Investing in data-driven marketing techniques to derive the most value from your data will unlock more engaging customer relationships, brand loyalty, and new revenue streams. Start with clear goals – what are you looking to achieve? Better customer experiences, customer retention strategies, acquire more customers?  Or all of the above? Once you have a clear goal in place, research the best methods, technologies and platforms to help you achieve the best possible outcomes.
Learn more about Porch Group Media's first and third party data management and integration solutions. Click below to request more information.