We are a society of plugged-in and digitally-connected consumers and the pandemic only raised our expectations of having cohesive, digital experiences with brands. Consumers who have traditionally chosen brick-and-mortar outlets are now shopping online. Conscientious shopping and choosing brands for ethical reasons is becoming more prevalent. And marketing channel usage is as important as ever as consumers favor email and social for purchasing and brand engagement.
Read on for more insights into how the pandemic has shaped the modern consumer and how brands in turn should respond.
The Rise of Online Shopping
As people quarantined and businesses closed, consumers turned online to find the times they needed. Groceries, clothes, medicine, toilet paper, pet supplies, home improvement, cleaning supplies, school supplies – the list is simply endless.
While Amazon certainly got its share of orders, almost two-thirds of consumers in a survey by Cheetah Digital stated that they purchased from sites beyond Amazon. Additionally, 78% of consumers enjoy online shopping, finding it easier and more convenient for specific items and 61% stating that it is simply better and easier for everything.
---
Sign up for our marketing tips and resources:
---
Interestingly, the survey also noted some differences by age groups in verticals. For those that have made purchases online, there was a 9% increase above the mean of 18-to 24-year-olds buying online in beauty and fashion, a 5% increase above the average of 55- to 75-year-olds in food and grocery, and a 14% increase above the average of 25- to 34-year-olds in restaurants.
Long term, consumers expect at least some of these habits to remain. 39% of consumers stated they expect to buy more through digital channels moving forward.
The Conscientious Consumer
According to Cheetah Digital's research, "Ethical consumerism has been on the rise for many years, with more and more consumers seeking out plant-based, organic, and fair-trade fare, reducing plastic use, and thinking about the fuels they use and the impact that has on the environment."
The pandemic created more awareness of ethical consumerism.
58% of consumers have rejected a brand either because of its environmental, corporate, or political values
39% of consumers are more concerned about the environmental impact of brands they consume
38% of consumers are more concerned about where a brand sources products
27% of consumers are more concerned about a brand's corporate values
The company Brandwatch confirmed this increased sentiment through their social listening tool. They investigated how the pandemic had affected consumer appetite for sustainable/ethical goods and shopping local, looking at data in March 2020.
In March, 261k people used social media to discuss local, ethical, and sustainable online shopping. Comparing March 2020 to Dec 2019 (when we're shopping for the holiday season), the conversation was up 362%.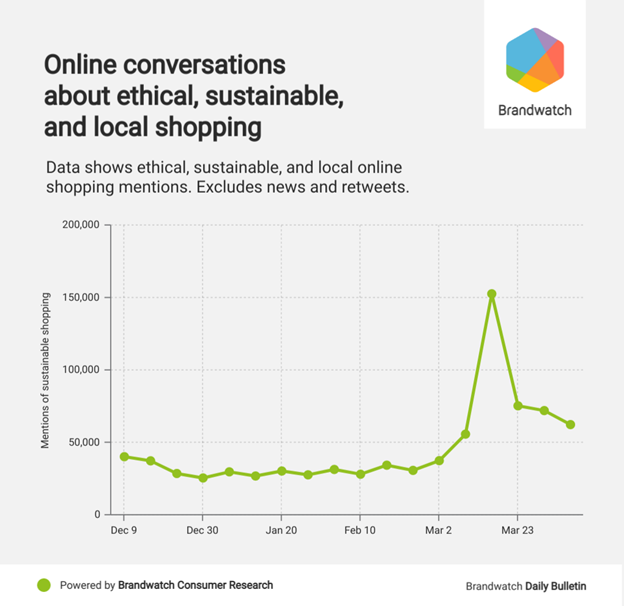 A survey by Accenture suggested that these re-focused shopping behaviors may last for at least a decade.
64 percent of consumers said they are focusing more on limiting food waste and will likely continue to do so going forward
45 percent of consumers said they are making more sustainable choices when shopping and will likely continue to do so
Email Drives Sales
Email marketing is as strong as ever and is the number one channel for driving sales, according to Cheetah Digital. When asked, 'Have you ever made a purchase from any of the following in the last 12 months?', email topped the charts at 45% with social coming in at a close second at 43% for a social post and 42% for a social advertisement.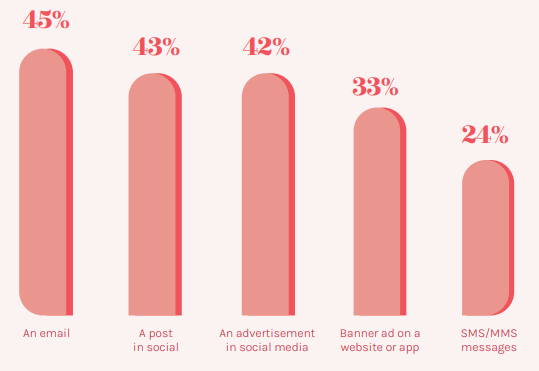 Email is clearly a go-to channel for consumers and brands are increasing its use to engage with customers. In a survey by Mail Gun, 55.5% of respondents say they've emailed their customers more since the start of the pandemic and only 14.9% of senders say they've emailed them less.

To align with changed consumer expectations, brands are adapting their email content. 35% are increasing focus on brand mission and values, 23% are showcasing internal initiatives and 25% are highlighting social and local initiatives.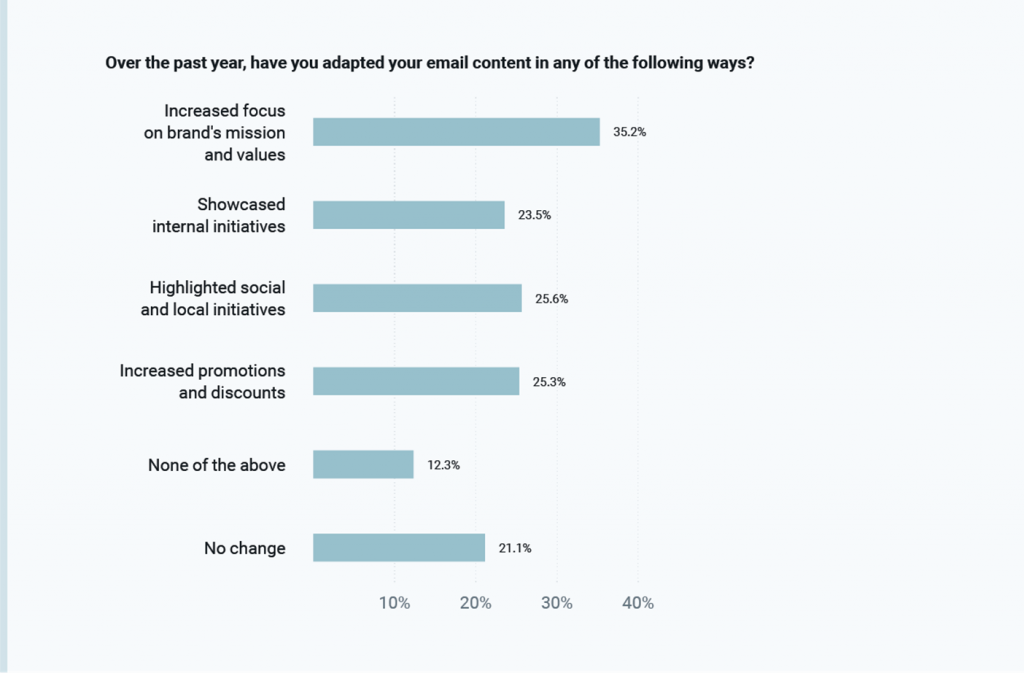 Putting Brand Loyalty to the Test
Brand loyalty has been put to the test during the pandemic, with consumers trying and switching to new brands. According to research by McKinsey, of the three quarters of Americans who changed their shopping behavior since COVID-19 began, approximately 40% said they have switched brands. This behavior is even more prevalent among Gen Z and Millennials as compared to Boomers (44 percent of Gen Z and Millennials have tried a new brand, versus 35 percent of boomers).
Consumers are looking to be part of loyalty programs more than ever and for those that are, they would like to increase their participation. According to Cheetah Digital, this past year has shown increases in consumers who want to feel part of the brand's community (50%), those seeking early or exclusive access to products (36%), personalized product recommendations based on their self-reported preferences (33%), and those that would like brand recognition (22%).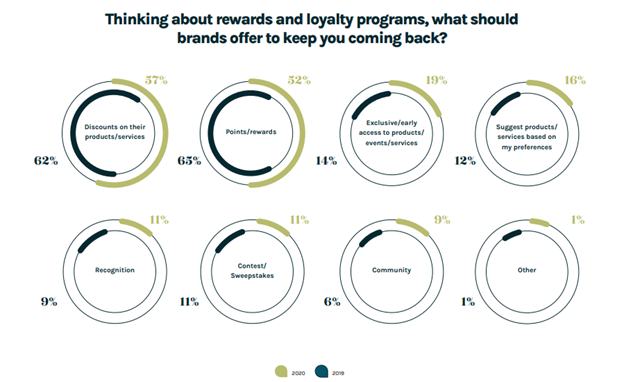 As marketers, we have to continually challenge ourselves to meet consumers on the channels they prefer and with the messaging they prefer. Today, these channels are increasingly digital and consumer preferences are continuously changing.
Learn how to connect with today's digital consumer. Download our Success Kit for Omnichannel Marketing and gain access to some of our most informative resources on omnichannel marketing trends, strategies and tactics. The most convenient way to research, this success kit contains topic focused blogs, webinars, white papers, case studies and more – all with one download.
You might also be interested in: The State of Omnichannel Marketing