The great shift in consumer behavior, brought on by the pandemic, has left many brands wondering what the new normal will look like post-pandemic. Just a few months into Covid-19, we saw consumers flocking to online shopping and ecommerce alternatives as a result of lock-downs and store closures. Now, about a year later, with uncertainty still looming, consumers have stated that their digital shopping behaviors are here to stay.
In research by McKinsey & Company, growth in consumers purchasing online for many categories is between 15-35%. For example, furnishings and appliance purchases is expected to see a growth of 30% in online shoppers. Take a look at some other popular categories in the chart below.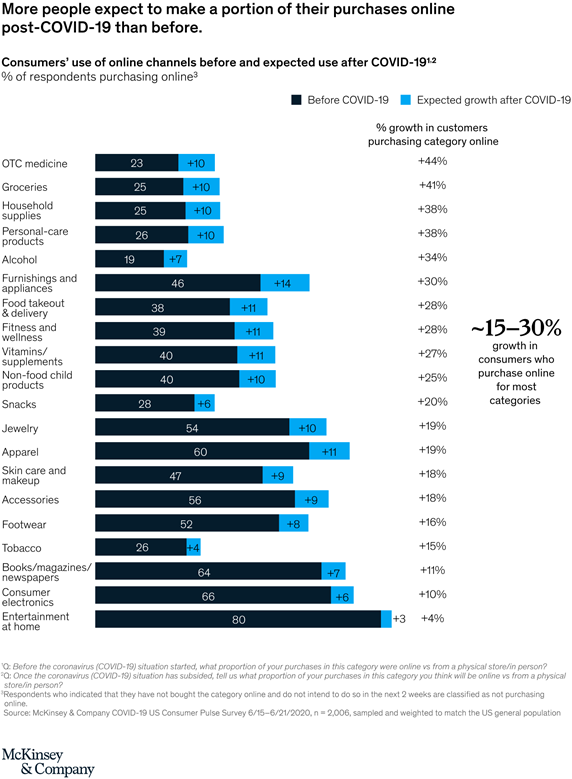 Another significant change is in the percentage of consumers who are switching brands and changing their shopping behaviors altogether. 75% of consumers have tried a new shopping behavior and will continue to do so post-pandemic.
Changing consumer behaviors are forcing retail brands to rethink their targeting strategies. Trying to anticipate what consumers are shopping for, how they are shopping and what is motivating them requires data insights to better understand consumers needs and preferences. However, only 5% of retail marketers are satisfied with the level of depth and granularity of the customer insight and understanding available across their organization. And of the 57% who say they are only satisfied some of the time, they are dealing with inconsistencies in the depth and quality of the data. This is according to a recent survey by CMO Council and Catalina.
Understanding Customer Expectations and Preferences
According to the research, the majority of retail marketers are using the following types of data to better understand their customers:
87% – Internal sales and revenue tracking
79% – Customer service/support conversations (online or via phone)
70% – Industry intelligence from trade groups and analysts
69% – Online chats and feedback from their website
66% – Sales and consumer data from retail partners
Additionally, 28% of retail marketers are also planning on using shopper purchase data and insights via retail partners and shopper purchase data and insights via 3rd parties.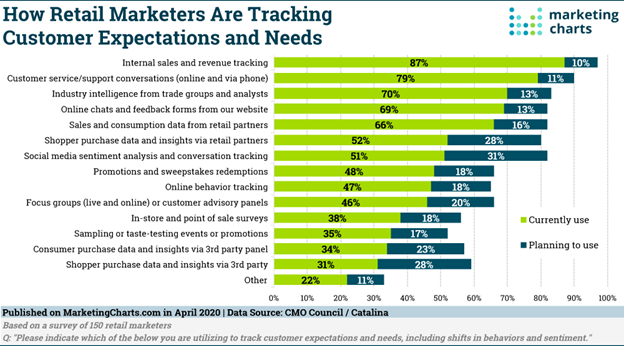 Additional Insights Retailers Are Seeking
Four in 10 retailers said they would like more insights into real-time shopper behavior.  Additional areas included:
34% – More online to offline, multi-touch attribution and accurate purchase rate/purchase power data
32% – More digital channel engagement insights
31% – Futurist trends and actionable predictions
29% – Customer voice and direct conversations
Porch Group Media Signals – Insights into Purchase Intent
Porch Group Media's Signals solution provides insights into consumers who are actively shopping for products and services you sell. 
Getting your strategies optimized to take advantage of the growing opportunities will keep your company competitive for the future.
Contact us to learn how Porch Group Media's purchase intent solutions can help you identify and and acquire consumers actively shopping for the products and services you sell.  Click here to learn more.