Consumers have radically changed the way they interact with brands and shop for products. Prior to COVID-19, consumers would hop between devices, channels and offline and online channels. They may find something online and then head to the store to purchase or go the store and then do research online before making a purchase.
However, as we have all witnessed, everything has changed in recent months and the types of products consumers now purchase and the way purchases are made looks completely different.
Jungle Scout recently compiled some great research on these trends.
Amazon & Online Shopping
Half of U.S. consumers (52%) have reduced their overall spending since the start of COVID-19 pandemic. However, 63% have increased or maintained their online spending (32% decreased), and 61% have increased or maintained their Amazon spending (29% decreased).
71% of consumers say they have shopped on Amazon during the COVID-19 pandemic, and 48% of consumers say they are shopping more frequently on Amazon since the COVID-19 pandemic than they did previously.
Nearly two-thirds of consumers (65%) make purchases on Amazon at least once a month, and more than half (52%) say that if they were only able to buy products from a single store, it would be Amazon.
COVID-19 has led more consumers to shop online than ever before, and these consumers are increasingly likely to continue shopping online; 69% say they will maintain or increase their online spending even after/as physical stores reopen, and 39% say they'd be fine if they never had to shop in a physical store again.
When shopping online, 84% of consumers said they sometimes or always shop for specific brands.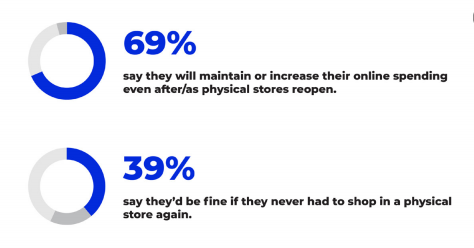 Consumers & Overall Spending
Just over half (52%) of consumers stated their overall spending has decreased since the start of COVID-19.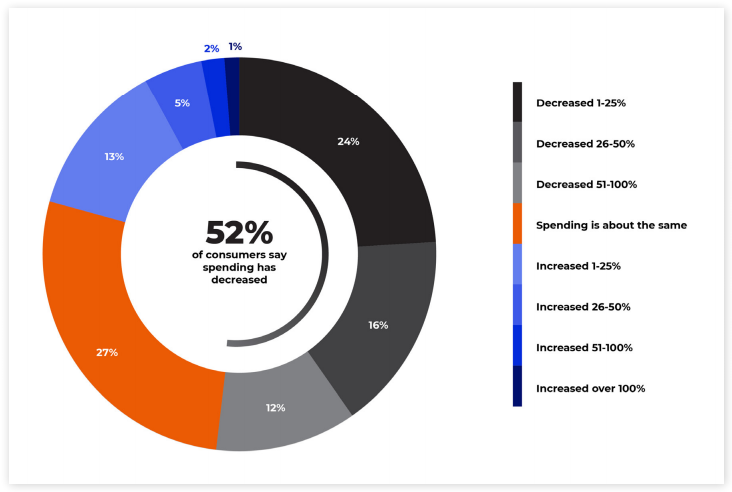 Among consumers whose spending has dropped since the start of the COVID-19 pandemic, the majority have purchased products on Amazon.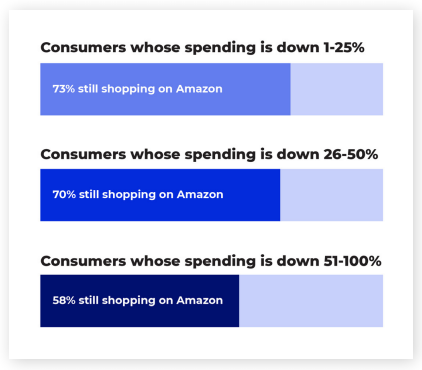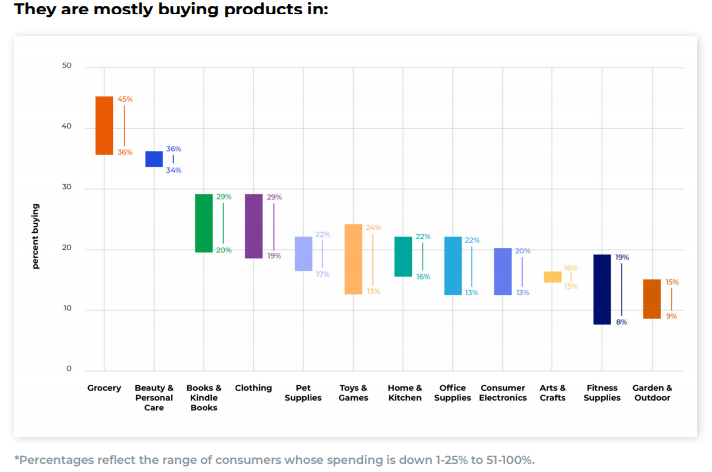 According to the research, 95% have shopped online at some point. The reasons consumers prefer to purchase online include:
46% – Ease of not having to leave home
43% – I can shop from the safety of my own home and avoid public places
43% – Fast shipping
41% – I have more product options
41% – Easier price checking & comparison
39% – I can see review from other customers
Additionally, 69% of survey respondents believe the majority of consumer shopping will happen online in the future.
Customer Acquisition
With so many consumers heading online to shop, brands have a great opportunity to message in-market shoppers to acquire new customers. Customers are willing to try new brands for a range of different reasons, whether it be price, product reviews, or fast shipping.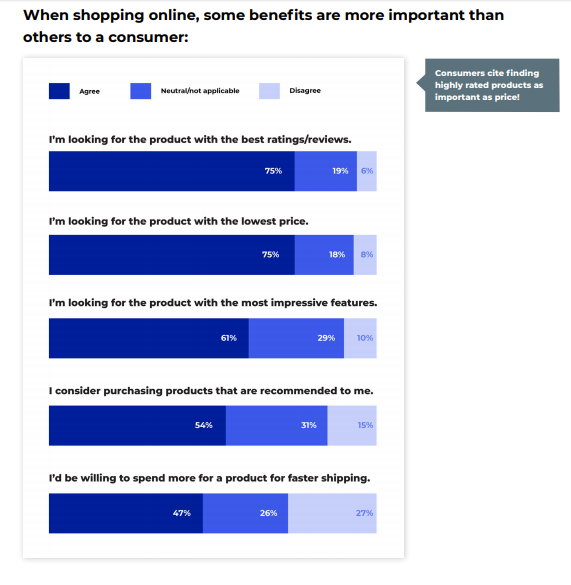 In addition to optimizing product reviews and incentives such a free shipping, brands should also be prioritizing in-market shoppers. Porch Group Media's Online Signals solution allows brands to target consumers based on their browsing behavior. As consumers are researching product and services, Porch Group Media picks up on this activity so brands can send messaging that uniquely engages consumers during the purchase journey.
Brand Loyalty
The changing ecommerce space also gives brands the opportunity to boost customer loyalty and online customer retention strategies.
According to Jungle Scout's research, among consumers that identify as "brand loyal," shoppers look for specific brands of these types of products most: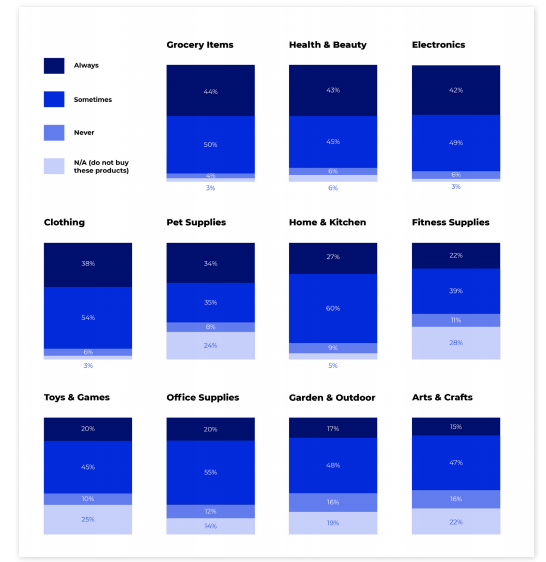 Data Insights
Having the right data insights about customer and prospects has the potential to provide brands with a huge competitive advantage in both acquisition and retention. As consumers are researching products and services you sell, are you capturing any interactions with your brands? Do you have access to the right technology to act on data insights?  Are you able to message consumers quickly before the opportunity is lost?
In research by Brandwatch, when respondents were asked about what was getting in the way of getting to know their customers better, more than 50% cited a lack of access to the right data as a blocker.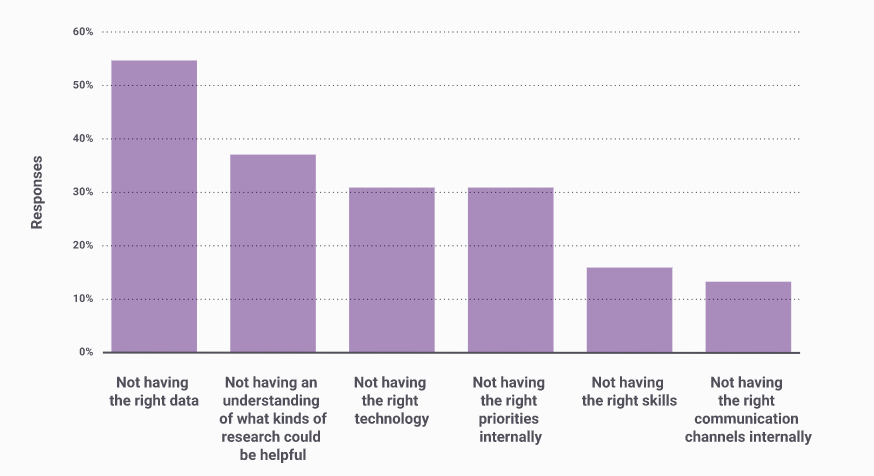 Most marketers would agree that the most valuable data is their own first party-data. This is information a brand has collected about their customers and prospects. This includes transactions, contact details, websites, and data in CRM systems. This is considered a brand's most valuable data –insights a brand has collected for themselves rather than obtaining from an outside party in which the origin of the data may be questioned.
In addition, third-party data can add a wealth of information to better understand consumers. This is data sourced through vendors such as demographics, contact details, lifestyle info and in-market purchase indicators. As is often the case, a brand's internal database is missing important contact details or lifestyle and behavioral insights so third-party data can fill in these gaps or fix incorrect data. Third-party data can also be used to provide real-time purchase intent indicators that brands can act on to engage consumers who are actively shopping.
Many companies this year are turning to customer data platforms as a way to integrate siloed data and create a consistent, 360-degree customer view.  In research published by BlueVenn, 51% of companies are already using a CDP while 35% plan to do so in the future.  Only 14% of companies stated that they have no plans to do so.
According to the research, those companies who are using CDP are more than twice as likely to have significantly outperformed on their marketing goals. About 24 percent of companies with a CDP reported significantly outperforming their marketing goal in the prior 12 months.
Investing in data-driven marketing techniques in today's unique economy to derive the most value from your data will unlock more engaging customer relationships, brand loyalty, and new revenue streams. Start with clear goals – what are you looking to achieve? Better customer experiences, customer retention strategies, acquire more customers? Or all of the above? Once you have a clear goal in place, research the best methods, technologies and platforms to help you achieve the best possible outcomes.
---
Learn how Porch Group Media can help you get to know your customers better and reach them across channels to boost your marketing success. Contact us to get started!