Location-Based Marketing on the Rise
Location based marketing is a powerful tool and more marketers are investing in this tactic to meet their customer acquisition and retention strategies. In fact, eMarketer predicts that marketers will spend $26.5 billion on mobile-location marketing advertising in 2019.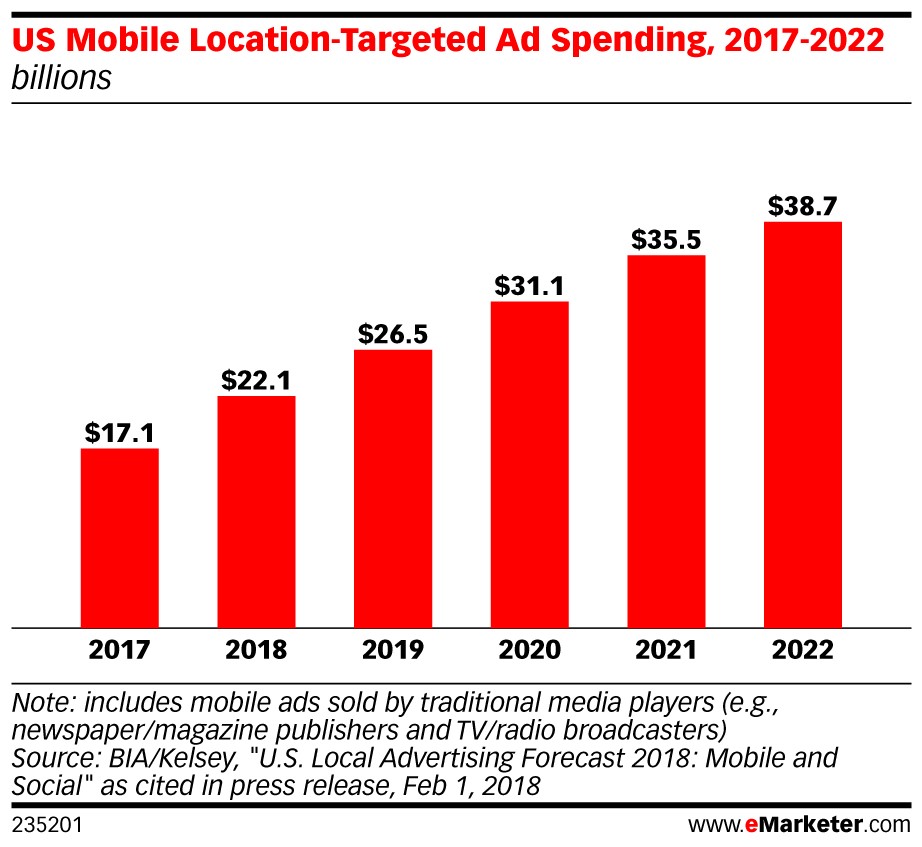 In a report by Factual, almost 9 in 10 marketers said location-based advertising and marketing resulted in higher sales, followed by growth in their customer base (86%) and higher customer engagement (84%).
More than 8 in 10 (84%) marketers currently use location data in their marketing and ad campaigns, and 94% plan to in the future. Additionally, according to the report, "But with only 24% using location as a measurement tool, there is a huge, untapped opportunity for marketers to leverage location data for measurement, for offline conversion tracking, attribution and insights."
Of the 24% of marketers using location data for measurement and attribution, 51% of those plan to increase their use of location data in the next year.
The primary use of location data is for targeting (67%) and 52% use location data for audience engagement, campaign strategy and customer experience or personalization.
The top channel for leveraging location data is mobile (81%), but marketers are increasingly using location data in emerging channels, including advanced TV (49%), digital out-of-home (47%), voice/connected speakers (45%), and automotive (28%).

Type of Mobile Geolocation Targeting
Marketing are exploring different ways to utilize location marketing but by far, the most popular is mobile geolocation marketing. Types of mobile location-based marketing include:
Mobile Audience Targeting
Using this method of mobile targeting, brands can target relevant audiences with ads based on demographics and other data points. These are consumers who are most likely to fit their ideal customer profile. This audience targeting method uses underlying data about an individual person, or, to be specific, their device ID which can include certain demographic information and even geographic location for more effective and engaging ads.
While mobile audience targeting is becoming more sophisticated, marketers are still challenged with efficiently accessing data at scale to gain a complete picture of a consumer and the likelihood he or she will engage with a particular ad.
Real-Time Location Targeting
Marketers are probably most familiar with real time location targeting such as geofencing and beaconing.
Here is a quick overview of the different types of mobile location targeting:
Geo-targeting:
Geo-targeting involves detecting a user's location and serving them communications based on that location. Those communications might be ads or other content, like an email or push notification.

Geo-targeting uses IP addresses to determine where consumers are. Every internet-connected device has a unique IP. The first three digits provide a country code. The digits after that indicate specific areas within a country, down to state, city, and postal code. Content can also be matched with data about user preferences and activities to home in on specific groups of people or to exclude groups of people you don't intend to target. Geo-targeting allows a user to be targeted wherever their device goes.


Geofencing:
Geofencing is the practice of using global positioning (GPS) or radio frequency identification (RFID) to set up a "fence" or designated geographic boundary. When a device moves into (or out of) the space defined by the fence, triggers are sent, and the user will receive a notification such as a text or push notification.

Geofencing engages consumers based on hyper-local location. An automotive dealer, for example, might set up a geo-fence aimed at targeting individuals who are leaving a rival dealership after browsing for a vehicle. Sending them an offer for low financing is more likely to make them come comparison shop — or at least consider an alternative option.


Beacons:
Beacons are small physical objects (usually about two square inches) that can be placed in desired locations. Their purpose is to detect a user's device when it moves into a target range.

Similar to geofencing, a signal is triggered when you're near one, and a server sends a push, text, in-app message, or even an email. Beacons aren't designed to know the people connected to a device, rather they target just the device itself. They're simply little stationary computers that are designed to react – when a shopper's device moves near the beacon itself, it triggers a ping, and an app starts communicating – if the user has the app with notifications enabled for the beacon's particular location. Once the user moves out of that beacon's range, all communications stop.
Reach Actual Consumers, Not Just Their Devices
Technology has become more sophisticated and vendors are now able to tie devices to an actual consumer. If you know the person behind the device, then you can use the data about that person for targeting.
Porch Group Media's mobile location solution, Porch Group Media Signals, enables companies to market to households expressing active intent to purchase based on their shopping behavior and recent visits to store locations. Our solution provides household contact information complete with a wide variety of consumer attributes allowing you to create a highly targeted offer across multiple channels.
How does it work?
97% percent of consumers own and carry a mobile device, the majority of which have multiple applications installed. When installing certain apps, consumers must opt-in to grant permission for location tracking. When a consumer drives to a location and has one of these apps available on their mobile device, Porch Group Media Signals is able to identify that device at the location and subsequently infer the household associated with the shopping event.
According to business news portal The Manifest, which polled 727 US adults for its State of Location-Tracking Mobile Apps in 2019 report, nearly everyone (96%) has seen an ad that references their location.
The good news for marketers is that two-thirds (66%) of these app users are comfortable with apps that fill in their location from previous visits because they value the time and effort it saves them.
Additionally, according to the survey, 79% of people have used geo-tags to indicate their location on social media apps with 18% of respondent stating they always do and 19% who do so often.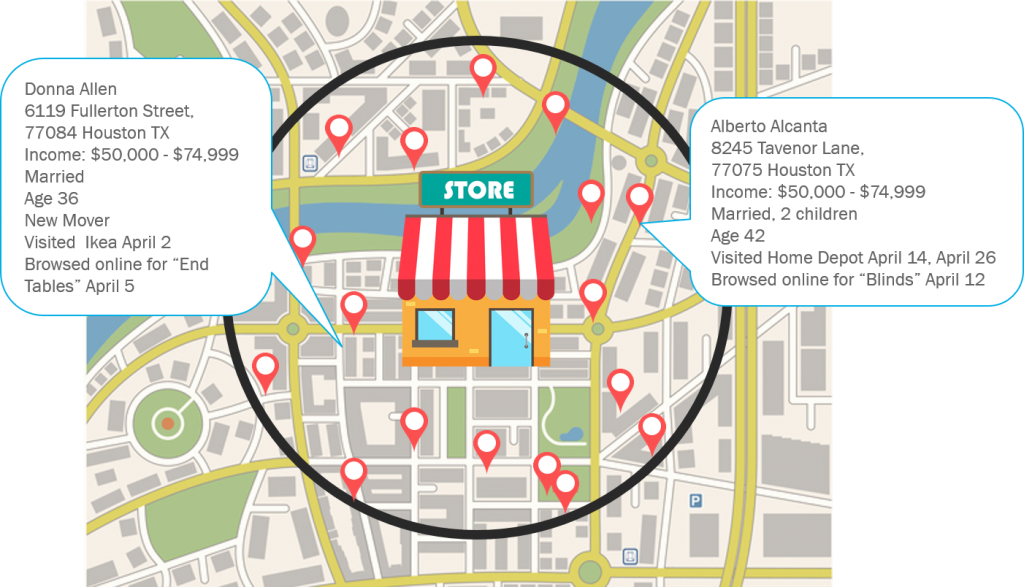 As spend on location-based marketing continues to increase, marketers can apply these insights and tactics in more creative ways to create highly personalized connections with their audiences at the right time and most importantly, in the right location.
Interested in learning more about location-based marketing strategies and tactics to reach in-market shoppers? Download our Retail Purchase Intenders Report.