E-commerce has gone mainstream and the lines between digital and offline channels are blurring. Consumers browse online, use their mobile devices to price check in store, and purchase through whichever channel happens to be available at the time. This is clearly the age of the consumer, which is nothing new for those working in retail. However, how big is digital really when it comes to influencing consumers? And are your digital marketing strategies keeping up?
Retail brands continue to mature digitally, using technology and the wealth of data available to more effectively connect and engage with connected consumers.
Use Digital to Pull Shoppers into Stores
Digital is a great way for local retailers and retail giants alike to encourage store visits. A study by Google revealed that 3 in 4 shoppers who find local information in search results are more likely to visit stores. The types of information shoppers would find most helpful in search results include:
75% – Price of item at a nearby store
74% – Item is in stock at nearby store
66% – Location of closest store with item in stock
63% – Details about local stores (hours, phone number)
59% – Map showing which stores carry the item searched for
56% – What else is available at the store that carries the items searched for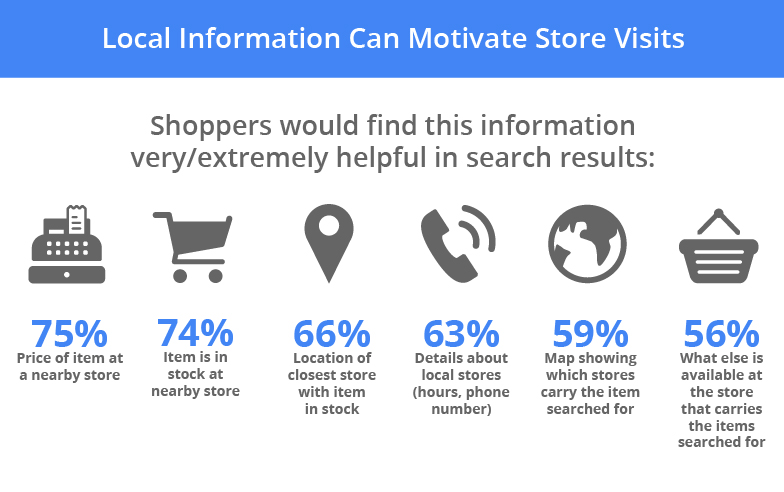 One example of a retailer doing just this is Macys.com. The store shows local in-store inventory to consumers while they are browsing on their smart-device. According to Macy's Group Vice President of Marketing Strategy Serena Potter, "A shopper can take action if she sees that there are three pairs of shoes right now, in the size and color she wants, at a Macy's that's five blocks away."
Improve the In-Store Experience with Digital Strategies
Google research shows that 42% of in-store shoppers search for information online using their smartphones. The top two places shoppers head to search include search engines (64%) and the retailer's website or app (46%). This presents an opportunity for retailers to enhance the in-store experience by ensuring sites and ads are mobile-friendly, and that search results are fully optimized.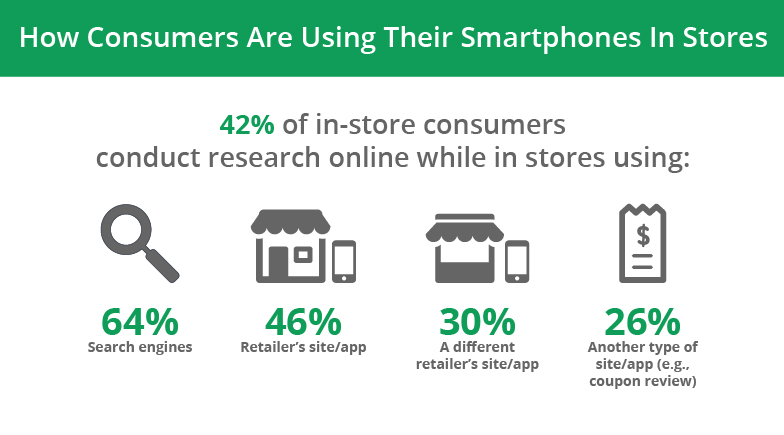 In the example of retailer Sephora, the company that their in-store shoppers use their smartphones while shopping in-store to help them find product recommendations. The Sephora App assists these shoppers, giving them direct access to product ratings and reviews. Bridget Dolan, vice president of digital media at Sephora, says, "We think one of the biggest opportunities that we have in retail is for our customers to leverage their phones as a shopping assistant when they're standing in the store. Having access to this information is that perfect new moment for customers to find everything they're looking for and get advice from Sephora."
Email is the Most Effective Digital Channel for Personalization
Email is the most effective channel for retailers when it comes to personalized interactions with consumers. According to research by Criteo, 4 out of 5 retail marketers are using personalization in some way in their email marketing strategies.
31% Based on customer segment / specific rules
23% Include customer name in subject line / email body
20% Dynamic recommendations in email body

Retargeting with a personalized email once a shopper visits a website is one of the most effective tactics in which retailers are seeing success. The top email strategies that retail marketers ranked as "very successful" include:
46% – Retargeting existing clients who visit my website with emails (CRM)
30% – Send emails featuring products that my website visitors browsed
28% – Send emails featuring product recommendations based on products that my website visitors browsed
24% – Retarget my website visitors by email a few hours or days after their visit
The Mobile Experience Defines Success
More so than ever, mobile is the essential ingredient for digital success. Digital strategies will simply fall flat if every piece of content isn't optimized for mobile. Consumers continually move from device to device to brick-and-mortar stores and back again. If at any point during this journey the content and messaging they are viewing isn't mobile-optimized, shoppers will quickly abandon in favor of a retailer who can deliver a seamless mobile experience.
Retail revenue from mobile devices is climbing rapidly, with Forrester Research forecasting that m-commerce will continue to grow at such a manic pace that it may potentially represent 54% of all e-commerce revenue by 2018 (US eCommerce Forecast: 2013 to 2018, Forrester Research). Google also changed its mobile search algorithm to give search priority to mobile-optimized sites.
While many retailers have implemented mobile-friendly websites and emails, cross-device targeting is becoming more of a priority. Marketers ranked the following as "very important":
51% – The ability to target users across different devices (i.e. cross-device targeting)
29% – The ability to target users while they are in my physical stores (i.e. instore targeting)
28% – The ability to target users based on their precise location (i.e. advanced geo-targeting)

Retailers have made big strides in digital. As the digital landscape continues to evolve and consumers become more sophisticated in the way they shop and purchase, retailers must continually invest in new ways to engage consumers across devices with personalized 1:1 communications.
Download our 2020 Omnichannel Marketing Success Kit for more great tips and strategies on how to target and acquire today's modern retail shopper.
Learn how Porch Group Media can help you get to know your customers better and reach them across channels to boost your marketing success. Contact us to get started!